Top 5 Portable Solar Chargers for 2020
Owning a solar charger is crucial for individuals who like going for camping trips, hiking, and those who usually forget to charge their devices daily.
You can also use a solar charger to charge your devices instead of electricity. This way, you can cut down your electricity cost and go a little green along the way.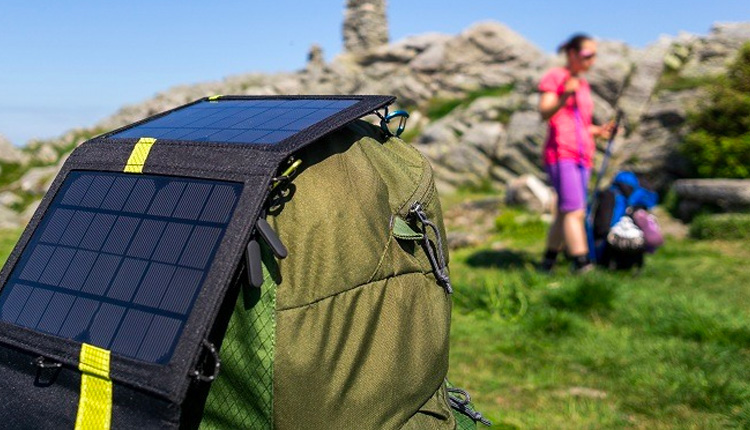 If you're looking for a way to leverage the power of the Day Star while camping in the Blue Mountains, look no further than this list of the best solar chargers in the Australian market.
GoalZero Nomad 7 Plus Solar Panel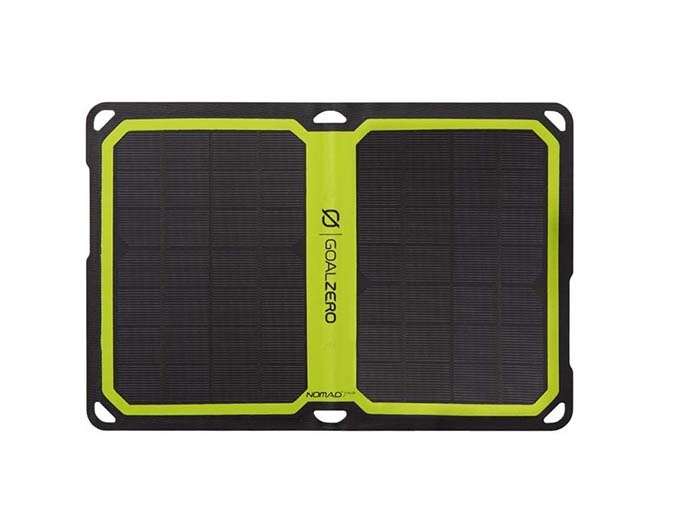 Goal Zero is perhaps one of the largest portable solar companies in Australia. The company makes the most versatile, most reliable, solar-powered products in the market today. Weighing only 374g, this slim, lightweight Goal Zero solar charger is easy to carry around.
Its solar indicator is a clear LED display that shows the strength of the solar conditions. With a 7 watts USB charging output, it will quickly recharge your smartphone.
When folded, it's about the same size as a book, meaning it's super portable- it won't add too much extra weight to your bulk. It's weatherproof, so while you can't leave it out in the rain, you won't have any stress if your mate accidentally sloshes a little bit of juice or water on it. All thanks to the advanced lamination on the outside.
One of its interesting features is the auto restart. The solar charger can differentiate between a fully charged phone and when the power disconnects due to lack of sun. When sunlight hits the panel, it will restart the charging of your device automatically. Another notable feature includes an automatic shut-off which stops charging as soon as the phone is full.
Apart from charging your phone, the unit can charge your GPS device or digital camera. The GoalZero Nomad 7 Plus is truly a game-changer for individuals who spend most of their time exploring the outdoors.
Nekteck 21W Portable Solar Charger
The Nekteck 21W solar charger is a smart portable solution designed to provide power rapidly to devices. It comes with three high-efficiency solar panels based on SunPower Maxeon technology. The panels deliver an astonishing charging efficiency that ranges between 21% and 24% and enough to power two devices simultaneously.
Nekteck has a durable canvas to hold up with possible damages that could occur during outdoor experiences. Furthermore, each panel produces about 800-1000mA on a sunny day, making it suitable for charging tablets, smartphones, iPhones, Cameras, GPS, and any other USB supported device.
This solar charger features two outdoor hooks that you can use to hang the foldable modules in a tent, inside the RV, or on a tree. It's covered with PVC casing that's waterproof, and each panel is watertight, making it perfect for any outdoor pursuit. However, don't fully immerse the solar in water because you'll experience all types of problems.
Another unique feature is the dual Port Power3S technology, which allows the solar charger to identify the connected devices and provide the best mix of charging speed and current.
If you're searching for a well-priced solar charger with excellent performance for hiking, then Nekteck is for you.
BigBlue 5V 28W Solar Charger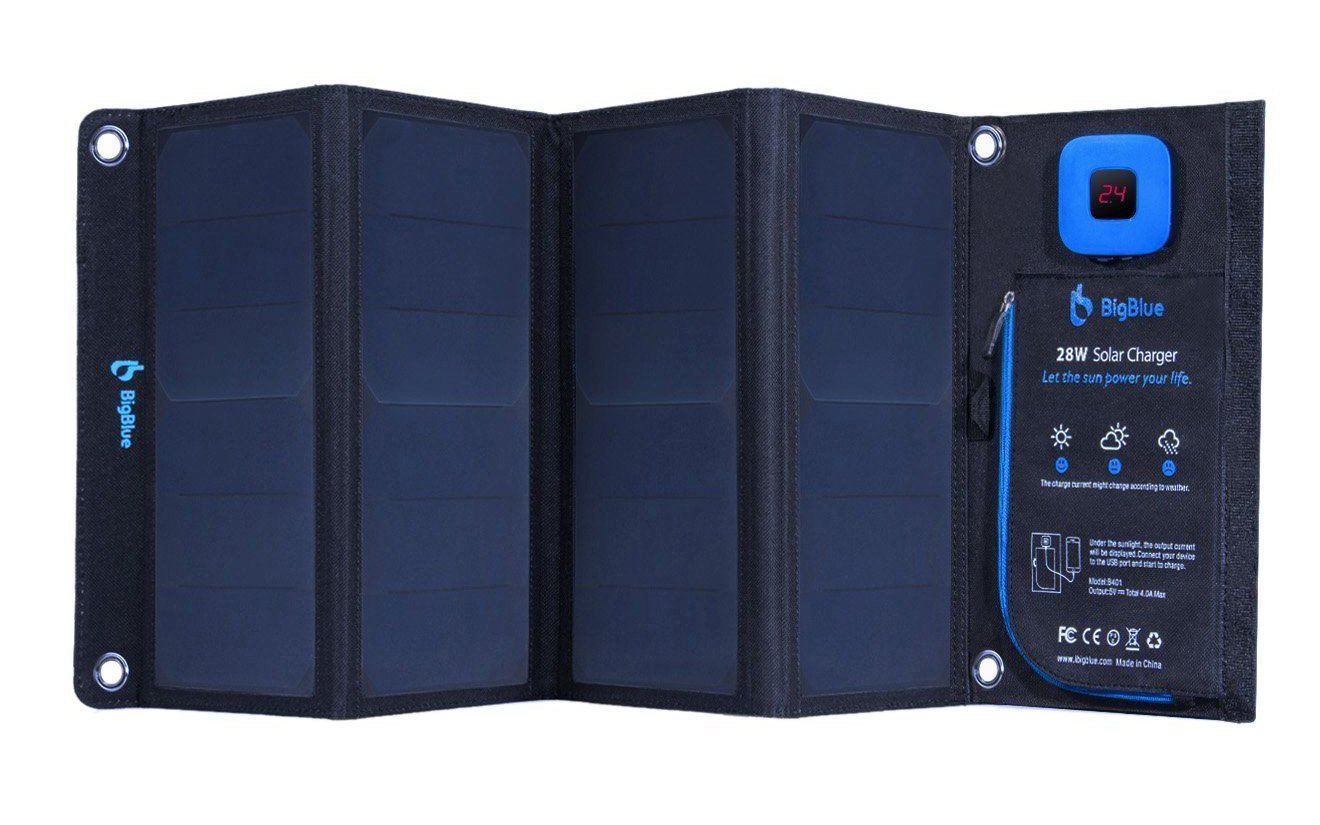 BigBlue solar charger is another amazing product that utilises SunPower panels to deliver charging efficiency ranging from 21.5% to 23.5%. With BigBlue, you'll never suffer from low battery levels on your devices, whether you're camping, hiking, or even fishing.
Integrated with Smart IC technology, the solar charger promises the fastest possible charging speeds of up to 4 Amps for multiple devices. And thanks to the one 1A port and two 2.4 A ports, you can simultaneously charge three gadgets. The ports feature a rubber cover and cloth flap, which shield them from water and dust damage.
Despite being small and lightweight, it outputs 28W of power. It's also compatible with several varieties of Android and Apple devices. The industrial-strength PET polymer exterior protects the units from damage from fog or rain. The IPX4 further improves its waterproof capability.
If you're hiking in cloudy conditions or under trees, the charger will stop automatically and restart once there's sunlight. Unlike other solar chargers, this device comes with an ammeter to allow you to confirm the actual electric production.
RAVPower Solar Charger
The creators of RAVPower Solar Charger designed this device to bring optimal off-grid charging experience. Whether you're going for deeper expeditions in the Hinchinbrook island or just for a light nature walk, you will love this amazing accessory.
RAVPower Solar Charger is small, but it's packed full of power to help you get through even the longest camping tips. And you don't have to worry that this tiny device could get lost because it comes with an in-build high-quality hanging ring. The ring makes it easy to attach the power bank to your backpack when navigating the outdoors.
The device boasts signature solar cells that take solar charging a notch higher. The solar cells allow RAVPower Solar Charger to deliver charging efficiency of up to 23.7%. It's iSmart TechnologyTechnology, embedded into its triple USB ports, will provide you with optimal charging results for all your devices.
RAVPower solar charger battery has three integrated USB ports of 2.4 A and 5V DC to charge three USB devices like iPads, Cameras, and any other device which uses iSmart charging TechnologyTechnology.
X-DRAGON 40W SunPower Solar Panel Charger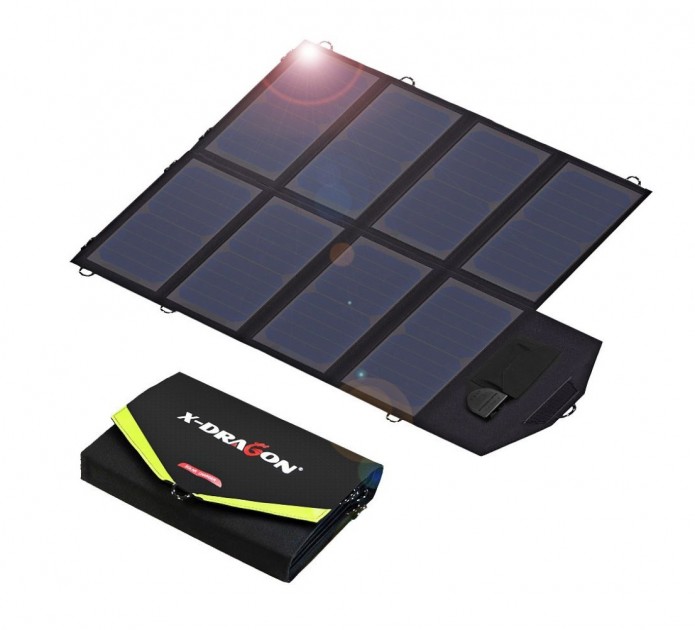 The X-Dragon 40W might not be the most rugged option out there, but it's versatile, sturdy, attractive, and light enough to pack for your camping trip.
This device has three solar panels that fold three times and a battery. X-Dragon solar panels are designed from the top efficiency brand in the market: SunPower. The panels' conversion efficiency ranges between 22-25% under direct sun. When folded, it looks like a thicker version of a smartphone.
It's lightweight and has a leather tab that you can easily attach a carabiner to. However, if you want to hang the device from your backpack, you have no otherwise but to carry it with all its panels unfolded.
Just like the other solar charger we've mentioned, X-Dragon contains smart IC chip technology that allows it to adjust to any device it's charging for maximum charging speed. This product delivers a beefy 2.8 A of power, capable of recharging smaller laptops, tablets, and smartphones.
The 40W X-Dragon solar charger contains a dual USB port that includes 5V/2A output for 5V gadgets and 18V DC voltage for charging laptops, tablets, and other 18V devices.
The 10-in-1 connector cables make it easier to charge any gadget, whereas the incorporation of SolarIQ technology allows the device to deliver the appropriate voltage and current for maximum performance. Overall, the Dragon is the ideal combination of power that can last you for days in the outdoors.
What to Look for in the Best-Solar-Chargers
Weight
Weight is one of the most important factors to consider when searching for a portable solar charger. However, the weight of the device you select will depend on the outdoor activity you plan to do.
For example, if you're going for trekking or hiking, you don't want something that will weigh you down. But if you're going camping, then the weight of the device won't matter a lot since you can simply place it inside your RV or tent.
Portability
In solar chargers, more solar panels mean more power for your gadgets. Therefore, folding solar chargers tend to split the difference between high-power output and portability. A single panel can be quite portable, but because of their small size, they struggle to produce a decent amount of power.
Backup Battery
If you're planning to use solar chargers at night or in cloudy conditions, then you should consider getting a solar charger with a built-in power battery. These types of solar chargers store your charge by juicing up a rechargeable battery, which in turn charges your smartphone. They are more effective compared to those that directly charge your gadgets.
Charging power
Often, bigger solar chargers charge your gadgets faster, but the best indication of charging power is the wattage, not the size. Ensure you find a charger that's powerful enough to charge your device in a reasonable amount of time. 10 W to 15W should be the lowest you want to go.
Conclusion
Based on our list of the best solar chargers today, we can conclude that the brand that offers the best balance of portability and power is the X-DRAGON 40W SunPower Solar Panel Charger.
As we have discussed in the X-Dragon section above, this solar charger has included three solar panels that deliver and maximum efficiency of between 22-25%. This maximises the power output each cell can deliver and also reduces the size of the product as well. But the lightest and most portable option in the market is BigBlue 5V 28W Solar Charger.
All the products mentioned in this article will offer you the best charging experience, so carefully go through all of them and find the one that truly meets your needs.
References
Written by The Original PC Doctor on 5/9/2020.