Top 15 Cybersecurity Tips for Travelers
As we enter November, countries are lightening up their COVID-19 restrictions. People can now travel to their top destinations and attend international business meetings. Although this sounds exciting, it's important to remember travelling can expose you to cybersecurity risks and threats. Therefore, it's crucial to practice safe online behaviour when travelling, just like when you're at home.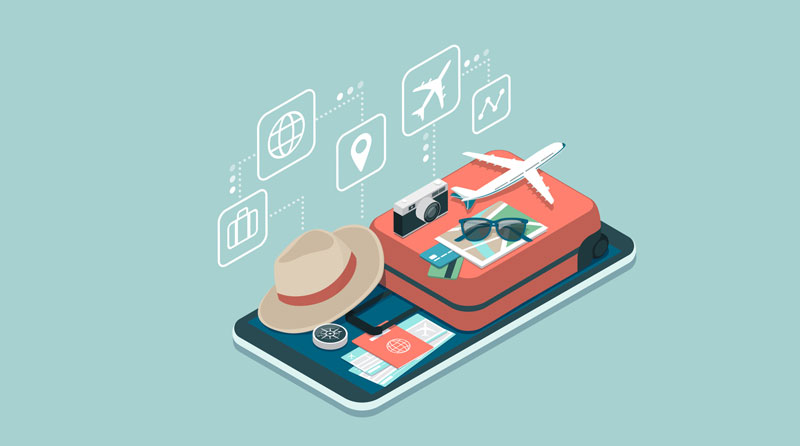 Here are several tips to keep you, your family, or your friends safe from cybersecurity attacks while travelling.
Before You Go
1. Backup Your Information
Before travelling, it's wise to back up your data to the cloud or a physical device. This way, you can keep your private and financial details safe in case of a data breach or any other unfortunate event like losing your device. Even when you're not travelling, it's always recommended you back up your contacts, videos, and financial information.
2. Update Your Mobile Software
Whether it's your phone, laptop, or tablet, you need to update its operating system (OS) and its apps. The OS comes with a built-in security system that the manufacturer regularly updates. The updates help to eliminate potential cyber-attacks by boosting the device's ability to detect and fight malware.
An update can help to fix bugs and security holes, plus remove outdated features from your device. In this digital era, most devices are susceptible to security compromise, even with simple text. That's why it's crucial to update your device frequently.
Before leaving your home, ensure that you've installed the latest security patch on your phone. Besides OS update, make sure you've updated your antivirus software too.
3. Keep Gadgets Locked
The first line of defence against a security breach is your device password, pin, or pattern. Most devices, if not all, come equipped with security settings that allow users to lock them.
It's important to lock your device regularly, even when you're not using it. Keep in mind cybercriminals require only a few minutes to steal your information. Use a strong password or pin, and change them before leaving for your trip and when returning home.
Alternatively, you can use biometric protection like iris scanning and fingerprint recognition to lock your device. Biometric identifiers add an extra layer of protection for your gadgets. Today, complex passwords are not enough to protect your devices. So, make use of biometric identifiers if your gadgets have them. Keeping your device locked all the time will keep your data safe when you misplace or lose your device.
4. Encrypt Everything
Before travelling, encrypt your phone calls, online chats, text message, and any other data on your device. Encrypting your data makes it hard for hackers to read it even when they gain access to your device.
But remember, some countries are against data encryption. Therefore, try to stay abreast of the cybersecurity laws and restrictions in your destination country. Be ready to decrypt your device when requested at customs.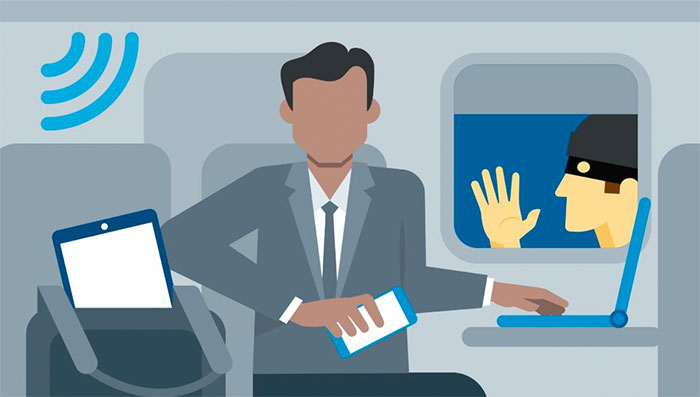 While Travelling
5. Be-cautions When Using Public Wi-Fi
Most travellers like connecting to free Wi-Fi in cafes, bookstores, airports, travel agencies, and hotels. However, most public networks are not secured, meaning hackers can easily steal your data. That's why it's always wise to consult the staff for the right procedures and networks to connect to.
When connected to a public network, keep the tips below in mind:
Avoid accessing personal accounts and sensitive information
Change your pin and passwords
Don't use the free Wi-Fi to make purchases online or to access your bank accounts.
Frequently adjust your device settings to disconnect from the hotspot, then log back in.
Make sure you have a VPN
6. Avoid Using Public Equipment
Apart from free public networks, avoid public equipment like computers and phones. Today, most public places allow users to access and use the internet via publicly available computers.
But in most cases, these devices feature outdated software, security patches, and operating system. Some might even have malware or malicious software installed by hackers to capture user data or security codes. Such software grants cybercriminals access to your logins, credit card information, passcode, and other sensitive data.
If you must use a public computer, visit only HTTPS web addresses and avoid sites that request you to share logins and personal information. Plus, enable two-factor authentication (2FA).
7. Minimize Location Sharing
Travellers tend to post their photos and locations when touring different parts of the world. We're not opposed to this, but sometimes excessive sharing can pose a serious security issue. A thief or cybercriminal can easily track your location and break into your hotel. They can even break into your home since you're not around and steal all your valuables. Therefore, limit what you share on your social media pages, especially your location.
8. Turn Off GPS
GPS is a revolutionary feature that helps users navigate unfamiliar territories hassle-free. Travellers can also use it to receive information about traffic in a certain location. But despite its benefit, enabling it makes you susceptible to cyber-attacks. Hackers can determine your real-time location and even your identity, exposing you to new security threats, like being kidnapped.
9. Enable Remote Wiping
Remote wiping comes in handy when you've lost your device, or someone has stolen it. Enabling this security feature allows travellers to remotely factory reset, disable or lock their device. As a result, unauthorized users can't access the personal and sensitive data on the device.
What's even better, users can set some laptops, tablets, and smartphones to automatically factory reset after a certain number of unsuccessful unlocking attempts.
10. Disable Auto and Remote Connectivity
At work or home, the auto connectivity features might prove very useful. That's why most of us usually leave this feature turned on. However, when travelling, it's wise to disable the auto connectivity feature. Otherwise, your device will automatically connect to the available public internet. Most public networks are unsecured and home to hackers. Therefore, connecting to such networks will put your sensitive information at risk.
When you disable this feature, you can connect to a secured wireless network only when you want to connect.
Besides Wi-Fi connectivity, turn off auto Bluetooth connectivity too. When you leave your Bluetooth on, nearby hackers can connect to your device and hack into it.
11. Keep Your Devices with You
While travelling, make sure you keep all your devices (laptop, smartphone, or tablet) with you all the time. If you want to prevent unauthorized access to your devices, avoid leaving your devices unattended in airports, planes, or any other transportation mode. Hotels are equally vulnerable too. Carrying your gadget with you will also prevent physical theft and subsequent data breaches.
12. Try Using Loaner Devices
If it's a business trip, consider asking your IT department for a clean "loaner" gadget. Loaner devices usually contain minimal business data, reducing the risk of sensitive data falling into the hands of hackers while travelling. If the gadget gets stolen or lost, the IT department will know how to secure it and the data. And once you're back from your trip, the IT department can easily wipe it clean before allowing it back to the inside the business building.
13. Combat High-Tech Problems with Low-Tech Solutions
Securing your data might sound overwhelming and expensive. But this is not the case! A simple DIY solution like placing a piece of tape over your laptop's camera can foil a cybercriminal.
Alternatively, you can place a privacy screen on top of your smartphone's screen to shield your data from prying eyes. A privacy screen is a thin screen that reduces your gadget display from the sides.
Travellers can also utilize high-end solutions like RFID-blocking wallets that keep personal and financial details safe.
14. Be Aware of Your Surrounding
Always remain vigilant when travelling. Keep in mind, hackers and thieves can do anything just to get your data or valuables, so maintain a defensive position all the time. It's your responsibility to keep your personal and business information secure. Therefore, always be aware of your location and who is around you. Don't trust anyone or leave your gadgets unattended.
Upon Return
15. Scan Your Devices
Last but not least, after returning from your trip, scan your devices for malware or suspicious software. When travelling, you might access an unsecured website unknowingly and end up downloading malware. Most malware and viruses mimic commonly used apps and software. But in hindsight, they're accessing and transferring sensitive data and logins to cybercriminals.
If you don't scan your gadgets, you might end up exposing your personal and business data to hackers, who can use it to steal your money or blackmail your organization.
Final Thoughts
Today, tablets, smartphones, and laptops are invaluable companions to travellers. Nonetheless, the spike in usage of these gadgets has increased cybersecurity risks and threats, such as data breaches. Remember, data breaches will not only affect you but your family, friends, and even company. That's why it's crucial to follow the necessary steps to shield yourself from potential cyber-attacks.
That said, we hope these cybersecurity tips for travellers can help you keep your data safe anywhere you go, whether it's across town or the globe.
References
Written by The Original PC Doctor on 22/11/2021.