The Best Ergonomic Mice
If you're in the market for the best ergonomic mice, then you've come to the right place. An ergonomic mouse is a necessary addition to your work and home office. It works like an ergonomic keyboard by alleviating any pain and discomfort you might experience while working.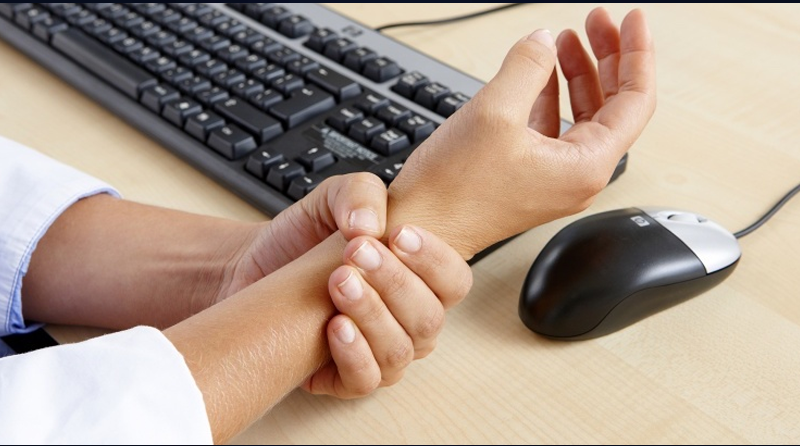 The mouse allows your wrist and hand to maintain a more natural position while working to mitigate common causes of carpal tunnel and other related disorders.
However, finding the best ergonomic mice is no simple task. You might have to spend endless hours checking out the features and price of every product, and they're a lot. To save you the hassle and time, here are our top choices for all ergonomic mice on the market. Check them below.
Logitech MX Master 3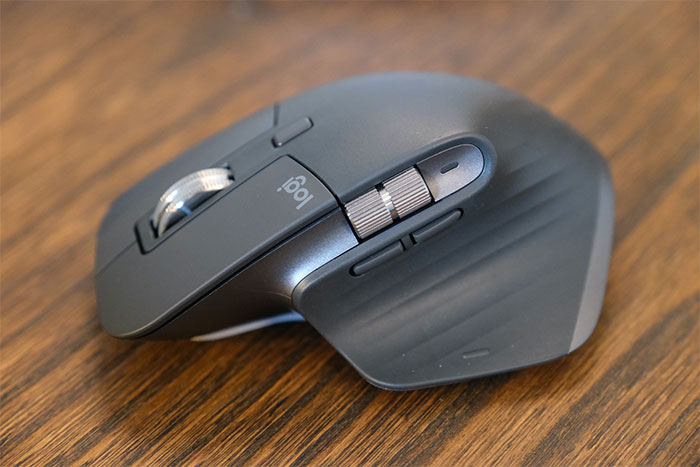 Let's kick our list with Logitech MX Master 3, one of the best ergonomic mice for office use. Made from solid plastic, it rests naturally on the hands and feels well built. Its right-slanted design allows it to feel comfortable to the user. Since it's on the larger side, it's more ideal for individuals with medium-sized or larger hands who use palm or claw grip.
Users can press the large thumb rest section to activate the control and use the vertical scroll wheel to scroll fast. Besides that, the mouse features a side scroll wheel positioned above the two left-side buttons.
What's even better, it can wirelessly connect to three devices simultaneously via Bluetooth. Also, users can re-program most of the mouse buttons and even create custom profiles via its companion software.
It lacks built-in storage for its wireless receiver. Also, it's not perfect for individuals with small hands. Despite that, it's still an amazing product with outstanding productivity features.
Razer Pro Click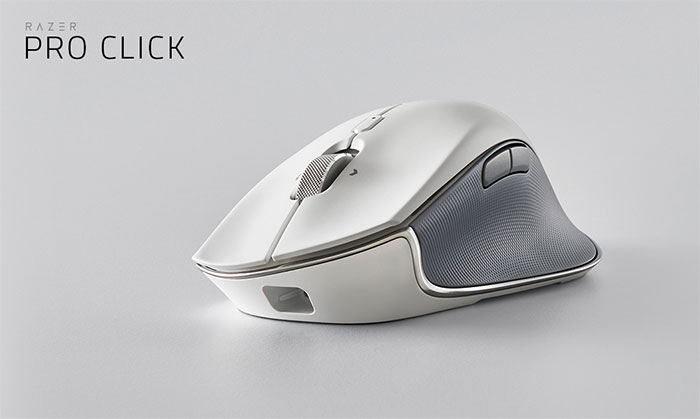 The Razer Pro Click is among the best Bluetooth-capable mice today. Between its elegant design and precisely engineered ergonomics, professionals are going to be hard-pressed to find a better alternative for a home or office for price.
Packed with all features found in some of the best gaming mice, Razer Pro Click delivers high performance to the users. In addition to that, it's designed to keep your wrist at an angle of 30 degrees. The palm rest supports your hand to keep your wrist off the desk surface. It feels so natural that you won't even notice that you're using a mouse at all.
What we loved the most are the distinct connectivity options that you can use to connect to several devices. The lack of a USB Type-C port and the high price tag is the only knock against it.
Microsoft Sculpt Ergonomic Mouse
If you're into a horizontal mouse, consider the Microsoft Sculpt. Microsoft Sculpt blends some benefits of a vertical mouse with a traditional design. As a result, users can enjoy some of the perks of an ergonomic model.
It features an almost spherical shape that places your hand at a more 45 degrees angle, miming your natural hand curvature. The left side of the mouse has a flattened rubber area where you can rest your thumb. Furthermore, you can customise its buttons and even assign new commands to them via a PC-only Microsoft Mouse and Keyboard Center software.
However, this mouse will put some stress on your wrist and forearm. So, if you already have a wrist issue, it's a wise choice to find another ergonomic mouse. That said, the Microsoft Sculpt is a perfect ergonomic mouse for those who want a mouse they're familiar with.
Anker Wireless Vertical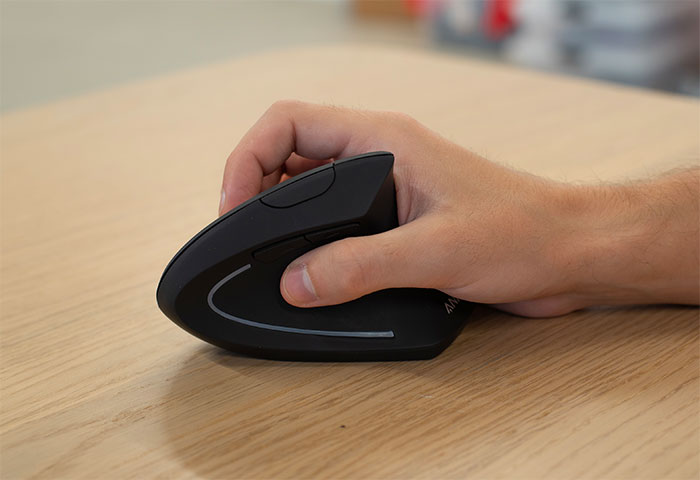 If you want to save yourself from wrist problem issues but don't want to spend a lot of money on an ergonomic mouse, Anker Wireless Vertical is your best bet. It's an affordable mouse that offers options for 800, 1200, or 1600 DPI optical tracking. You can switch between the options to find the best sensitivity.
Like most ergonomic mice, it features a built-in button for easy navigation, and you can map the buttons to match the commands of your preference. The Anker Wireless Vertical runs on AAA batteries and features a power-saving mode which it enters if you leave it idle for 8 minutes.
Nonetheless, we noticed the mouse it's a bit large, meaning individuals with small hand might find it hard to use. Another downside is, it's right-handed only.
Logitech Ergo M575 Wireless Trackball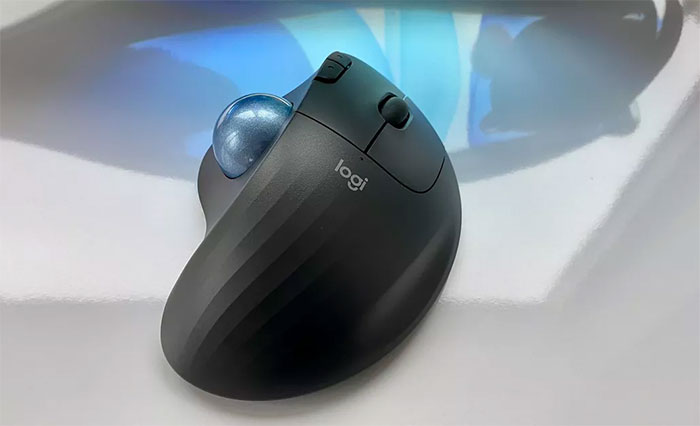 Logitech Ergo M575 Wireless Trackball is perhaps the best ergonomic mouse on our list. Although, there's a bit of a learning curve if you've never used trackballs. Your thumb needs to get used to scrolling and gliding. The good thing your hand and arm will sit comfortably.
The mouse is a worthy successor to the popular M570 trackball. But it's re-designed for maximum comfort and comes packed with several features for excellent performance. Its palm rest is designed to fit and support the user's hand, thus minimising fatigue.
Of course, the cerulean blue track is the start of the show. It's positioned on the low side of the mouse to retain a natural posture of your hand. It also glides with ease in every gesture. Moreover, it's well built and comes with long battery life. We only wish it was rechargeable.
Kensington Orbit Trackball Mouse with Scroll Ring
Like the Logitech Ergo M575, the Kensington Orbit Trackball with Scroll Ring comes with a learning curve. Looks aside, the trackball really impressed us. It makes navigating through your computer hassle-free.
It's lightweight, small, and comfortable on the hand and fingers. The trackball is placed in between the right and left buttons, making it easy to scroll up and down. Around the ball is a circular ring that rotates to allow you to scroll through the content of a page.
It's made from solid plastic, and you can wireless connect it to your PC via Bluetooth or a 2.4GHz network using a small dongle or Wi-Fi. Furthermore, its software allows you to change the various aspects of the device.
AmazonBasics Full-Size Ergonomic Wireless Mouse
AmazonBasics Full-Size Ergonomic Wireless Mouse is ideal for individuals looking for an affordable mouse that delivers comfort and alleviates wrist issues. It's a traditional mouse, but with a twist.
The manufacture placed the button on an uneven slope. This way, it can accommodate different lengths of middle and index fingers. There's a concave on the left side of the mouse for the thumb. Plus, on the right, there's the same depression to support the pinky fingers' grip.
While the AmazonBasics might come with an ergonomic design, it's still far less nuanced than that of the other ergonomic mouse we've mentioned. Also, it lacks customisation software to go with it. Another downside is AmazonBasics Wireless Mouse's built looks and feels cheaper.
Conclusion
There you have it, our list of the best ergonomic mice in the market today. Keep in mind, finding the best ergonomic mice for your desk will have a long-term impact on your body's health. An ergonomic mouse relieves stress and tension in the joints and ligaments of the hand, wrist, and forearm.
Anyone with arthritis, carpal tunnel, or other wrist issues will benefit a lot from a vertical mouse without a trackball. A horizontal mouse is the best choice for gamers who desire flexibility. Mouse with trackballs is ideal for users with limited arm mobility or desk with less space.
That said, we hope now you have some idea of what to get. Thank you for stopping by!
References
Written by The Original PC Doctor on 20/11/2021.