Top 10 Best Photo Editing Apps for Android and IOS in 2020
Photo editing is now an essential need for all the photographers out there. Thanks to the technology, you don't need a PC or massive application like Adobe to edit an image, but you can easily edit your mobile photographs and pictures. Editing and transforming your photos into a whole new image and giving it a unique look requires intensive skills, but these apps have made it a lot easier to do so. With the help of these apps, you will be able to enhance your images, and you can also implement different types of filters and stuff on it.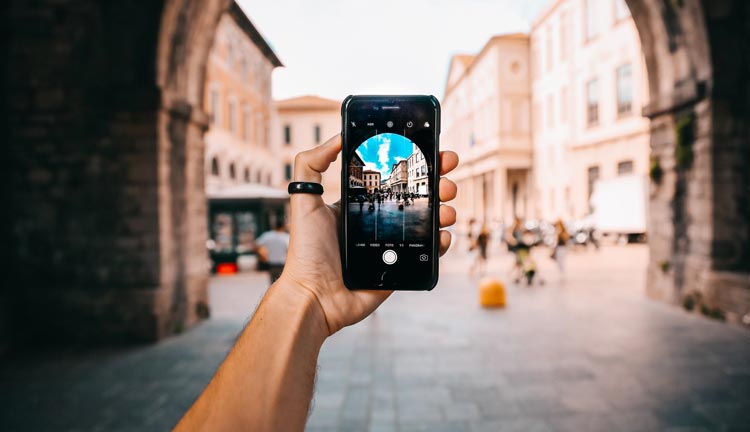 But there are some Photo Editing applications available on Android and IOS stores that offer low-quality images and miserable features that are not really worth trying. For that reason, I have gathered some Top-Notch and Great Photo Editing apps for your iPhone or Android mobile that you can download and try something different with your images!
Top 10 Best Photo Editing Apps for your Phone!
So now we have finally got there for what you were waiting for. Let's get started without any delay:
Touch Retouch Photo Editing App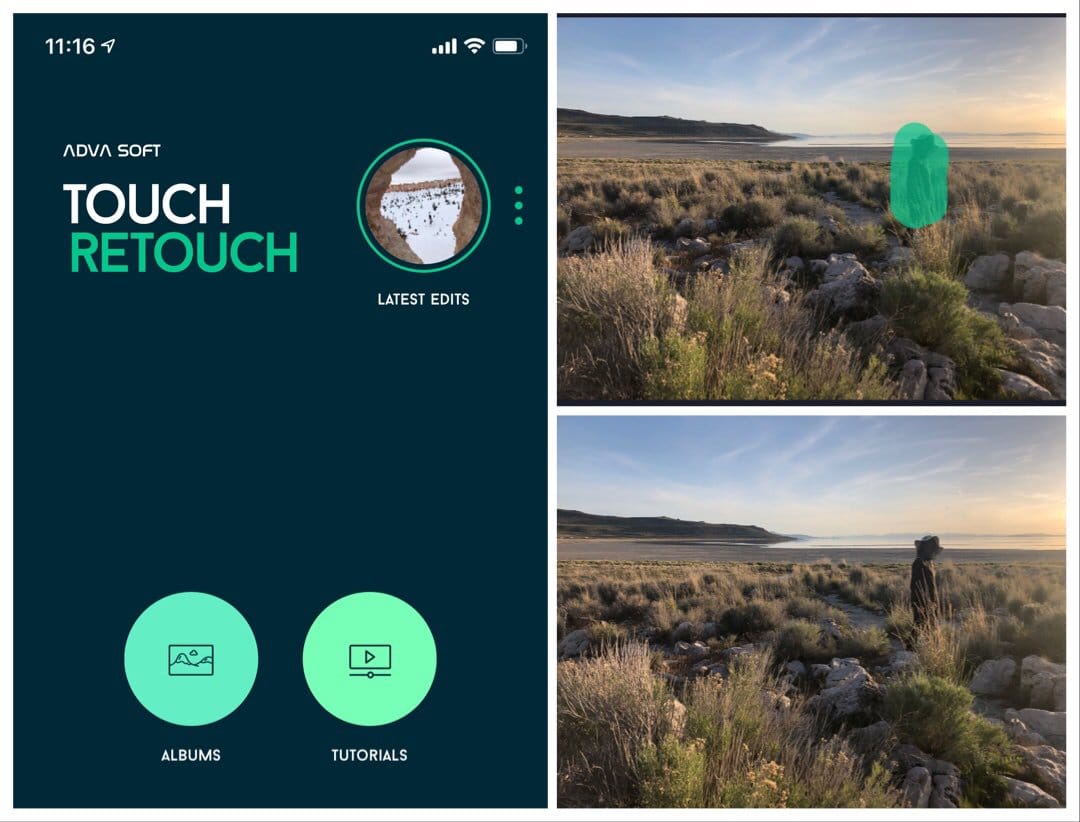 It doesn't matter if you are using an Android Phone or an IOS phone, you can install the TouchRetouch app in it, thanks to the developers. TouchRetouch offers its users countless great features and options that the users can add in their images and photos. This photo editing app has more than 500,000 installs only on Playstore. The best thing about TouchRetouch is that its interface is user friendly, and users can navigate all of the options with ease. TouchRetouch also enables its users to remove an object from your image to make it look better. Very few apps provide the object removal feature, and TouchRetouch is one of them. So if you want to add amazing filters, texts, remove objects, and want the output image in HD quality, then TouchRetouch is undoubtedly for you!
Afterlight 2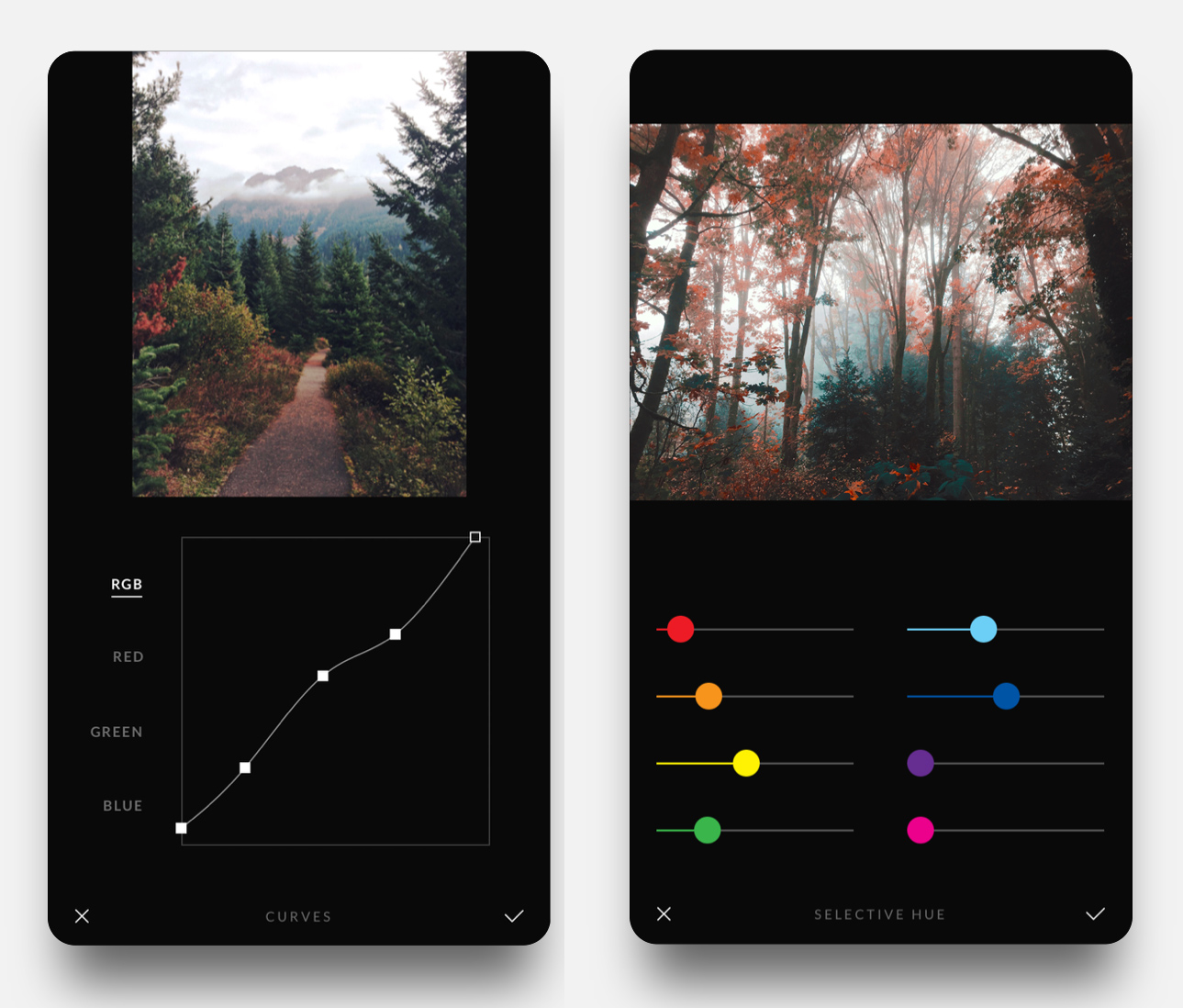 Afterlight 2 is a premium quality Photo Editing app that the users can download in their iPhone or Android phone from their respective stores. Afterlight 2 requires only one-time payment, which means that the users have to pay for the app when they first download it, and then it will be theirs for the rest of their life. More than 5,000,000 people have installed this app on their smartphones to make their pictures and images better. Afterlight 2 has hundreds of features integrated into it that the users can use and make their image as they want. As this a premium app, users will be able to produce 4K quality images even after the editing and adding extra frames in it. The developers of this app make sure to add more amazing and new features every month so that the users can always have the latest features, including new filters, font style, designs, new stickers, and many more things. You have to invest very little at the start to use this app, but you will not regret your decision ever!
Adobe Photoshop Express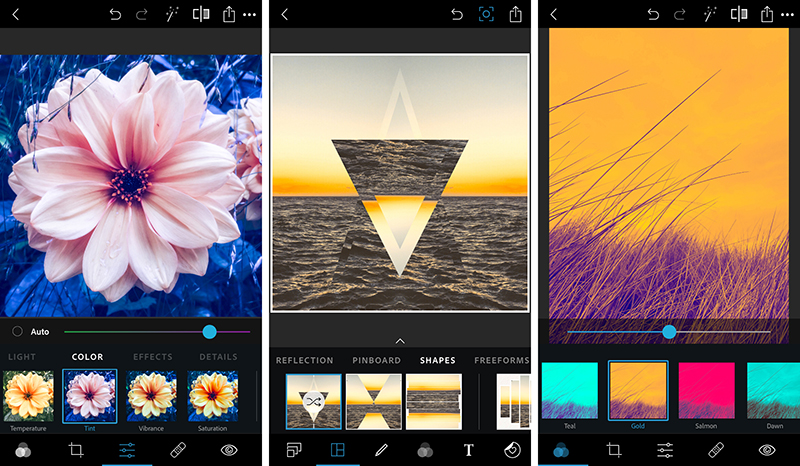 Is there anyone in the Photographs industry who doesn't know about the Adobe Photoshop? There can't be! Adobe Photoshop is a trendy photo editing software that was first developed for Personal Computers. Still, after seeing its success on that particular platform, developers designed it for the Mobile Phones as well! Adobe Photoshop Express has been downloaded more than 100,000,000 times, along with thousands of positive reviews. Now the users can edit their images in any way possible with their compact-sized device without any problem. The Mobile version would not have all the features and options as the Full PC version has, but still, Adobe Photoshop Express can offer you many more things than the standard photo-editing application. It also has the smart filter option to select the best-suited filter for your image! Not only that, but users can also share their edited image to their Social Profiles directly with Photoshop Express. Download this app now in your IOS or Android device to get access to some First-Class editing features.
Snapseed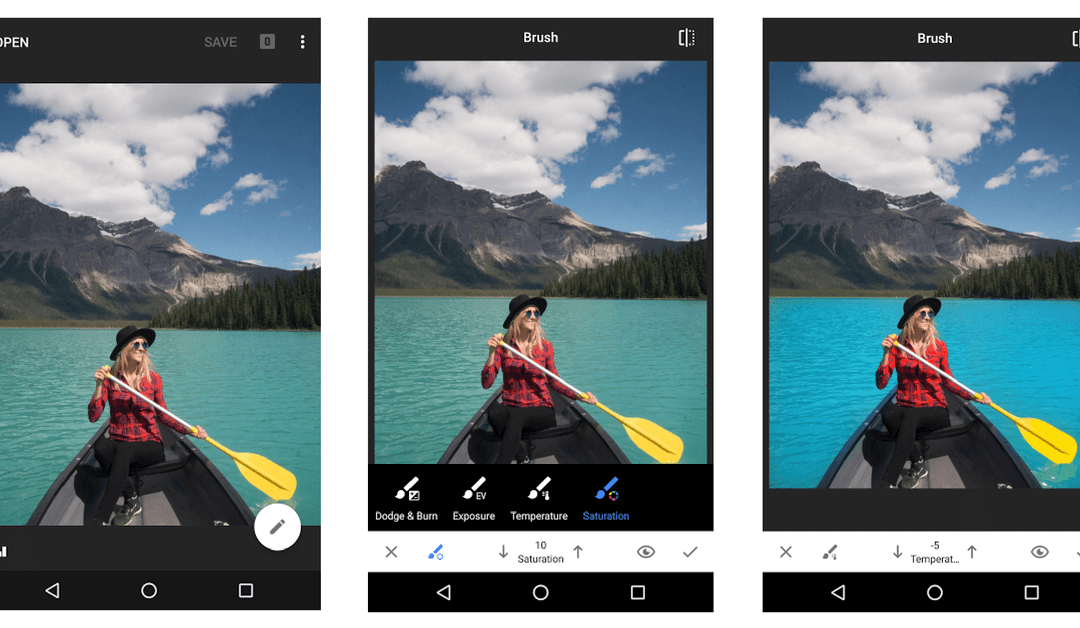 Google is a well-known company around the globe, and we all trust it with our information and personal accounts. Just like every time, Google always tries to provide its users with the best applications possible. Snapseed is developed by Google and has almost 100,000,000+ downloads on Google Playstore, and that is why most of the users trust the app with their photos. The greatest thing about this application is that it is available on both the platforms and the app is free to use. Snapseed is offering premium features and options to its users for free of cost so that all the users around the globe can get the best for them. Snapseed allows its users to create their image filters, and users can optimize their filters as they want. This app has all the standard features like cropping, rotating, adjusting, and many others. Aside from that, users can also change the contrast level, brightness, and saturation of any specific area of an image by selecting the "Selective Adjust" tool.
Foodie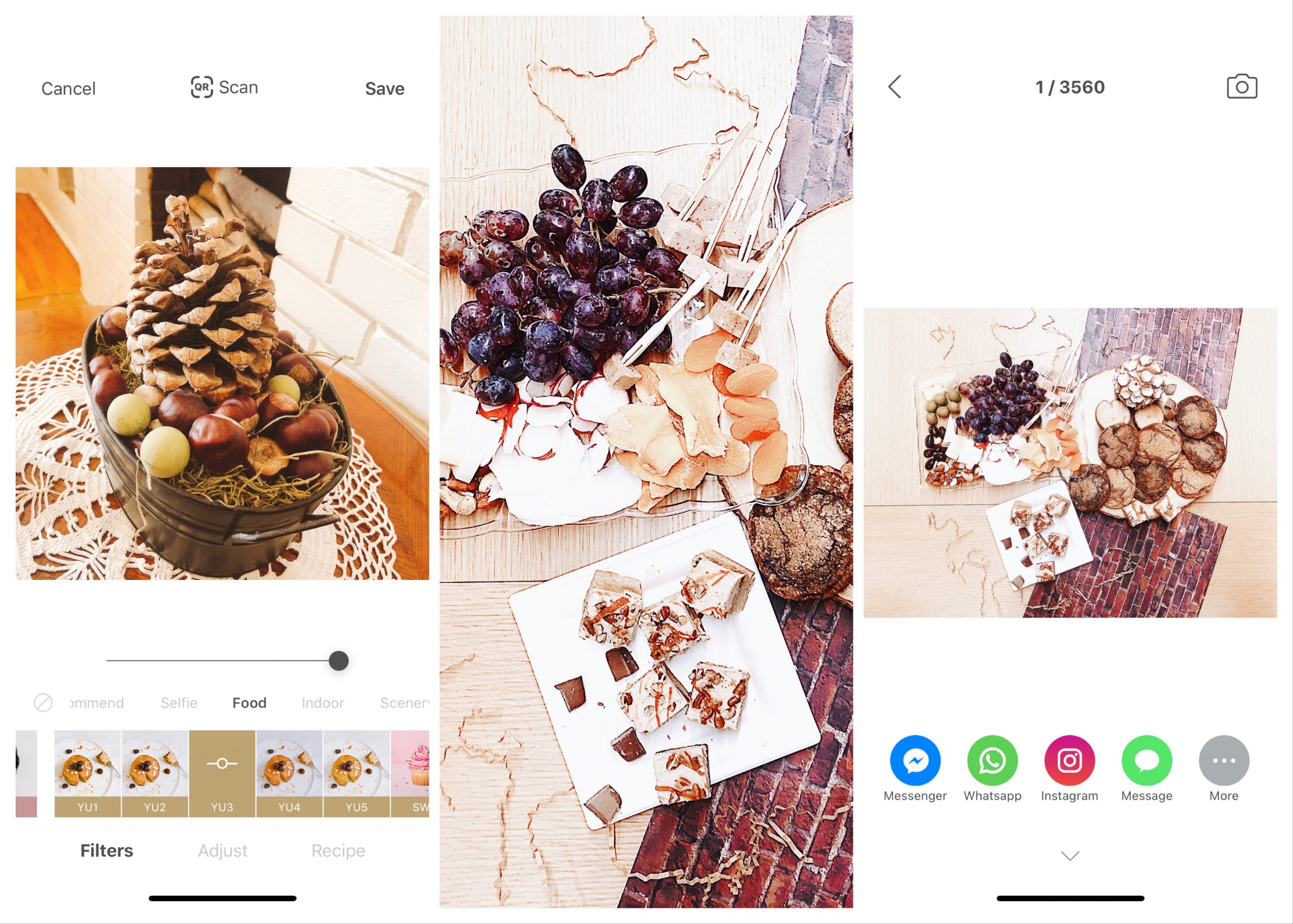 If you are a food lover and takes a lot of pictures of your food, then Foodie is the app you want! This app provides somehow similar filters like Instagram, but they are basically for the food. This app is free, and you can download it for your Android or IOS phone. This app has more than 10 Million downloads on the Playstore, and you can also check its reviews there. There are more than 30 filters available that the users can choose and give their food a whole new level. With its editor, you can add many other things to your images, including food itself, stickers, time, and many things more. This app also enhances the colors of the image so that the users can give their images another great look. If you are going to a café or restaurant, don't forget to download Foodie to capture some incredible snaps.
Photo Collage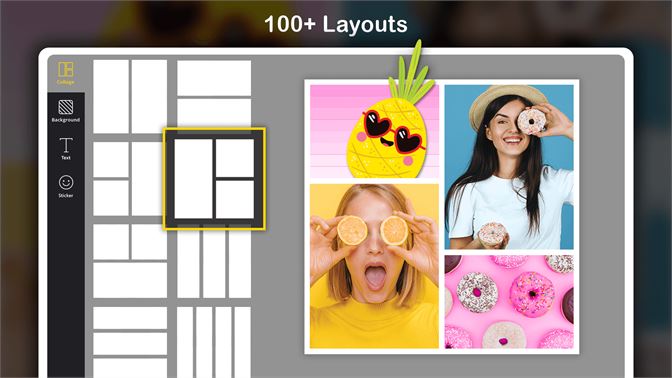 Photo Collage is a widely used app by users from all countries. Many other apps allow the users to make a collage of their photos, but the number of layouts is limited in those apps. This app is considered one of the best with more than 50,000,000 downloads on Google Play Store. But Photo Collage ensures that the users would get hundreds of designs to choose from. Not only that, but users using this app can also add filters and other effects to their images and then make a collage of their photos. Photo Collage also allows its users to download the final output in HD quality. You can download this app for your Android and iPhone for absolutely free.
Visage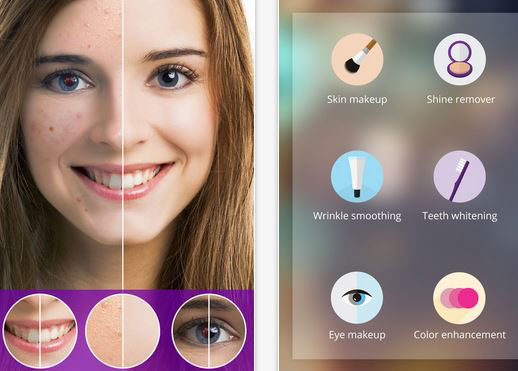 Are you worried about the pimples, dark circles, and bags on your face? Then you don't have to worry as Visage is offering some cool features and enhancements to its users that can remove pimples, dark circles, and bags under the eyes in no time. Visage is mainly designed for the selfies as it is more focused on the face. It has thousands of positive reviews on multiple forums and has more than 5 Million downloads on app downloading sites. The AI of this app ensures that even after the editing, your face would look natural, and it wouldn't let others guess that the image is edited in any way. So if you want to take selfies with a bright face, then Visage is here to solve your problems!
PicsArt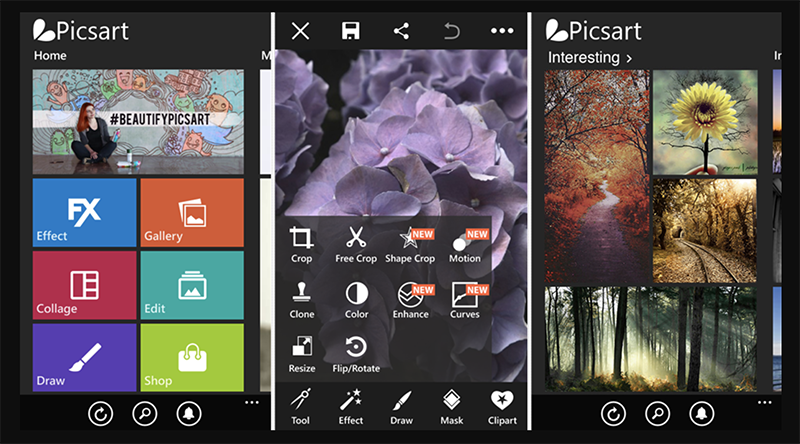 PicsArt is the fused version of Photoshop and Paint apps. This means that you can use most of the features of Adobe Photoshop and Paint in PicsArt. PicsArt allows its users to edit their images, add filters, enhance the quality, change the background, remove objects, or add texts into the picture with its amazing features. PicsArt is so popular among the photo lovers that it has got more than 500 Million downloads with more than 9 million reviews. But at the same time, users can also use the similar features of paint like brushes, eraser, shapes, and many more to add in their images. This app is free form both IOS and Android, but you can purchase some in-app features to unlock them. Other than that, PicsArt is a great combination if you want to perform high-level editing on your images.
*Adobe Lightroom CC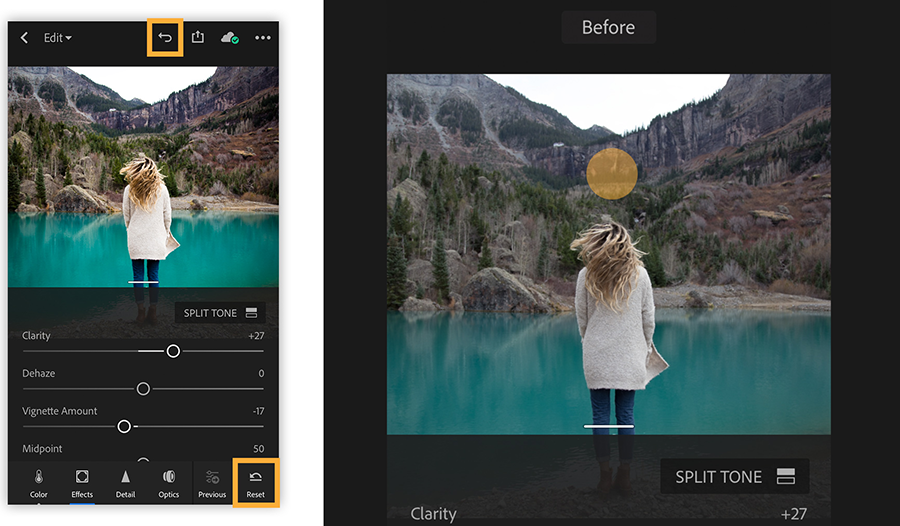 We previously discussed the other Adobe app that was the mobile version of popular 'Photoshop.' But the one we are discussing now focuses more on the exposure, quality, enhancement, and colors of the image. Lightroom CC is easier to use than Photoshop, and the best thing about this app is that it has almost all the features available on the PC version. You can easily install this app from Playstore, where it has got more than 100 Million downloads. If you want to enhance your image in more ways and with more filters, including other options, then Lightroom CC can help you with your pictures. There is also an option to subscribe to the premium version of the application, but the free version of this app is more than enough for the people willing to do standard editing.
Hypocam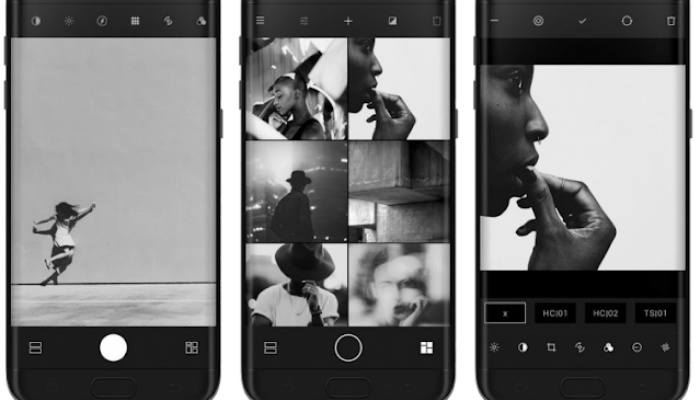 Have you ever wanted to go to the generation where the photos were captured in black and white? If so, Hypocam can help you give a glimpse of that generation. Unlike the other filter apps, Hypocam allows its users to produce high quality and optimized Black and White image, which offers the premium and original look to the picture. Hypercom is still not much popular among the people, yet, it has got more than 1,000,000 downloads with many good reviews. This app has a dedicated monochrome feature that helps the users to make the black and white photos more realistic. If you are into the style of old photography, then there is no doubt that this app is made for you!
Conclusion
Editing certainly is a great option to make your pictures better than ever before. But it is best to get legitimate and useful editing apps for your mobile that can offer you the best at the least price or even for free. If you are willing to edit your image in any way, I have provided you with many options and apps to choose from; you can pick the one that suits you and make your picture amazing again!
Reference:
Written by The Original PC Doctor on 3/8/2020.