The Top 5 Soundbars to Buy for your TVs in Australia for 2020
Modern TVs are generally sleek and smart, which is a great way to add more value and attraction to your media room or living room. The built-in sound system that comes with most of the TVs is not something you can enjoy. Generally, these high-quality speakers require extra space which it is impossible to integrate them as a part of televisions.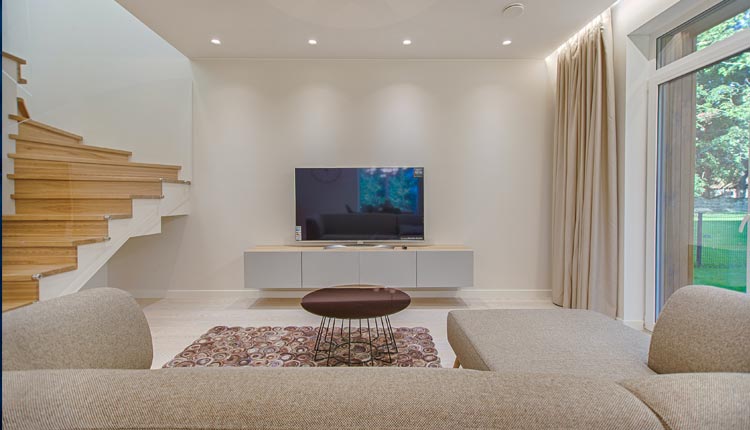 Although there are some exceptions, such as electrostatic panel speakers but they are sporadic and quite expensive. That's why you require something less costly and readily available to sound as great as the picture quality. That's where the soundbars come into play to provide you with a separate and loud sound system with high-quality audio.
How to Buy the Best Soundbar?
There are several vital points that you should keep in mind while buying the soundbars, and some of the most important ones are as followed.
Sound Type
The very first thing to keep in mind while opting for a soundbar is that not all of them offer surround-sound. Many of the soundbars only deal in stereo, and from a fixed unit point of view, it is more reliable. You also have to keep in mind that surround-sound can be a magical experience, or it can also be a mess. That's why we have only chosen the soundbars with excellent surround experience. But if you are looking for soothing else, bear it in your mind.
Positioning
Another essential aspect to keep in mind regarding soundbars is where you want to position them. If you place them right in front of your TV, it might block the remote control. Moreover, you can also put them at the bottom, but it ultimately depends upon the TV stand.
Wire Type
You should always consider the type and the number of wired connections that come with your selected soundbar. In the modern-day and age, we recommend you to go for HDMI ARC because of its hassle-free plug and play option. Additionally, as your TV will pass all the required sound controls via HDMI ARC cable, you won't require a separate remote control either.
Let's get into our list of the best soundbars for 2020… drumroll, please!
Sonos Beam – Compact Smart Soundbar
Sonos Beam, by far, is the best value for your money soundbar that offers a premium experience. If you are familiar with Sonos Playbase or Playbar, Sonos Beams is very similar when it comes to specs but with additional features. Of course, it has the HDMI connection but the best part is that you also get the voice control assistance from all the major players such as Apple Siri, Google Assistant, and Amazon Alexa.

When it comes to its price, it is affordable and cost way less as compared to the other similar products available in the market. Not to mention, Sonos Beam is very compact, and the design is stylish and delicate, and you can even place it in front of your TV. The control buttons are traditionally on the top, and the wire connections like Ethernet, HDMI, etcetera are at the rear. Its four full rage drivers produce a superb sound, and on top of that, three passive radiators, one tweeter, and five amplifiers make the sound even better.

The three-dimensionality, width, and depth provide you with a more cinematic and immersive sound experience that smash your expectations.
Specs
Weight: 6.3 Pounds

Dimensions: 10 x 65 x 6.8 cm

Sound formats: Dolby Digital 5.1

Connectivity: HDMI ARC, Ethernet, Wi-Fi, optical digital

Voice control: Google Assistant, Amazon Alexa, Apple Siri
Reasons to Buy
Value for the money

Exceptional bass weight and depth

Immersive and cinematic three-dimensional sound

Multi-room capabilities
Reasons to Avoid
Only one HDMI

Creates a little hissing sound at high volume
Bang and Olufsen Beosound Stage Wireless Multiroom Soundbar
Bang and Olufsen Beosound Stage is one of the best soundbars available in the market and for several reasons. It provides you with a stunning audio experience because of its 11 drivers. It is packed with detail, precision, finesse, and a clear punch of base. To get on with it, you only need to plug it with your TV, and that's about it.

Although it is not a product that comes with surround sound, it produces the directional sound effects that almost feels like Dolby Atmos height and surround sound. You don't need a separate subwoofer because the Bang and Olufsen Beosound Stage alone is incredibly boomy. You also do not need an independent remote control because of its plug and play feature. But you can still control it manually by using its smartphone's app.

According to its reviews, it is a multiroom music marvel, and you can also use it's Bluetooth to stream from your other devices.
Specs
Weight:

18 pounds

Dimensions: 44 x 7 x 3 inches

Sound Format: Dolby Atmos, 3-channel configuration

Streaming Technologies: Built-in Apple airplay 2, Chromecast and Bluetooth

Works with:

Beosound Balance, Beoplay A9, Beosound 1, Beosound 2, Beosound Stage, and Beosound Edge

Connectivity: HDMI ARC Standard
Reasons to Buy
Excellent for music and movies

Easy to Set up (Plug and Play)

Compact, stylish and delicate design

Tons of wireless connectivity options

Excellent bass extension
Reasons to Avoid
A little expensive

Not surround sound

Only one HDMI input

No expansion options
JBL Bar Studio Wireless Soundbar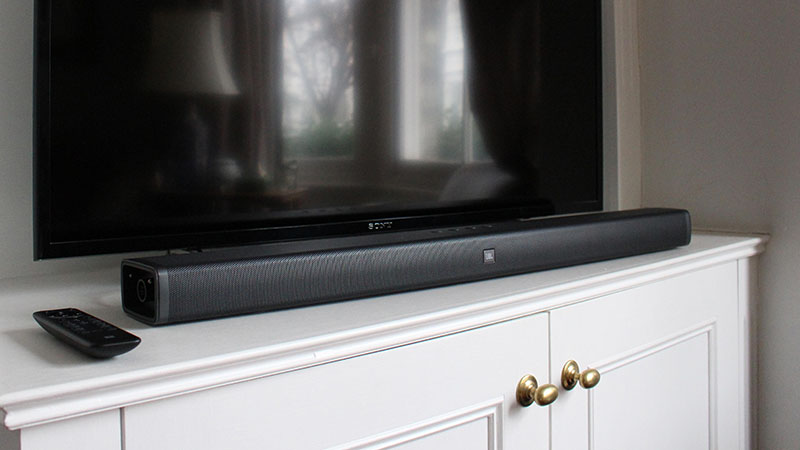 The JBL Bar Studio Soundbar is for those people who can only spare a minimal amount of money. If you want something based on the concept of bang-for-your-buck, this soundbar is your best choice. It comes with HDMI ARC-enable output and provides a punchy and solid sound. On top of that, it also supports Bluetooth and optical digital input.

JBL went the extra mile for the build quality of this product as the design and aesthetic quality is crafted on a very high standard. The sound that JBL Bar Studio soundbar produces is detailed, punchy, clear with rich bass. To overcome the limitations that you can face due to its compact size, you can replicate the JBL surround sound of a 5.1 system.

You might not consider this product as a market leader, but you get a fantastic sound experience for the money you pay. If you require an upgrade to your TV's built-in speakers on a meager budget, JBL Bar Studio Wireless Soundbar will be your perfect companion.
Specs
Weight:

3 pounds

Dimensions: 85.5 x 14.5 x 12.5 cm

Sound Format: JBL Surround Sound

Streaming Technologies: Bluetooth v4.2

Connectivity: HDMI ARC Standard
Reasons to Buy
Value for the money

Solid, clear and punchy sound

Plenty of bass at the bottom

Wireless connectivity

Range of excellent features
Reasons to Avoid
Hardness and hissing sound at high volume

Not the right music solution
Sonos Arc – The Premium Smart Soundbar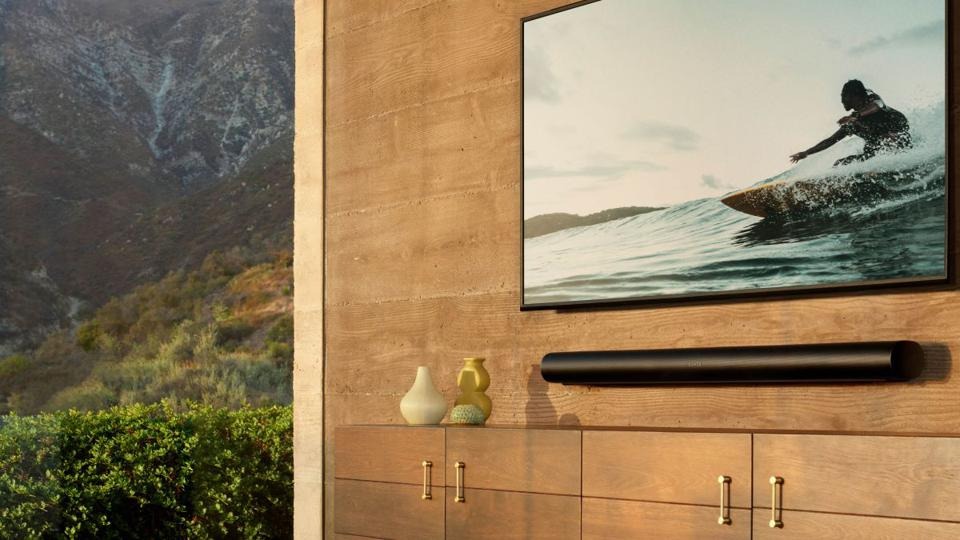 Sonos Arc is yet another fantastic product by Sonos because there are not many products available in the market which provide better experience and value as compared to Sonos. This time, Sonos has come with a product that offers surround sound, and you will have to pay a little more for that as well. But the price is still very reasonable as compared to the competitive products.

As the products from Sonos are always easy to set up, Sonos Arc is not different. The sound quality is punchy and dynamic, and you can connect it to any device you may desire. If you have some bucks to spare to get a more cinematic and immersive sound experience, Sonos arc is the product where your money will be well spent.
Specs
Weight:

24.8 pounds

Dimensions: 44.88 x 4.53 x 3.43 inches

Sound Format: Dolby Atmos, Dolby Digital, Dolby Digital+, Dolby True HD

Streaming Technologies: Voice (Google Assistant, Amazon Alexa), Sonos app, Apple AirPlay 2

Connectivity: HDMI ARC Standard, optical digital, Ethernet, WIFI
Reasons to Buy
Value for the money (Considering the surround-sound)

Dynamic, weighty, and detailed sound

Dolby Atmos
Reasons to Avoid
The sound relies on the TV's specs.
Sennheiser Ambeo Soundbar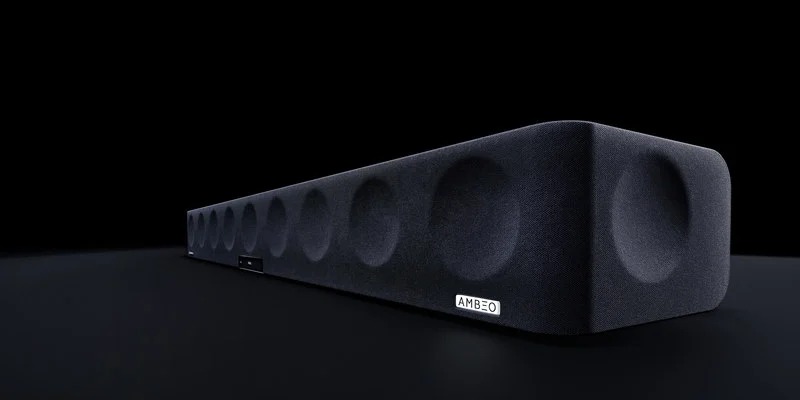 Sennheiser Ambeo Soundbar is the company's first speaker that is built for the consumer. It is one of the premium products that come with DTS:X and Dolby Atmos support. It provides one of the best experiences to watch movies, and the volume is enough that you do not require any additional subwoofer. Sennheiser Ambeo Soundbar is not only about the volume, but the sound it produces is high-quality, dynamic, detailed, and transparent.

It is recommended that you put this soundbar on the shelf or mount it on the wall to keep the upward-firing from any obstruction. It is the best solution for people who want a 3D sound experience without buying speakers.
Specs
Weight:

40.7 pounds

Dimensions: 126.5 x 13.5 x 17.1 cm

Sound Format: DTS:X surround sound and Dolby Atmos

Streaming Technologies: Bluetooth

Connectivity: HDMI ARC Standard (4x), optical digital
Reasons to Buy
High-quality, balanced sound

Exceptional surround experience

Excellent dynamics
Reasons to Avoid
A massive product

Placement is quite messy
Conclusion
These are some of the best soundbars with smart features than ever. They cover from Dolby Atmos to surround-sound to provide you with the best sound experience that you can have with your TVs. We hope that these products fulfil your needs in terms of size and quality. Feel free to let us know about your experience.
References:
Written by The Original PC Doctor on 28/8/2020.