Personalised Homepages
Being an increasingly popular trend we give you a few reasons why you should personalise your homepage.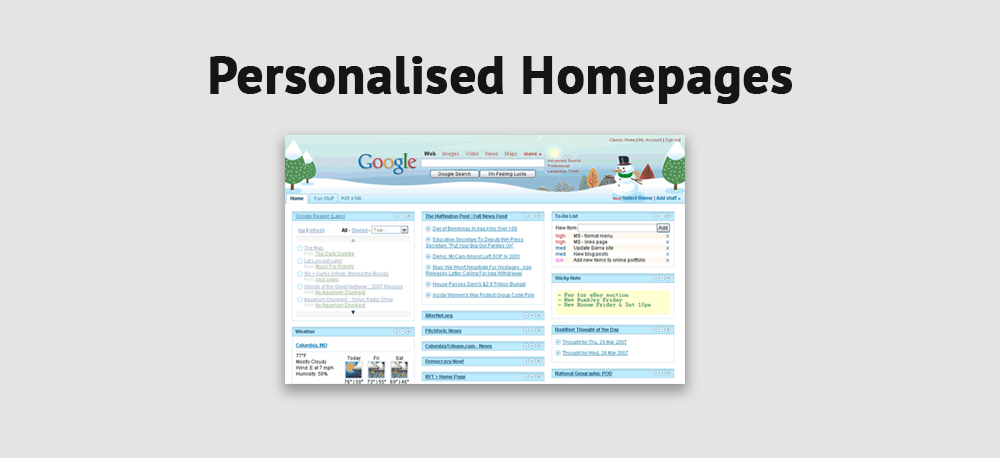 Your favourite content, home delivered
One of the most useful features personalised homepages offer is that they use devices called "RSS" feeds to grab headlines and articles from your favourite web pages and pull them to your homepage. This means that when you turn on your computer in the morning, instead of heading up the address bar and typing lots of addresses to get to all your favourite sites, you will see all the latest headlines displayed without needing to make a single mouse click.
You may be thinking, "What's the difference? I could just set my homepage to news.com.au and be done with it". The difference is that by using a personalised homepage you can pull the headlines from ALL of your favourite sites to a single webpage. Rather than just reading the headlines from news.com.au, you are also reading news from the Sydney Morning Herald (www.smh.com.au), the New York Times (www.nytimes.com.au) and your favourite blogs.
How do I set up a personalised homepage?
The first step to setting up a personalised homepage is to decide which one you want to use. This really comes down to personal preference. For an example Google is convenient for me because I can use my email and create documents online and save them on my online desktop, so iGoogle (www.google.com.au/ig) was perfect for me. If you find you use Live.com for searches, my.live.com is probably the way to go.
Once you've decided which you are going to use visit the page and sign in or sign up. Once you've signed in you should see a starter homepage like the one you see below.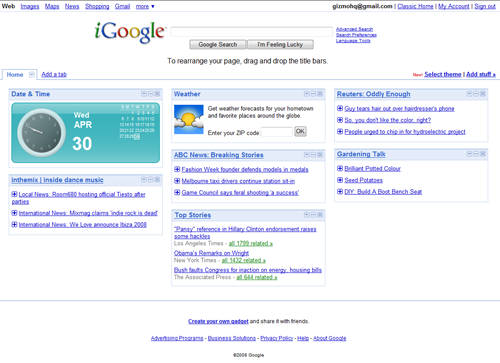 For this to work properly, you'll need to set either www.google.com.au/ig  or my.live.com as your homepage so it is the first thing that loads when you fire up your web browser. For instructions on doing this read this article how to change your homepage.
Begin customising your home page to your interests by clicking the "Add Stuff" button (top right for iGoogle, top left for My.Live) to start adding content that interests you. Both providers will give you a list of available Gadgets to add.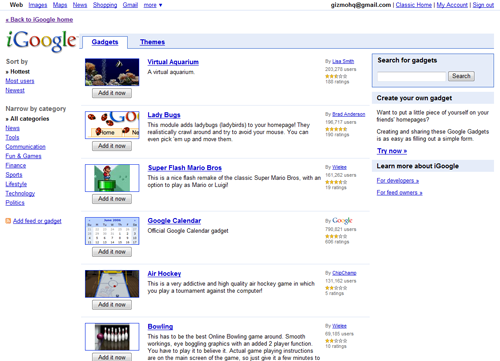 Most people like to know what the weather will be like for the next few days, so be sure to add a weather gadget if this interests you. In most cases, this is pre-populated when you sign up. Both sites also give you a collection of news gadgets to choose from so you can start to pull content to your site.  Have a look through the options available and see if you can find your favourite sites there. Once you added a gadget it will show up on your homepage each time you visit. You can drag them around to position them in a way that works for you.
Written by The Original PC Doctor on 3/3/2009.