iOS 14 Brings New Changes to iPhone
Every year Apple launches a major iOS update that runs on all iPhones. All the iPhone receives new free features as well as interface tweaks and patches for security bugs.
At WWDC 2020, Apple announced iOS 14 for iPhone and iPods that will be released in the fall of 2020.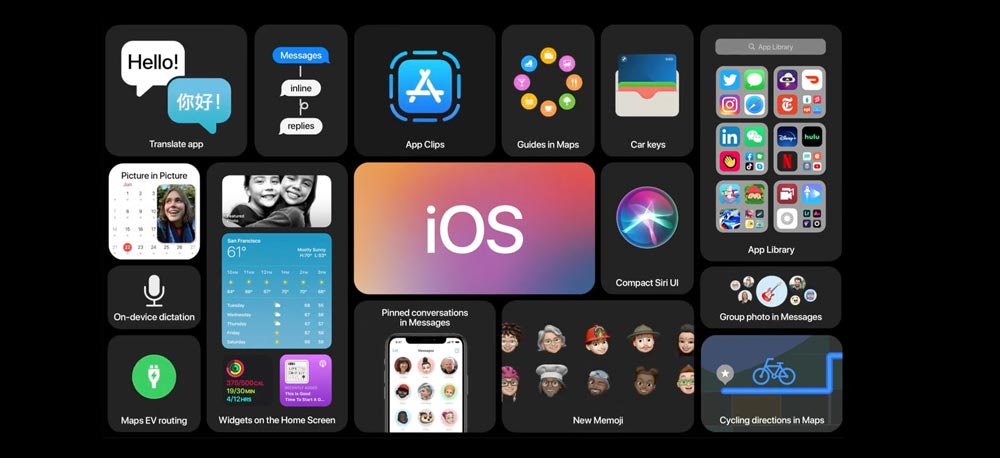 However, Apple launched a developer beta of iOS 14 to give developers a test of the new software before the general release.
The iOS 14 introduces a new way to discover and use app clip, to customise the home screen, to stay connected in Messages, and other features.
Although Apple didn't unveil the long-awaited iPhone 12 on 22 June, this new operating system gave us an insight into what features we expect to see in the coming new iPhone.
Without further delay, let's have a quick look at the changes that come with the iOS 14 update.
Widgets
In iOS 14, Apple has significantly improved the widgets. They now come in different sizes, and they look more attractive than what we're used to in the previous versions of the iOS.
The new widgets finally bring the iPhone to the level of customisation Android has had for years.
Apple says it observed the way widget worked on Apple Watch and wanted to transfer that functionality to iPhones.
Moving the widget is as simple as drag and drop.  You just need to open the widgets draw and select a widget, then drag it to where you want it to sit on the home screen.
Also, there's a new widget known as the "Smart Stack." It intelligently stacks multiple widgets together base on Siri's suggestion, location, time, and the apps you use frequently.
With the help of Smart Stack, you can combine as many widgets as you like, then swipe through them easily from the home screen.
App Library and Interface
If you're bored with continuous pages of apps that clutter your iPhone, you're in luck.
The iOS 14 update comes with a new section of the home screen called the App Library.  The app library allows you to organise all your apps in one place by category and in alphabetical order.
Your apps get automatically organised in the App Library based on their categories such as Health & fitness, Apple Arcade, Social, Entertainment, etc.
It suggests the apps you frequently use or which you've installed recently. You won't have to keep all you're the icon on your home screen view.
Besides, you get to hide certain apps that you don't want appearing on your screen and browse through your app list in alphabetical order.
This new feature helps to declutter your phone. Each category page looks like a folder on the App Library page, but with a minor difference. The icon size isn't the same. The apps you use the most will appear larger; therefore you can launch them easily with a tap.
Messages
The messages app is also receiving multiple updates, including the ability to pin conversations on your messaging app.
You won't always have to search for your favourite person each time you want to chat or try to find the most relevant chats.
You can pin the conversation on top of the screen and initiate a thread whenever you want to talk to the person.
Group messages are also getting an improvement. You can choose to be notified when someone mentions you; it's more like a Slack approach, which makes your messages more useful for collaborations.
As for Memoji, it gets updated with 20 new hair and headwear styles, including more age options, sticker options, and face-covering for a more 2020 look. These allow for better customization of your character.
Compact Phone Calls
In iOS 14 incoming calls will no longer take the whole screen, rather it will show up as a small banner near the top of the screen.
When you swipe up the banner, you will dismiss the call, and when you swipe it down, you'll see more phone options and also answer the call. Plus, you can click the right side of the banner to accept or decline the call.
This new update is handy; you receive a call in the middle of something important, like sending an important message or email.
When locked, your iPhone will still appear like a normal phone call interface, but when it's unlocked, the phone calls are less annoying.
This works the same way for third-party VoIP and FaceTime calls, as long as the program supports the call feature.
Search Improvements
Search is more refined than before; you don't need through all the search results to find what you're searching for.
iOS 14 introduces an additional feature called the "Search in Apps," which allows you to input the key term and execute the search within the relevant apps, including Files, Messages, and Mails with a single tap.
Apple says, in iOS 14 the search has been re-designed to become the one-stop destination to finding and opening contacts, files & apps, assessing quick features like maps and weather, and getting answers to common queries.
Picture and Picture
Another update we can't miss mentioning is the picture-in-picture functionality on iPad now expanded to the iPhone in iOS 14.
You now watch your favourite videos or FaceTime while doing other activities on your phone.
The windowed video shows up in the corner of your home screen, and you can navigate to any spot you desire. You also resize it by pinching the video to make it smaller or larger.
Conclusion
So far so good, the iOS 14 update looks and feels amazing; it makes customisation of iPhone seamless, declutter your phone, and streamlines most of the things.
Apart from the mentioned features, there many other features we didn't mention including, digital car keys, Find My, Safari, Weather app, Maps, etc.
But despite all these changes, it still feels like Apple is still trying to catch up with Android instead of introducing innovative capabilities.
iOS 14 will run on the iPhone 6s and later version with the iOS 13 compatibility.
References
Written by The Original PC Doctor on 16/8/2020.