iMac Pro Officially Discontinued
Apple has removed the 2017 iMac Pro from its Online Store both in the United States and other countries. The iMac Pro is an all-in-one desktop computer released in December 2017 by Apple Inc. During its release, Apple mentioned it as the most powerful Mac desktop with excellent features and design.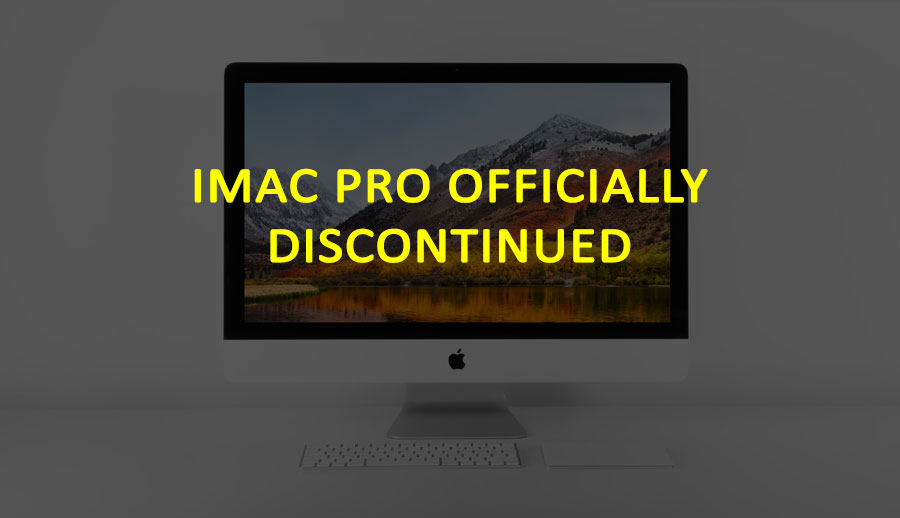 Some of its robust specifications include:
0GHz 10-core Intel Xeon W CPU
27-inch screen with a remarkable 5K display
One Terabyte SSD storage
MacOS 10.13 High Sierra Operating system
32GB ECC memory
AMD Radeon Vega 56 (8GB) GPU
SDXC card reader
Four (USB-C) Thunderbolt 3 ports
10Gigabit Ethernet
Turbo Boost up to 4.5GHz
Common disadvantages are that it's not user-upgradable and costly than standard upgradable models matching similar features. However, for professional users who desire a workstation's performance to rationalize a demanding workflow, it's worth the price.
iMac Pro Discontinued Reports
In March 2019, Apple included additional specs such as an upgradable Vega 64X graphics design up to 256GB of memory. However, in March 2021, Apple discontinued the iMac Pro but stated its availability for sale with the remaining stock. The news happened just after Apple produced the 27-inch iMac and 10-core i9 processor models by refreshing the 8-core models in August 2020.
Apple also recommends customers to use the 27-inch iMac models than the iMac Pro since they feature excellent performance at affordable prices.
Currently, the iMac Pro supply is out of stock in the USA and other countries. Since Apple has also removed its page from the Store app, customers don't have an option to buy it. However, customers can still find a few refurbished models by visiting Apple's refurbished store.
Moreover, Apple is also rumoured to remodel an advanced iMac featuring a Pro Display XDR-style model, slimmer bezels, and Apple silicon chips. Therefore, customers in need of a high-performance desktop should remain patient until the release of the new ‌iMac‌ models later this year before buying them.
The redesign will probably be the first significant desktop computer for almost a decade. Apple will also likely work on new Mac Pro replacements intended for professional customers.
The Reasons Behind iMac Pro Discontinuation
Although the iMac Pro featured a powerful performance to willing buyers, Apple's decision to discontinue developing it is due to lack of popularity among users. The other reason is that it lacks a non-Pro version. More reports also show that the newer 27-inch iMac version is the best-seller for most users.
Though the Pro version has a robust performance, Apple offers the Mac Pro model for customers looking for additional power and functions. With the conflict between Mac Pro and the non-pro iMac, Apple doesn't see a significant future client base for the iMac Pro anymore.
Indeed, the $4,999 price possibly seems way too much compared with the base 27-inch non-pro model valued at $1,799. The considerable difference shows that clients can save some additional costs by investing with the non-pro model and still upgrade it further for more performance. The vast costs saved can be questionably enough to assemble another model comparable to the iMac Pro.
Similarly, with the Mac Pro priced at about $5,999, a client desiring to spend $5,000 to buy an alternative model will more likely consider purchasing the Mac Pro instead.
Also, while the iMac Pro provides more value at the base cost opinion, the available upgradeable options with the Mac Pro have an advantage over it. More customers willing to spend on the higher prices would prefer the Mac Pro's upgrade options.
If Apple also produces new Mac Pros and non-pro iMacs models using Apple silicon chips, iMac's demand will reduce.
For enthusiast buyers who pay attention to Apple products for the past few months, M1 Apple's custom silicon chips are gradually making through its product line after their release at the end of 2020. Therefore, most pro-level clients would, beyond doubt, prefer to buy an iMac. Others may even opt for an M2 or M3, depending on how fast Apple releases product lines featuring these chips.
Besides, Apple has not officially announced the release of these new desktop machines.
Conclusion
The iMac Pro discontinuation in March 2021 by Apple is recent surprising news, especially for Mac enthusiasts. Apple discontinued the iMac Pro since it is less prevalent, expensive, and only intended for professionals but not the general consumer. In many ways, it is beyond doubt the most potent performing Mac machine ever developed by Apple, at least until new upcoming Mac Pros outperform it.
Now that the iMac Pro is currently unavailable, users can still consider the 27-inch iMac with a 10-core i9 processor released last year. iMac is a similar model which standard users can configure to match iMac Pro's performance at reduced costs.
Besides, pro users can customize this iMac to match high-end needs for professional use.
References
Written by The Original PC Doctor on 10/4/2021.