Best Computer Headsets for 2020
Making your work calls using a smartphone or laptop in an environment with loud noise will not only distract you but also cause audio feedback issues and low-quality voice. The experience will create a bad image in the mind of your clients and business partners. Currently, there are many office headsets you can use. Each has excellent features that will make your calls productive.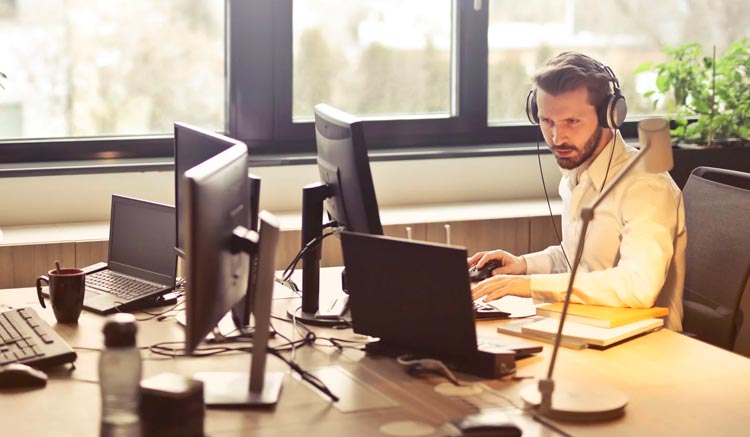 However, finding the right headset is an overwhelming task. That's why this review will work as a guide to help you make the best selection. We've based this review on a variety of factors such as battery life, noise cancellation, sound quality, and comfort.
Plantronics Savi 8220 Wireless Headset
The Plantronics Savi 8220 wireless Headset is a portable and stylish headset suitable for a corporate or home office. It weighs 1.7 pounds meaning its so light; you can use it all day long without getting worn out. You can use it perfectly in a noisy office environment because it comes integrated with a noise cancellation system.
It also fits on various devices, including smartphones, PC, and desk phones. So you can seamlessly switch between these three devices when the need arises. This feature eliminates the need to buy different headsets for various devices.
It's fitted with DECT technology to ensure that all your calls are secure and confidential. This is achieved through processes like subscription, encryption, authentication, and verification. This headset has a wide range, allowing you to move over 500 feet away from your workplace.
Pros
Seamless switch between devices
Move around up to over 500 feet
Noise-canceling system
Certified by DECT technology
Cons
Very pricey
Difficult to customise settings
BlueParrot B450-XT is the best noise-canceling headset. It offers 96% noise-cancellation of background noise with 24 hours of talk time, as well as an excellent hands-free feature. You can roam around the office to over 300 feet when you're on a call. The headset guarantees your comfort because it comes with a padded headband and big cushions covering your ears.
Pros
Best noise-cancellation feature
Durable
Long battery life
Excellent sound quality
Waterproof
Good Bluetooth range
Twistable microphone
Cons
Large ear cap
Not that stylish
Plantronics Voyager Focus UC
If you are looking for a headset that will give you value for your money, Plantronics Voyager Focus UC is a worth shot. This headset is designed for multiple uses, such as playing music and making calls. It has a voice command button on one ear cap and a volume rocker and music control button on the other.
What makes it stand out is its ability to connect to a phone and PC simultaneously. It has a voice alert function which gives you the connection status, and caller ID. It has a padded headband and springy metal band that will provide you with all the comfort you need.
Pros
All-day battery life
Outstanding voice quality
Sound signature for music is balanced
Comfortable
Bluetooth range of 150 feet
Cons
Lack of a wired option.
Connected via Bluetooth alone
Jabra Steel Ruggedized Bluetooth
The Jabra Steel Ruggedized is the best heavy-duty headset in the market. It's suitable for workers working outdoors where wind and dust are aggressive. It comes with an excellent noise-cancellation fit for the loudest of the environments. The headset has large buttons that you can easily press, even if you have gloves on. The headset is water, dust, grime, and shock resistant and comes with a 5-year warranty.
Battery life after charging is 6 hours. If your hands are tight, you can pair with Google Voice so you can answer incoming calls easily.
Pros
Steel rugged design
Excellent noise-cancellation
Quality voice
Cons
Lacks volume controls making it depended on the phone volume control
Poor transmission quality
Small ears got problems fitting in.
Mpow 071 USB Headset
If you're after great sound quality, check out the Mpow 071 USB Headset. It's affordable and comprises a 3.5mm jack for tablet and phone connections plus USB plug for PC connection.
In terms of comfort, it's fitted with ear cup cushions and padded headband. You can select from a variety of colors from black blue, white to silver. You can adjust its microphone in any direction to create an excellent voice quality(suitable for conferences and seminars).
Pros
Decent sound quality
USB plugged for computer connection
Inexpensive
Cons
Tight on your head and ears.
What to Look For When Buying the Best Headset for Business Office
Selecting the right headset is influenced by various factors such as your environment, hairstyle, how frequently you wear the headset and talk time. Here are some other factors that play a key role when selecting the right business headset.
Noise-cancellation feature
If you work in a noisy environment by a noise-canceling headset to increase your productivity.
Hands-free enabled
If you like roaming around your office while working, consider purchasing a wireless headset. A wireless headset enables you to answer your calls, regardless of your position in the office.
Talk-time
Depending on how many hours you talk to your clients, it's important to check for a headset with talking time fitting your average daily talk time.
Battery lifespan
For those who talk for long and away from a power outlet, buy a headset with long battery life lasting for about 24 hours. If you don't use it for over 6 hours, opt for the one with low-battery life.
Conclusion
We've gone through some of the best business office headsets to help you decide on which one to go with. But to simplify this process, we recommend you buy the Plantronics Savi 8220 wireless Headset. It caught our attention because of its wide range of useful features tailored specifically for business office workers.
Apart from being lightweight, it has the ability to shield you from noise, as well as protect your conversations(DECT certified). It has a Bluetooth range of 500 feet, which means you can roam around while talking with your clients. You can also connect it to 3 different devices.
Nevertheless, the choice of the best headsets lies with you. Choose a headset that will completely meet your needs.
References
Written by The Original PC Doctor on 7/6/2020.