Apple M1 MacBook Air Review
The latest Apple MacBook Air is equipped with a revolutionary M1 chip that redefines the Apple laptops lineup as we know it. The new Apple M1 MacBook Air is capable of not only challenging Intel-based computers but can also beat them when it comes to performance.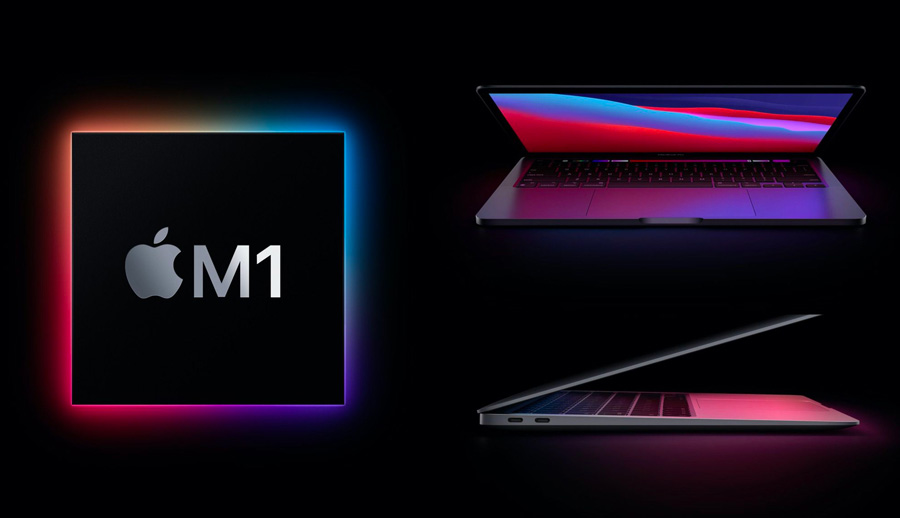 Specs and Price
Apple M1 MacBook came out on 17th November 2020 and became the hottest news in the tech industry. The base model that you can get at $1,599 offers the following specs:
8-core CPU
7-core GPU
8GB RAM
256GB SSD
Apple also offers a $100 discount to educational customers, which means they can get the base model at $1,499. Additionally, if you need more power, then you can also go for the following specs as well.
16GB RAM instead of 8GB: +$200
512GB SSD instead of 256GB SSD: +$200
1TB SSD instead of 256GB SSD: +$400
2TB SSD instead of 256GB SSD: +$800
You can also get some software already installed, which are:
Final Cut Pro: +$299.99
Logic Pro: +$199.99
What Do You Get in the Box?
The package that you receive will have the following:
M1 MacBook Air
USB-C Charge Cable (2 meters)
30W USB-C Power Adapter
Performance
The GPU configuration of the Apple M1 MacBook Air is of 7 or 8 cores which can easily change the general concept, which states that Mac is not for gaming. Other specs of this laptop are also impressive, and the performance they offer is also phenomenal. The Apple M1 MacBook Air scores 7361 on multi-core and 1699 on single-core on the Geekbench that easily beats some of the most powerful laptops equipped with Intel Core i7 and 16GB of RAM such as XPS 13, ZenBook 13, etcetera.
So, we didn't only rely on these benchmark scores and decided to test the laptop to its limits by running more than twice of usual tasks. We opened 20 different tabs on Safari and10 tabs on Chrome with all types of websites. We also opened Infinity (image editor), YouTube video (with 4K video streaming), Apple TV+, Apple Mail App, Apple Photo App, 1Password, Pixelmator, and Overcast podcatcher. Amazingly we never experienced any hiccup or any lag.
Battery Life
Apple claims that the Apple M1 MacBook Air can easily provide up to 18 hours on Apple TV and 15 hours on the wireless web. In our testing, we found that this claim is close to reality; on the wireless web, we got over 14 hours, and the laptop still had some juice after 16 and a half hours on the Apple TV app with a movie playing.
Design
The delicate design of Apple's products is one of the most attractive things, and Apple M1 MacBook Air is no exception. However, it feels and looks just like the MacBook Air that was launched in early 2020. It's available in space grey, silver, and gold colours. It comes with 2.8 pounds of weight and 12 x 8.4 x 0.6-inch of dimensions.
By far, the biggest design change that this laptop has is that it comes with no fans. Yes, you heard it right, and that's one of the biggest reasons why many experts criticise it as well. It's a unique factor, and many people are concerned that it can generate some performance issues in the long run. While performing heavy-duty tasks, we experienced warmness, but it never got overheated, and the usage of resources also remained below the threshold.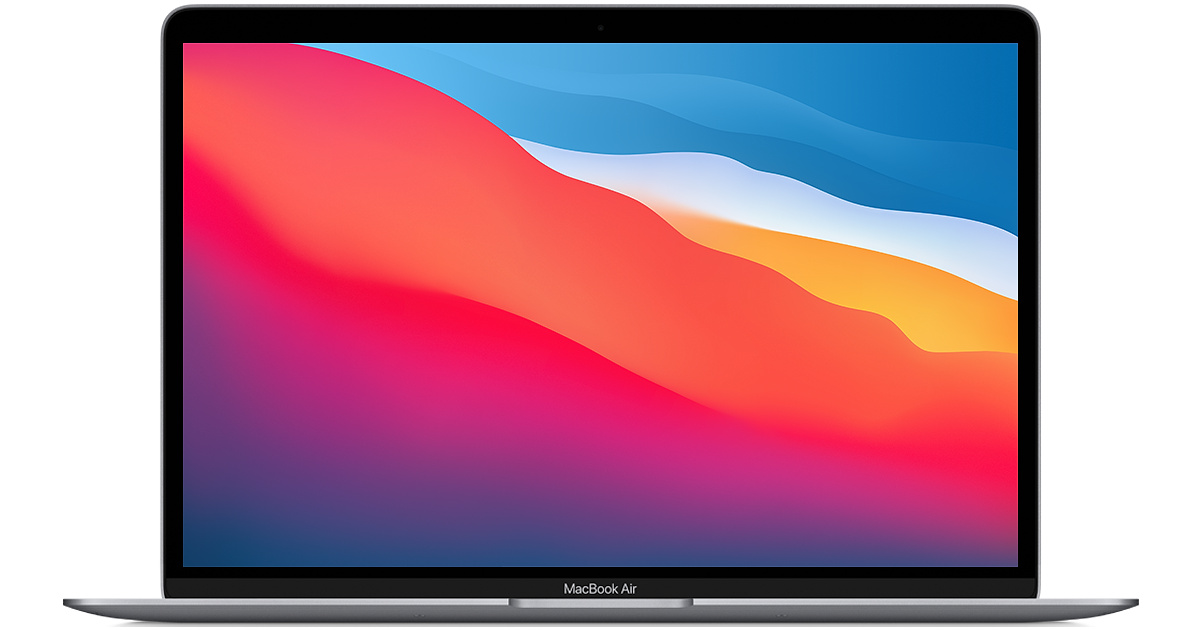 Display
We all know that Apple offers one of the best (if not the best) displays available in the market, and Apple M1 MacBook Air comes with the same display specs as the Intel MacBook Air. It offers a 13-inch Retina display with a resolution of 2560 by 1600 pixels. The brightness level also remains the same if again 400 nits. The colour reproduction is accurate, and you won't face any issues because all the viewing angles remain sharp.
Keyboard and Touchpad
The typing experience is also the same as the 2020 MacBook Air, and you can achieve 70 to 80 words per minute average easily depending upon your typing speed (if you have ten fast fingers).
As far as the mousepad performance is concerned, it offers smooth scrolling and accurate input recognition thanks to its 4.8 by 3.2 inches glass (Force Touch trackpad). Moreover, the touchpad also has substitute haptic feedback that most of the users want.
Audio
The stereo speakers of the Apple M1 MacBook Air can easily fill your standard size room with quality sound. It also comes with Dolby Atmos that takes your music listening experience to another level.
Siri can hear you accurately while you're making audio or video calls, thanks to the trio of in-built microphones. It works well even if you are speaking from a little distance.
Webcam
Apple M1 MacBook Air still offers a 720p webcam which is not what most people anticipated as they were expecting a higher resolution. But Apple still managed to improve the video quality by using ISP (Image Signal Processor). It offers a better overall image with improves skin tones and colours. It means that the webcam serves you well, although it doesn't offer 1080p resolution.
Ports
The Apple M1 MacBook Air is not the best option out there when it comes to ports, but it provides all the important ones, even the headphone jack. Here is the list of all the ports that it offers:
Charging Port
Displayport
USB 4 (with the transfer rate of up to 40GB per second)
2 Thunderbolt 3 (with the transfer rate of up to 40GB per second)
USB 3.1 Generation 2 (with the transfer rate of up to 10GB per second)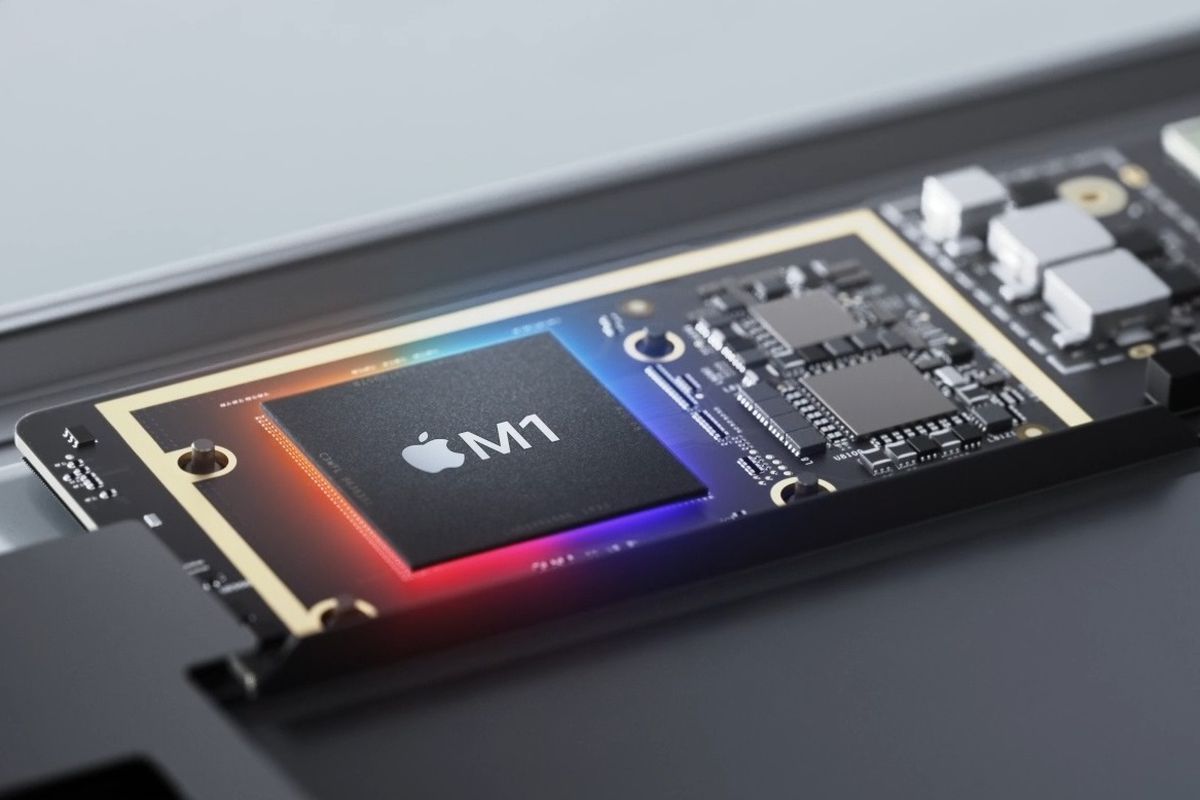 Heat
As mentioned, the laptop doesn't have, and it does get a little warm but not to the extent where it feels unpleasant. On HD video streaming, the average temperature remains under 96 Fahrenheit degrees comfort threshold.
Verdict
The Apple M1 MacBook Air truly offers shockingly impressive speed and amazing endurance. The next model of M1 will lead the industry if Apple decides to include more ports and slimmer bezels. It's still one of the best laptops out there that you can buy if you want an amazingly powerful machine.
References:
Written by The Original PC Doctor on 22/3/2021.