6 Best CRM Software and Tools to Get In Australia
Are you looking for the best way to streamline your business and increase sales? If so, what you need is the best CRM software. In the current business environment in Australia, the automation of business processes is no longer a luxury but a necessity.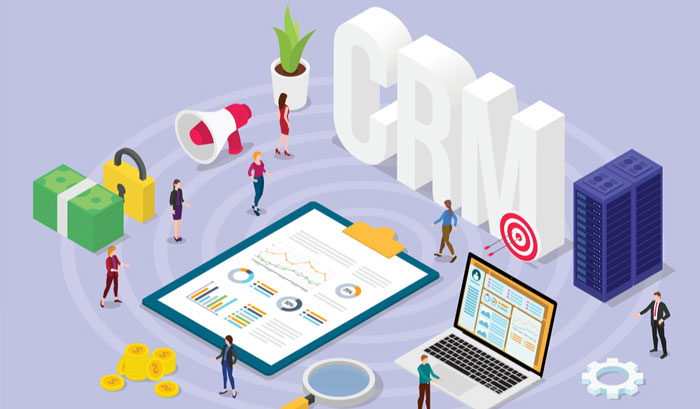 Whether you are running a small, medium, or large-scale business, you need these tools, as they make it easier to run the business. The goal of every business is never to lose customers. CRM software comes in handy in customer acquisition, service, and retention, which is what every business needs.
However, there are dozens of CRM software and tools to get in Australia today. This makes it somewhat difficult for business owners to choose the best option. In this guide, we will review some of the best CRM software and tools you can get in Australia. This would help streamline your decision-making process and make the right choice.
Best CRM Software in Australia
1. Zoho CRM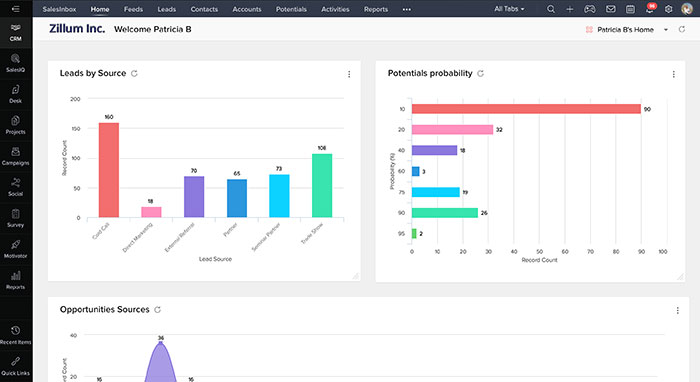 The first on our list is the Zoho CRM, and it is one of the best CRM software you can get in Australia. This tool comes with many great features at a very competitive price. It also integrates with a wide range of Zoho products. Zoho CRM made it to the top of our list because of its ease of use, effectiveness, and pricing.
Zoho is a very popular software provider, and many small to medium-sized businesses in Australia use this service. The company has 45 SaaS products that help run organisations and businesses. Zoho CRM is a complete CRM suite that offers several great features.
This tool also integrates with other business apps you use every day, including Microsoft Office 365, G Suite, Zapier, LinkedIn, Zoom, SurveyMonkey, Twilio, MailChimp, PayPal, Skype, Trello, Shopify, Slack, and Dropbox.
This CRM offers everything you need to boost sales, increase leads, and measure your sales performance. One of the most outstanding features of this tool is its AI assistant, Zia. This tool enhances data accuracy, aids productivity, and helps you work smarter. If you are looking for a one-stop-shop provider for your business in Australia, this is the perfect tool for you.
Key Features
Salesforce automation
Lead and deal management
Workflow automation
Contact management
Process management
Journey orchestration
Sales enablement
Performance management
Marketing automation
Customer segmentation
Event management
Pricing
Free version with limited features
Starter – from $12/month for one user
Professional – from $20/month for one user
Enterprise – from $35/month for one user
Ultimate – from $100/month for one user
Pros
Advanced features
Very easy to use
Powerful email marketing tools
Free version
Cons
Zia AI needs some improvement
2. Salesforce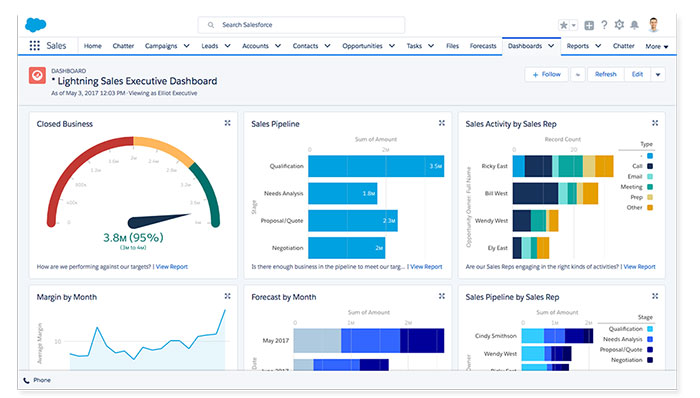 Salesforce is another top tool to consider when looking for the best CRM software for your business in Australia. This company is very popular in the CRM space for its great offerings. The tool offers great solutions to small and medium-scale businesses that anticipate growth.
It also has an intuitive user interface that makes it easy to use. If you are new to the CRM space, you can still find your way around this tool without any issue. The lead management tools of this CRM is very powerful, and it has contributed to the growth of many businesses over the years.
It also features an inbuilt email integration that integrates it with Outlook and Gmail. The tool also offers real-time dashboard updates and customisation reports to provide your sales professional with current data. It offers competitive pricing at different levels. As you scale your business, you can upgrade to a higher level for more advanced features.
Salesforce also has its AI tool – Einstein Relationship Insights. This AI-powered research agent helps identify and build new business connections. The customer support of this tool is also impressive. They are always available to assist you through the onboarding process and resolve any issues with the tool.
Key Features
Lead management
AI automation
High levels of customisation
Opportunity management
Advanced software for large-scale businesses
Real-time dashboard updates
Pricing
No free version
Essential – from AU$35/month for one user
Professional – from AU$105/month for one user
Enterprise – from AU$210/month for one user
Unlimited – from AU$420/month for one user
Pros
Many advanced customisations and features
Solid performance and outstanding workflows
Powerful AI
Intuitive user interface
Cons
3. Hubspot CRM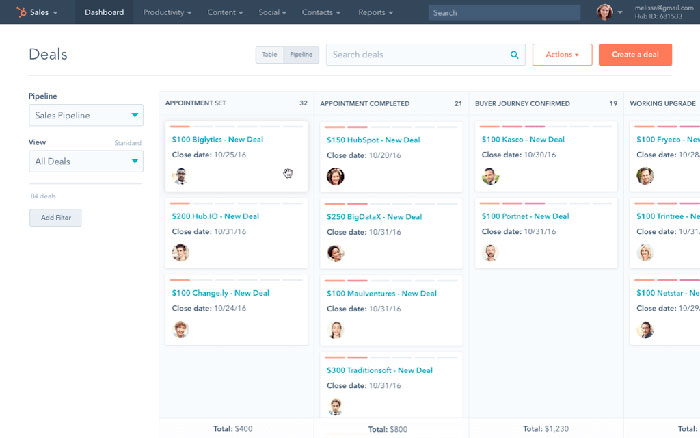 If you are looking for an easy way to automate your marketing and sales processes, Hubspot is one of the best tools to use. This tool offers many useful features that would help take your business to the next level.
It can sort and track customer interaction automatically on different channels. The tool can also pull data from social profiles to update lead and customer information. One of the major selling points of this tool is its user-friendliness. The tool is very easy to use and convenient. It does not have any steep learning curve, making it a great option for beginners.
It has a clean dashboard that gives you a clear view of all your processes and activities. Hubspot is a great option for fast-growing businesses because it allows unlimited users. It also has a free version to help you get started and familiarise yourself with the tool.
Key Features
Integrated marketing tool
Pipeline management
Contact management
Analytics
Marketing automation
Lead generation
SEO recommendations
Drag-and-drop editor
Website themes
Data quality automation
Programmable automation
Pricing
Free version with limited features
Starter – from AU$67/month for two users
Professional – from AU$2,302/month for five users
Enterprise – from AUS$7,205/month for 10 user
Pros
Impressive email integration features
Ideal for beginners
Feature-rich free version
Cons
Premium packages are expensive
4. Nimble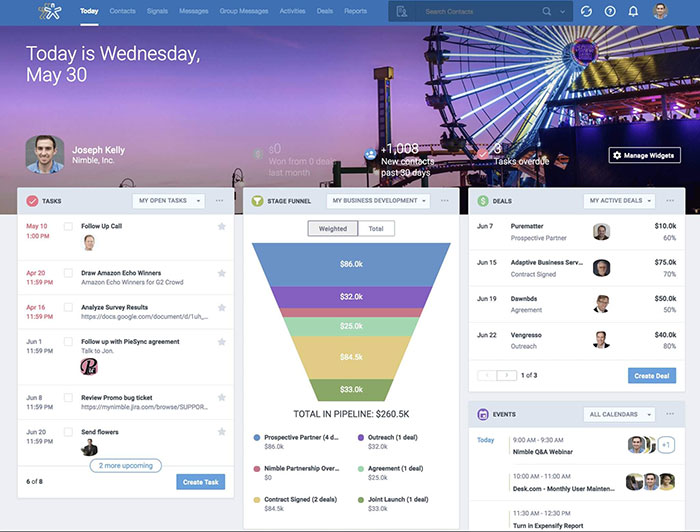 Next up, we have Nimble. If you are looking for the best CRM software in Australia, you can rely on this tool. The contact management feature of this tool is one of the best you would ever find in the CRM space.
The tool offers excellent contact management solutions. In addition to storing and organising your contacts, this tool also finds new contacts. It can also discover and predict leads with the help of its "rules engine" feature.
The tool provides different ways through which you can communicate with your customers. It offers personalised group messages, a unified message inbox, follow-up reminders, email templates, and more.
Key Features
Online customer support
Contact management
Social media integration
Pipeline management
Pricing
No free version
Standard pricing – from $19/month for one user.
Pros
Relatively cheap
Outstanding content management solutions
Different communication channels
Intuitive interface
Cons
Best suited for small businesses
5. Freshsales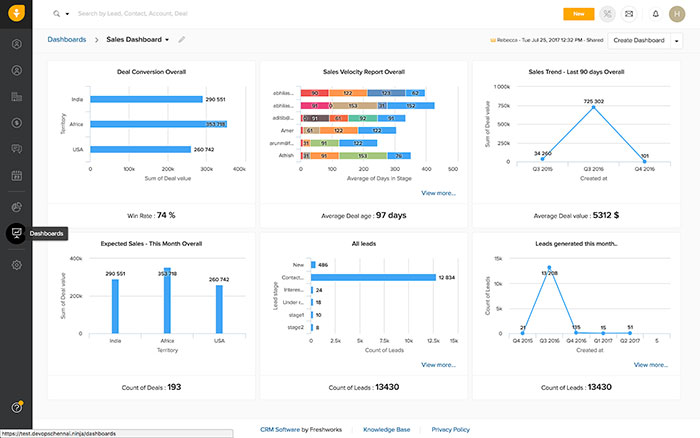 Freshsales is for small and medium-scale businesses looking for very simple CRM solutions. This tool is super lightweight, but it provides excellent performance. It is designed to help you grow your business in many ways.
The pricing tiers of this tool are also impressive; they have a plan for every business level. The tool is also scalable, as it allows you to upgrade with ease as your business grows.
It has an AI assistant to make the tool very easy to use. You can also customise it to suit the specific needs of your business. With this tool, you can deliver personalised experiences to your customers, as it provides a complete view of their interactions.
You can also streamline your sales processes to enhance seller effectiveness. This solution reduces IT costs and complexity. It is easy to implement and would boost your team's morale.
It also allows for seamless communication across different channels such as SMS, phone, chat, and email. With the great list of features it offers, you can close more deals quickly and effortlessly.
Key Features
Contact management
CPQ
Cloud telephony
Email integration
Deal management
Freddy AI
Sales report
Pricing
Free plan with limited features
Growth – $18 per month
Pros – $47 per month
Enterprise – $83 per month
Pros
Transparent pricing
Simple and easy to use
An advanced set of features to close more deals
Efficient AI assistant
Cons
No reports in the free plan
6. Insightly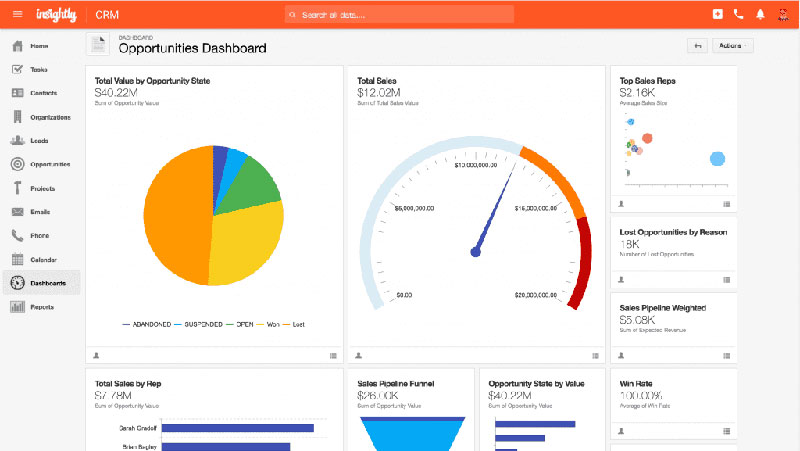 Finally, we have Insightly. Insightly made it to our list because of the wide range of integrations and functions it offers. In addition to being highly efficient, this tool has a very attractive user interface.
This tool is designed to help you build lasting relationships, which is an important trait for growing any business. You can close more deals with its advanced sales features by centralising your customer data.
You can also use it to build personalised marketing campaigns to take your business to the next level.
Key Features
Lead routing
Workflow automation
Send, track, and save emails
Streamline and automate business processes
Create and deploy custom apps
Pricing
Free version for a limited period
Plus – $29 per month
Professional – $49 per month
Enterprise – $99 per month
Pros
Dynamic and fluid design
A wide range of integration options
Extensive functions
Cons
Conclusion
There you go! Those are the best CRM software and tools you can get in Australia. Thousands of businesses, companies, and organisations have used those tools over the years. They deliver impressive results and would enhance the functions of your business significantly. They would help you build better and lasting customer relationships that would contribute to the growth of your business.
References
Written by The Original PC Doctor on 17/12/2021.