Who is Building the Grocery Store of the Year?
The future of grocery will benefit both stores and their customers. What do stores want? They want to decrease their operational expenditures that result from keeping inventory records and hiring cashiers. On the other hand, customers want to reduce some of the difficulties they encounter at grocery stores. These difficulties include finding groceries at customers' price and having to wait in long queues for checkout. In the future, grocery stores will reduce or even completely get rid of these friction points.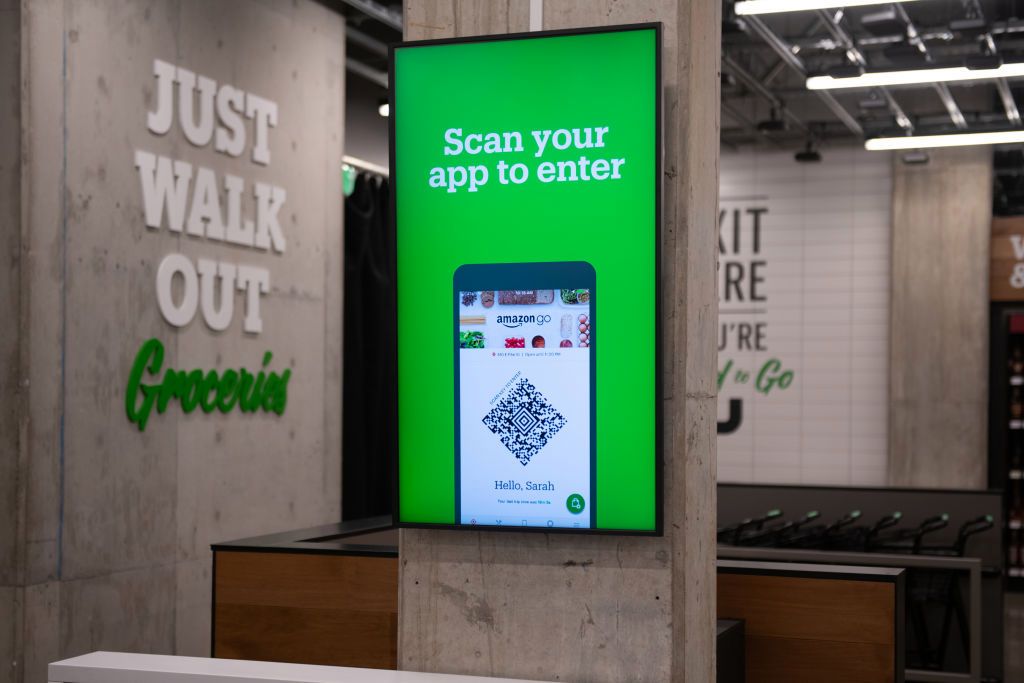 Amazon the Pioneers
We are all aware of how Amazon likes trying out new grocery store technology. And we love it for that. Its first invention was the Amazon Go Store that opened early in 2018 in Seattle. At the entrance of an Amazon Go store, customers just have to swipe their Amazon app. This step helps Amazon in linking purchases to their respective accounts. As customers go about their shopping activities, shelf sensors and overhead cameras identify the purchased items and virtually cart them. When the customers finish shopping, the prices of the purchased items are automatically charged by Amazon.
Why Amazon is the Future of Grocery Stores
Due to their latest strategies, there are enough reasons to believe Amazon will significantly change grocery stores.
Go Store: At the beginning of this year, Amazon opened a large Go store about 10,400 square feet. However, it is tricky to track products and people in large stores, and the same applies to managing large SKU counts. This stems from the fact that there may be a need to retrofit the AI-based system into buildings that have crannies and nooks that can not only affect lighting but also obstruct camera angles. How comes Amazon is so confident when it comes to scaling its Go stores? Perhaps vertical integration is the answer. It enables optimisation of customer experiences by controlling the store format, selecting products, and placing them.
Cashierless Just Walk Out Technology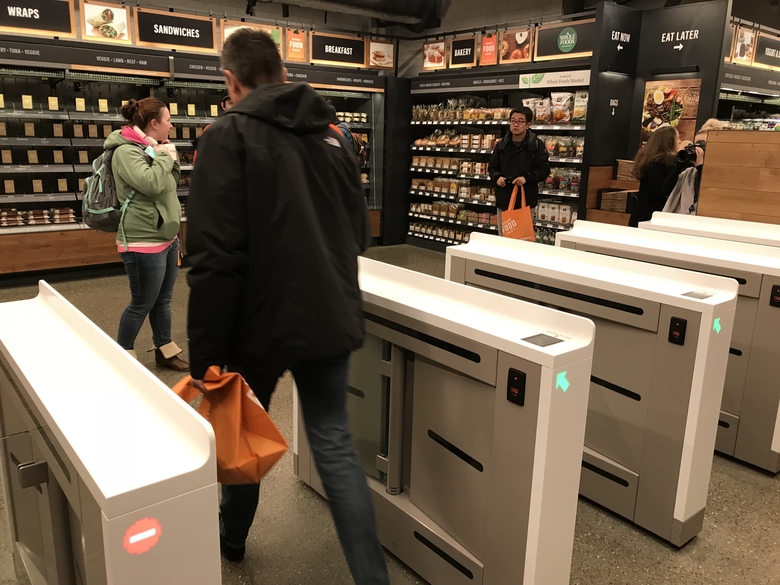 While we know that Amazon is vertically integrated, this strategy took more of the horizontal path. At the start of this year, it announced its intentions of licensing the Just Walk Out Technology. With this technology, shoppers need only use their credit cards at the entrance. They are saved the hassle of creating Amazon accounts and downloading the app. As customers pick up items from shelves, sensors and cameras keep track of these activities. Finally, when they are done shopping, Amazon automatically charges them and deducts the amount from their cards. This way, they just walk out, escaping the long queues.
According to experts, armed with this technology, Amazon is going to penetrate the market more quickly. This is even made better by Amazon's promise that retrofitting existing stores could take as little as a few weeks. What's more? With massive data amounts, Amazon can improve its machine learning algorithms and computer vision systems. This, in turn, accelerates the speed it can use in leveraging these capabilities elsewhere.
Dash Cart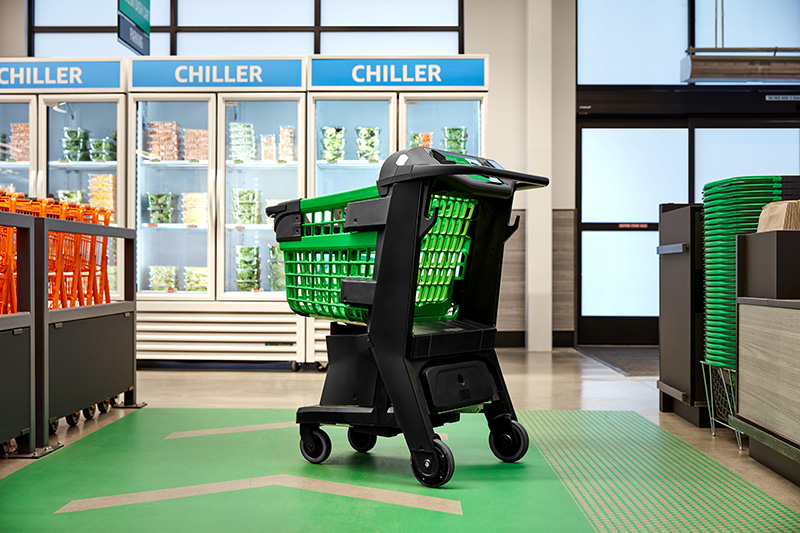 This is a major deviation from Amazon's first two strategies. Instead of going to the highs of equipping each store with shelf sensors ad overhead cameras, they are developing smart carts. These devices integrate sensor fusion and computer vision to detect the items placed inside them. A shopper has to pick barcoded items off the shelf, put them in the smart carts, and wait for the beep to sound. When it does, they may be told to try again or receive a green signal.
Items with no barcodes will need to be manually added to the cart screen. As shoppers exit the store, the cart is automatically detected by sensors which deduct the total price from their cards.
The dash cart technology is tailored for small to medium items. It goes a long way to suggest that capturing customer behaviours in smart stores can be complicated. This calls for measures to restrict user behaviour freedom. All in all, we appreciate that Amazon is customer-centric and could go to unbelievable heights just to make the customer experience better. It helps that it has enough capital to try out different approaches and figure out the best.
What Characteristics will Define Future Grocery Stores?
While Amazon is an excellent benchmark for players in the grocery field, different approaches are being used by several other players to ensure the future of grocery stores is better. Which features will highlight grocery stores in the near future?
Cashierless checkouts
Statistics indicate that the average human being spends at least 60 hours every year in checkout ques. Cashierless checkouts are here to change this narrative. With this technology, customers are identified upon entering the store. They pick the items they want without any interactions with the cashier. When it comes to cashier-less checkouts, different approaches come into play:
Smart Shelves: Besides Amazon, companies such as Zippin, Trigo, and Standard Cognition are among the leading players in smart shelf technology and computer vision. They place advanced sensors on the shelves and overhead cameras to track the items the shopper picks and returns to the shelf. The items are then associated with the shopper, and payment is deducted automatically from the credit card.
Smart Carts: Amazon set the pace with its Dash Cart technology, and several companies are following suit. Companies are now moving sensors from the shelves and ceilings into cats and baskets. Every time a shopper places an item in the cart, its quantity and type are automatically detected, and its price is determined. After shopping, the money is deducted from the customer's credit card.
Touchless Checkout Kiosks: These stations use ceiling cameras to check the customer's purchases and charge them accordingly after they are done with shopping. The customer then pays using a credit card.
Self-scanning: Some companies ask customers to scan their purchased items themselves. Once they do that, checking out is quick. Usually, these companies ask their customers to install a mobile app that will come in handy during the scanning process. This, just like Amazon's Dash Cart, requires some level of manual involvement in carting the purchased items.
Put simply, the future of grocery stores will witness a reduction in the number of cashiers and an increase in automation. While the fight is towards cashier-less transactions, removing these individuals in the loop may prove difficult as they still play important roles. For instance, they help bag shoppers' purchases, check customers' bags, and also check IDs of people that come to purchase alcohol.
References
Written by The Original PC Doctor on 14/12/2020.