Top 5 Mobile Game Controllers for iPhone and Android for 2022
Gaming on your smartphone device is one of the easiest ways to pass your time, whether you are bored and stuck in traffic, preparing to board a flight, waiting in a queue, or just simply want to kill time. Even though most mobile games allow users to use the touchscreen as a controller, sometimes it may feel uncomfortable and quite restricting, not to mention damaging the smartphone glass.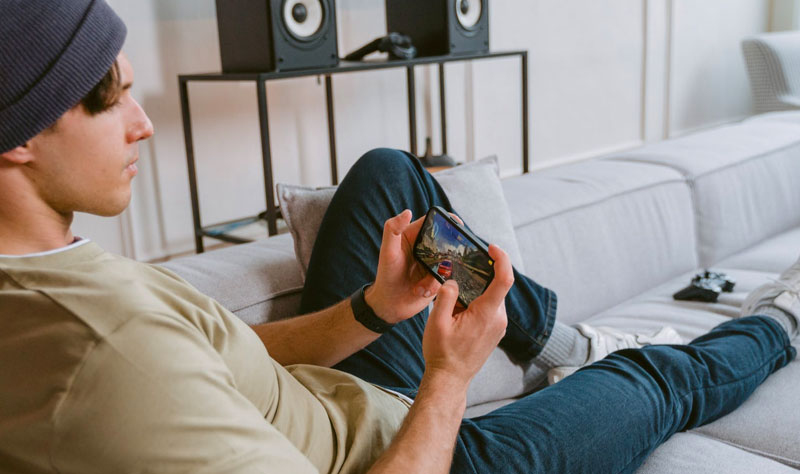 Furthermore, with releasing of AAA games like PUBG Mobile, Call of Duty Mobile, Fortnite, and cloud gaming services like Xbox cloud gaming for smartphones, the users felt a need for an additional handheld control. That's why several companies in the market initiated the production of a controller device for your smartphone, whether it's iPhone or Android.
Most of the controllers in the market are heavy-duty, and depending on your budget and preference; you can choose from a range of varieties. Android users have been using Bluetooth controllers, whereas iOS users have been using expensive MFI controllers. However, the newly released iOS 13 is supporting standard Bluetooth controllers.
In this article, we are going to discuss the top 5 game controllers for iPhone and Android.
Innovations in the mobile game controllers
Here, we will discuss the top 5 innovations in mobile game controllers. The innovations in mobile controllers are quite similar to regular game controllers.
The D-Pad and Face Buttons
The directional pad (D-pad) is the bold plus-shaped button, which is usually placed at the bottom left of the controller's face, used for moving the focus up, down, right, and left. The face buttons are the buttons that are visible to your face when you hold your controller. So, the D-pad, Start, Select, Symbol buttons are all face buttons. Nintendo Entertainment first structured the Face buttons and D-pad. All modern controllers still use the modified version of Nintendo's structure.
The Joystick
The joystick is the pointing device that looks like a vertical rod mounted on the base of the controller, used to move objects on the screen in any direction. They were the primary game controller on home computers in the 1980s and 90s. Presumably, Atari 2600 first brought joystick into the market in 1977. Before joystick, users had to control games with button pads and knobs, which was clearly very difficult to do.
Rumble
There is a motor attached to the controller; when the motor spins, it causes the controller to vibrate. Even though it seems like it's just a bit of vibration, but gives liveliness to the game experience and has been used since 1997 when Nintendo invented and marketed the technology.
Motion Controls
Motion controls allow players to interact with the system through body movements. The inputs can be any combination of spoken commands, real-world actions, and gestures. Motion controllers use accelerometers to facilitate this feature. It was first introduced in 2006 by the Wii Remote controller for Nintendo's Wii console. It was considered to be one of the most important innovations in gaming controllers, as it assisted in bringing gaming to the general population.
Dual Analog Sticks
Sony first introduced a dual analog stick in their PlayStation console in 1997. In the late 1990s, when players wanted to be more engaged in their 3D game, they felt something lacking, as they couldn't control the 3D characters of the game with 2D control schemes. Nintendo tried to solve the problem in 1996 with their 64's single analog stick, but it wasn't perfect. Finally, Sony solved the problem in 1997.
Five best mobile game controllers
The rankings here can seem a bit different from the popular rankings on the internet, as it is done considering efficiency, budget-friendliness, and if the device is supported both for iPhone and Android.
1. Razer Kishi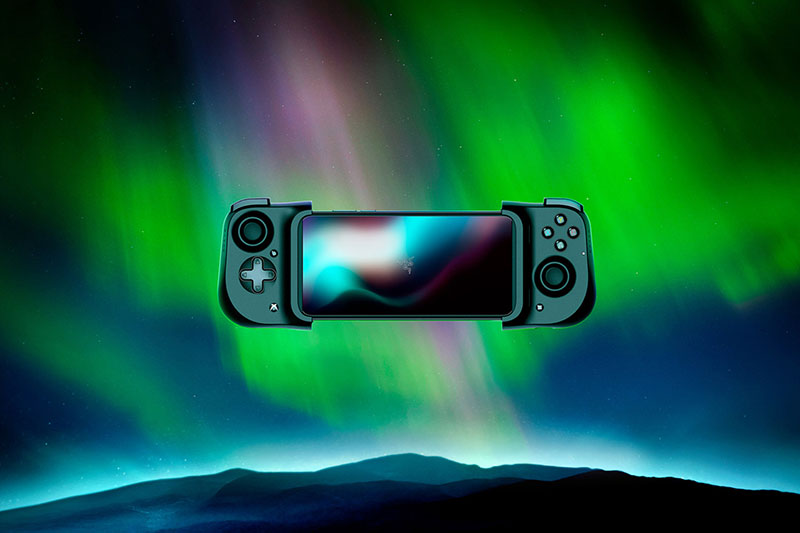 Pros:
iOS & Android support
No charging required
USB-C Connection
Excellent build quality
Smaller size, easy to travel with
Easy to attach and detach
Cons:
Expensive than other comparable products.
No Bluetooth. Hence, it doesn't support a wide range of mobile phones.
Separate USB-C & Lightning variants
Mushier buttons
The most common positive feedback for Razor Kishi is their convenient design. They are smaller in size, easy to travel with, easy to pair with your device. Effortless to set up. It works well with a lot of games in the App store. Android version of Kishi is not as good as the iOS, but the downside of the iOS version is Apple doesn't allow Microsoft's xCloud, so you will miss out on game streaming services. Unless Apple doesn't change the app store restrictions, the user has to depend only on the games that run on the iPhone. On the other hand, on Android, you can stream Xbox games right into your mobile and use Kishi as a handheld console. Some complaints about the mushier button of the razor Kishi. But on the bright side, they allow USB-C connection; you won't need to charge them a lot; they have excellent build-in quality. However, Razor Kishi is not cheap.
2. GameSir X2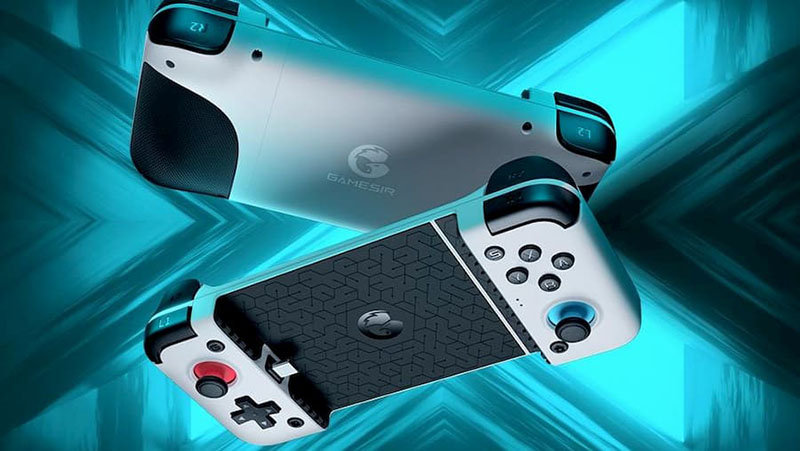 Pros:
Bluetooth connection allows wider phone support
Switch-like aesthetic
Rotating USB-C/Lightning port
Screenshot button
Easy to pair
More affordable
20-hour battery life
Cons:
Odd button layout
Bluetooth connection is more unreliable to USB-C
No vibration motors
Not ideal for shooter
The most prominent positive of GameSir X2 is its versatile Bluetooth connection; regardless of model and brand, its Bluetooth fits most phones. Bluetooth connects up to 173 mm in length. As it connects via Bluetooth, you won't have to worry about taking your phone out every time you want to use it. GameSir X2 will provide you with a small USB-C cable that will help you charge your device within a few hours. LED indicators in the device will warn you when the battery is low. However, you will get around 20 hours of playtime before it needs any charging. It's a lot cheaper than Razer Kishi, and it's easy to pair with other devices, just like Razer Kishi. However, many complaints about the button layout, as it's not as comfortable to work with as Razer Kishi. It has no vibration motors and is not the best option for hardcore gamers like shooters.
3. Sony DualSense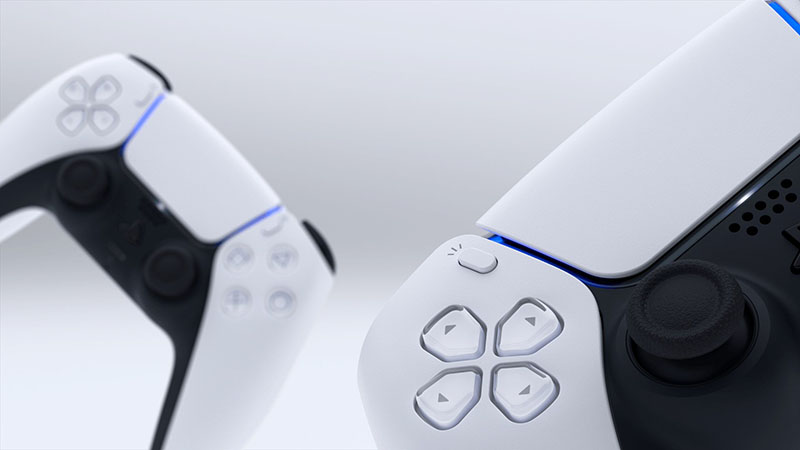 Pros:
Smart Vibration motors
Compatible with PS Remote Play
iOS & Android connectivity
Great design
Cons:
No way to attach the smartphone
No access to advanced DualSense features
The most distinguishable feature for Sony DualSense than its competitors is its smart vibration system, which gives the experience of a live video game rather than simple rumbling noise. Its textured grips and adaptive triggers make it attractive and stimulating. Sony DualSense has made the PS5 more attractive and turned out to be the major selling point. On the positive spectrum, it's compatible with both iOS and Andriod, great and comfortable design, is a lot cheaper than Razer Kishi, and is a bit cheaper than GameSir X2. The vital drawback is you can't attach it to your smartphone.
4. Xbox Wireless controller
Pros:
Most comfortable controller
Ergonomic design
iOS & Android support
Responsive triggers with integrated rumble function
Bluetooth LE
Accurate D-pad
Cons:
No way to attach the smartphone
Shoulder buttons can produce loud and sharp clicks
Xbox wireless controller is most praised for its ergonomic and comfortable design. Secondly, it's highly convenient for PC users as it is windows compatible; all you have to do is plug and play. It's quite similar to Sony's Dual sense regarding price range, smart vibration motor, compatibility both with iOS and Android also shares the disadvantages of not being able to attach the smartphone. Xbox wireless controller upgraded from older Xbox one controller, regarding its look, grip, triggers, D-pad, and most importantly Bluetooth LE for power connection, which gave it improved battery life.
5. Gamesir F8 Pro Snowgon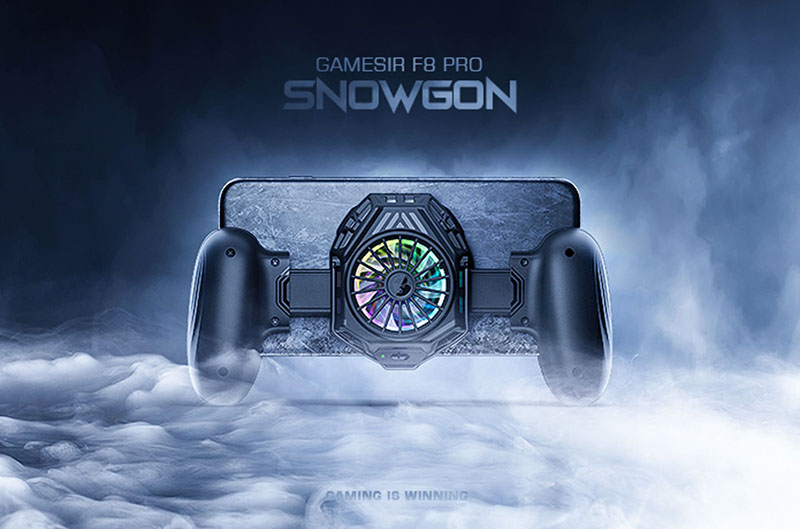 Pros:
Keeps phone from overheating
Nice looking
Built-in kickstand
Fits a variety of phones
Comparatively cheap
Cons:
Must be plugged in
No triggers or button
Too loud and bright
Popular for keeping the phone cool with its semiconductor refrigeration plate, which cools within one second, but you won't be able to use this feature outdoors as Gamesir F8 only works when plugged in. Because of the fan, the vibrations can be too loud, which can be uncomfortable for many users. Larger size mobile users found it easier to work with. It's cheap. But significant criticism was found regarding the controller; many claimed it is not near compatible with any current-gen console controller like Razer Kishi.
Conclusion
Razor Kishi is the most popular choice, even though it's pricey. It is the most favoured controller because of its excellent built quality and USB-C connection. However, many preferred the GameSir X2 Bluetooth controller over Razor Kishi because it's easier to switch between Android and iOS, and it's cheaper. We can conclude that Razor Kishi and GameSir X2 are the most admired, as well as smart choices. Nonetheless, the best choice of a particular user depends on many factors, like budget, how frequent the user plays games on his mobile, how much time played outdoors, preference of game streaming services, etc.
References
Written by The Original PC Doctor on 15/1/2022.