The Scare of E-Waste in Thailand
We are in an era where tech is taking over many different sectors all over the globe. However, for this takeover to take place on a big scale, a lot of tech related items must be manufactured. These products range from consoles to remote controls, phones, and many more tech related tools we use in our everyday life. These items get damaged beyond repairs at some point, and due to the fact that they're mass-produced in big quantities, this leads to a lot of waste.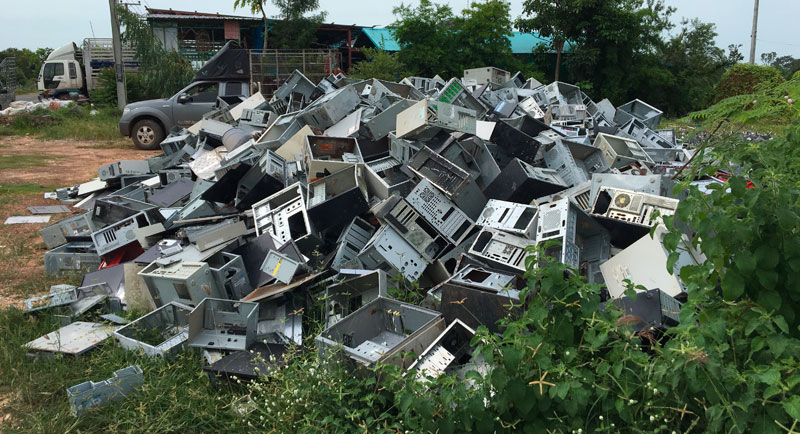 When this happens, what do you think happens to all that electronic waste? In this article, we will go take a look at how companies have decided to make Thailand a dumping field for dangerous E-waste. We will also review the dangers of electronic waste, and the reasons this practice should stop. To learn more about this topic and its associated dangers, read on as we unravel this mystery.
What are E-wastes?
E-waste simply refers to unwanted cathode-ray tubes or electronic devices that are classified as worldwide/universal waste. Electronic waste mainly encompasses hazardous materials, for example, mercury and lead. Such material, if not disposed of appropriately, can greatly pollute water and air.
E-waste is mainly generated by:
Households
Businesses
Governments
Industries
Hence, any electronic equipment ranging from boom boxes and old stereos to more advanced devices that have even disposed of falls under this category when turned into waste.
But how is this waste affecting Thailand, and why is this raising a lot of concern?
The Thailand E-waste Devastation
E-waste emanating from a number of states with the inclusion of Australia is greatly flooding the nations of Southeast Asian shores. Thailand is one of the countries greatly affected by this electronic waste disaster, with fears of water and air pollution emerging.
Back in 2018, the global waste market experienced a considerable blow when China imposed new E-waste and plastic waste import restrictions. When this happened, many western countries were affected. They decided to search for new markets.
Australia on South East Asia E-waste
Australia belongs to the list of many countries benefiting from the non-strict environmental regulations found in Asia. Instead of using their proximity to these Asian countries to help them, they are using it to destroy the Asian environment. Some Australian counties have been found shipping trash rejected by china to Asian countries such as:
Malaysia
Thailand
Indonesia
The waste shipped to these countries, Thailand in particular, ends up causing a lot of harm to their environment.
Some Effects of E-waste in the Land of Thailand
Many recycling and sorting companies have emerged in Thailand around the Laem Chabang Port. However, most of these companies are illegal and are mainly funded by the Chinese.
The Chachoengsao district, which is to the east of Bangkok, is among the provinces greatly affected by E-waste. The electronic waste has affected Chachoengsao agriculture immensely, causing panic to the people living around this area.
Payao Charoonwong, a villager in Thailand, now has a shortage of water courtesy of e-waste. The electronic waste damaged the villager's main source of water rendering it unusable. Water that could have been used for drinking or farming now cannot help the community in any way.
Before e-waste started to get shipped into some Thailand provinces, life was moving pretty smoothly. Agriculture was booming in so many villages, and water was sufficient. However, after the e-waste made its way to Thailand, farming fields turned to just fields and boreholes were rendered unusable, a problem that can affect the Thai population immensely if not well handled.
E-waste, Recyclers, and Pollution Connection
Of course, there are recyclers who claim that they can fully recycle e-waste. However, these people only search for precious metal components found in circuit boards such as:
Copper
Silver
Gold
But these are not the only components in e-waste; remember that electronics also contain mercury, lead, and cadmium which are pretty toxic if not correctly disposed of. However, since these materials are not that expensive, they are mostly mishandled, resulting in pollution.
When you combine this form of pollution with the fumes that companies emit in the process of manufacturing products, the result is catastrophic. Water and air pollution are starting to become an issue, and health issues will consequently start emerging.
Toxic Water Due to E-waste
Pure clean water is clean, fresh, and clear. Water that had been polluted by e-waste is not. With pollutants making their way into the water, the once clear liquid starts to change colour from colourless to orange. Imagine drinking orange water!
The colour change is not as bad compared to the polluted water's smell. The smell repels people from drinking the water almost instantly; it is described as "awful." And of course, the water contains chemicals that could harm the body.
Test Proof of Water Toxicity
The local government and other environmental groups conducted water tests in provinces affected by e-waste. The result, as expected, was that the waters were pretty toxic. Some toxic components found in the water when these tests were conducted include:
Iron
Manganese
Lead
Nickel
Cadmium
Arsenic
Communities that made use of shallow wells ended up suffering from foul smells, and skin diseases. As a result, villagers started panicking with their water supply becoming toxic.
Southeast Asia Fight Back
Southeast Asia is now fighting back to try and curb this e-waste problem. Indonesia, the Philippines, and Malaysia are now sending back the contaminated waste shipped to their country. We hope that South East Asia countries will find more strategies to handle this e-waste situation before it gets out of hand.
Conclusion
There is no questioning the harmful impact pollution has not only on the countries it affects but on civilization. We hope that better ways of disposing of electronic waste will be developed. Dumping this waste in countries such as Thailand only negatively impacts the country, its people, and its beautiful nature.
References
Written by The Original PC Doctor on 3/1/2021.