The Best Cable Management Accessories for 2022
Cable management accessories are components that help to organize device cables. While we need our cables and wires to keep our gadgets running, they don't have to litter and mess up our work and living spaces. With the right cable management accessories, we can reduce the menace of cables everywhere.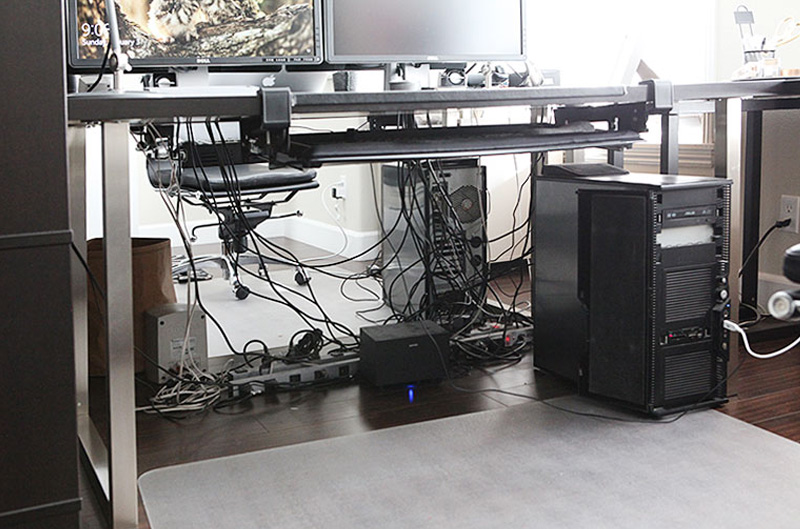 The best accessories for cable management are available in many shapes, sizes, forms, and unique features. However, all of them help declutter the workspace by neatly and creatively arranging wires and cables.
What to Consider When Choosing the Best Cable Management Accessories
To choose the best cable management accessories for 2022, consider:
Purpose
Before deciding on the best cable management accessories for 2022, you need to consider the type of appliances and gadgets in the space. Also, you need to determine how often you use the gadgets, charge them, or move them from their location. This will inform the type of cable management accessories that are best for you.
Fitting
Most cable management accessories are quite easy to fit and install. It is best to go for accessories that you can fix by yourself without stress or extra help. However, if your workspace has lots of cables, it is important to go for the most efficient system, even if it requires additional help to fix them up.
Also, it is important to factor in the additional costs of the recommended screws, adhesives, and tapes you will need to install some accessories.
Pieces per pack
Sometimes, the number of pieces is important. Some of the most economically friendly cable management accessories come in packs. They often deliver quality value despite their affordable price tags. Another advantage of these packs is that they often fit and match each other in style, colour, arrangement, and combinations. You often get almost all you need for a particular setup with the packs.
Also, the number of pieces makes it easy to replace worn-out parts easily without having to pay for new accessories often. However, without proper and careful storage, you may waste unused pieces. They either get lost in storage boxes or end up in the trash bin.
You should never go for a cable management accessory simply because of the pieces per pack. It can be misleading. Always weigh the pros and cons before making a buying decision.
Type of cable management
The best cable management accessories do more than hold cables in place. They organise your workspace to improve your productivity, maximise physical space, and boost your creativity. Therefore, consider neatness, creativity, and aesthetics before deciding which accessory is best.
Define what you want to get out of a cable management system. Do you want wire ties? Do you want the wires fixed on your walls or the floor? Or do you prefer them fixed behind your PC? Do you prefer them stuck to the surface, or do you want them movable? Your unique needs should determine the type of cable management accessories you will choose.
Work out a plan for how you want your workspace to look and feel before deciding on the best cable management accessories for you.
The material
No matter how cute and efficient the cable management accessory is, its material should be non-toxic. This is vital, especially if used at home, in the kitchen, dining room, or where children can touch and even nibble at it. This is also important to keep our environment clean and safe from toxicity.
Unique Design
Cable management should go beyond just concealing or organising the cables; it can also be beautiful. We should do it without losing the aesthetics of the work or living space.
The designs should fit the setting and blend with the decor to give maximum value for money. Types of designs could include decorative, corporate, relaxed, or minimalist. The best cable management accessories will fit your space perfectly and will project the kind of ambience and glamour you wish to have.
Our top picks
Because of the abundance of vendors in different marketplaces claiming to offer the best cable management accessories, it is good you have a balanced opinion made from thorough market research and reviews.
Based on effectiveness, value for money, uniqueness of design, affordability, and suitability, here are some of the top categories of cable management accessories:
Cable ties
Cable clips are used to hold cables and wires together and to hold them to a particular surface or standing objects such as poles and shelves. Cable ties are especially good for sorting your cords, cables, and wires into categories for easy access and differentiation.
The best cable ties come in batches of 100 or 50 and are quite affordable for the value they can provide. You will even get even more value if they come in different colours within the pack. Based on durability reuse value, here are the top cable ties of 2022 are the Velcro Brand One-Wrap Cable Ties for their non-toxic and ever durable nature; the Smart and Cool magnetic silicon ties for the ease of use; and the Amazon Basics reusable cable zip ties for their sheer simplicity, uniqueness, and abundant number.
Cable management sleeves
When you are looking to hide your cables in a creative way that is still stylish, safe, and professional, you may find cable sleeves very useful. The most popular types are those general-purpose PET wraps that can be used in the workspace or at home. They also are easy to install and can still be fashionable for aesthetics.
Some of them are so adjustable with zips and optional holes that can be punctured just to make them fit your purpose and the length of your cables and wires. There are enough options in the market depending on your needs. You have the common types for office and home use; you also have flame retardants and heavy-duty sleeves.
The top picks in the sleeve categories are the JOTO cable management sleeve for its adjustable zipping system, the Alex Tech Cable Sleeve Easy wrap for its abrasion resistance, and the Kootek 118 Inch cable management sleeves made of neoprene for its durability and flexibility.
Cable management boxes
When it comes to cable management accessories, these are by far the most elegant of the lot. They are extremely fashionable and effective in holding your cables in place and hiding them securely. Cable boxes usually blend well with interior decor and give you value for every penny you spend on them.
It is important to state that these are some of the most expensive cable management accessories of 2022; however, if you choose to go for them, it is money well spent. They are usually electrically insulated; this makes them safe even in spaces where you can have water spills and adventurous children.
To ensure durability, the best cable management boxes are made of anti-scratch materials and have grips that protect them from slipping off.
Based on compatibility, beauty, and durability, here are the top cable management boxes of 2022 – the beautiful D-line cable management box, the Changsuo Cable Management Box, and the NEX Cable Management Box Organizer.
Cable tie mounts
If you prefer to use simple cable ties for managing your cables and wires, you should complement that with cable tie mounts. These small adhesive-enabled accessories stick to surfaces and keep your cables and wires arranged and organised.
The best cable tie mounts do not require extra adhesive material as they have adhesives that make them ready to stick right from the pack. Some cable tie mounts are weighted and balance well on flat surfaces without the need for screws or adhesives.
A good number of cable mounts come with high tensile strength and can hold more cables at a time without getting damaged or worn out.
Based on popularity, durability, and style, the best Cable Tie Mounts of 2022 are the Zip Tie Adhesive-Backed Mounts for their extra holding durability and the sheer number and the Monaco Idealstanley Cable Clip Holder for their weighted balance and work table management abilities.
USB cable clips
For entertainment centres, workspaces, kitchen cabinets, and living spaces, cable clips are some of the best cable and wire management accessories of 2022.
They usually come in different sizes and shapes with a variety of cable holding abilities and adjustments. Not only are they extremely flexible, but most cable clips are also durable and workable enough to hold other small objects like toothbrushes.
Of the clips we reviewed, the top pick is the OHill's cable clips. With over 1000 five-star reviews on Amazon alone, it is one of the most popular and revered choices of cable clips. Also, Syncwire's self-adhesive USB cable clips pack is a top choice. Especially because of its non-toxic and odourless silicone material.
Conclusion
Cables littered everywhere don't look nice. Also, it can be dangerous, especially where kids can play and nibble at things. Besides, organising your cables will help you make your workspace and living space neater and more presentable.
Investing in some of the best cable management accessories will save you money in the long run because of the reduced incidence of damaged chargers and ruined cables.
Also, the best cable management accessories of 2022 are not necessarily the most expensive. Rather, they are the most durable, adaptable, fashionable, affordable, and effective.
References:
Written by The Original PC Doctor on 4/3/2022.