Google Meet Layout Improved for Presentations
Google Meet, like most video chat providers, is seeing an increasing number of users today. So it's no surprise that Google is trying to quickly take advantage of this situation by advancing its product.
Recently, Google has launched a new set of features that comprises Zoom-Like tilled layout that allows 16 participants to join a chat instead of the previous limit of just four.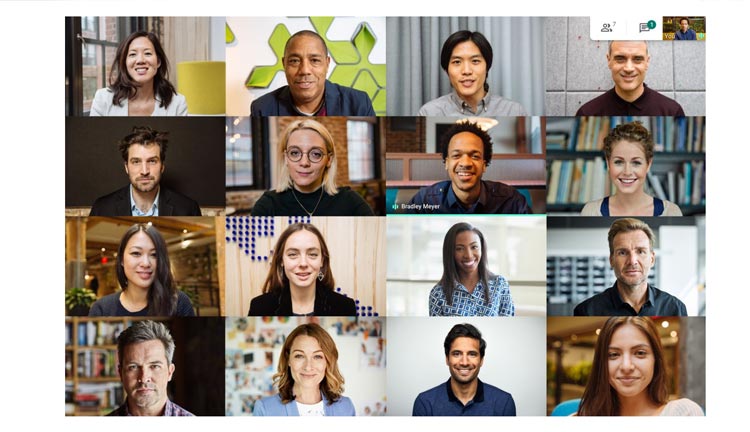 The other features include the ability to present a single chrome tab rather than a specific window or entire screen and a low-light mode so you can make calls at night.
There is also a built-in noise cancellation feature to prevent other people from listening to your dog barking in the background.
Titled View with Presentations
This feature has already gone live, and it allows web users to simultaneously see 16 attendees at a go (the previous tiled layouts only allowed you to see four people at once).
Presentation now appears as a larger tile in the middle of the screen, while active participants in live video feeds will be displayed at the bottom of the side.
Furthermore, the video conferencing app now saves your last preferred layout so it can auto-generate the layout when you join a meeting.
However, you can switch layout by tapping the three vertical dots at the lower-right corner of the screen. From there, you need to select "change layout" and then chose the layout option you like.
Being able to see more people simultaneously can help the dynamics of classes and larger groups. You can observe people's reactions when different topics are being discussed or easily track multiple speakers.
Google hopes these changes can make remote video conferencing feel more like in-person meetings and encourage more participation.
In the case where you're in a meeting with over 16 participants, Meet provides you with an option to open the list of attendees and see who else has joined the meeting.
Google also plans to make it possible for G-suite users to host meetings with up to 250 participants by September 30, 2020.
Google Meet's tilled presentation view and other updates are accessible to both free and G-Suite users.
The company plans to roll out more updates for larger meetings, quality presentation layout layouts, and support among more devices.
Other Features Being Rolled Out
Preset Higher-quality video content with audio
Having many people staring at me from my screen gives me the creeps (but most people seem to enjoy it). However, I'm truly impressed me it the ability to present a single chrome tab; it's a feature welcomed by many.
It an important feature because it allows you to share quality-video content from these single tabs than ever before.
If you want to share high-quality videos with audio content in a meeting, just select the "present a chrome tab" feature for the best experience for remote viewers.
Steps to present during a meeting
First, join a meeting.

Head to the bottom-right corner of the screen and select present now.

Choose Your entire screen, window, or chrome tab.

If you present in the chrome tab, the tab audio will be shared by default. If you want to present with a different tab, head to the bottom of your screen and choose change sources.

Choose the content you wish to share and select share.

If another participant is presenting, confirm you want to present instead.
Better Low- Light Performance in Google Meet
If you usually take meetings in the dark, the low light mode will use AI to adjust your video brightness, making you visible to other participants in sub-optimal lighting conditions. Unlike the other features, this one is rolling out to mobile users first, and it will come to web users later.
Noise- Cancellation
Frankly, I'm so excited about Google Meet's noise-cancellation feature. Meet's AI can now intelligently filter out background noises.
Noise-canceling had become a very important feature, with even NVidia RTX Voice making it available in a variety of applications for customers of high-end graphic cards. But, it's nice to see this feature now built-in for Google Meet.
This feature works best for noises that are predictable and repeat like keystrokes when taking meeting notes or a dog barking.
This feature will be available to G- Suite Enterprise and G-Suite Enterprise for Education web users. The mobile support will come later.
Since employees were forced to work remotely at home because of the Coronavirus pandemic, Google has been updating Meet with new features.
Apart from Google giving Meet a tilted view layout to make it a worthy Zoom competitor, It also made it free to use.
Anyone with a Gmail account can use Meet video conferencing options for his/her needs. However, G-suite customers still have exclusive access to more advanced systems.
References
Written by The Original PC Doctor on 10/7/2020.