Coronavirus Isn't Stopping the Online Scammers
Scammers are always ready to capitalise on opportunities, be it the fall of the stock market or the rise of a new cryptocurrency so why should coronavirus be any different?
It's not! Scammers love taking advantage of fear and panic, and when it comes to COVID-19, they most definitely are. Amid the coronavirus outbreak, scammers and hackers are having a heyday.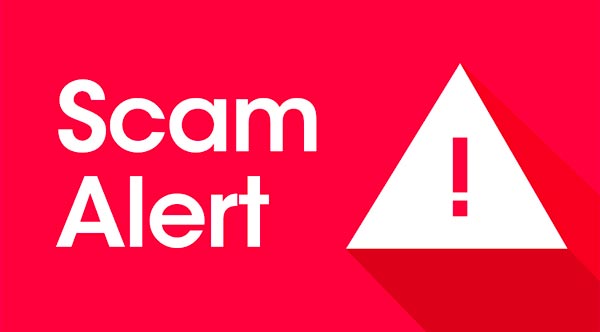 Reports from government bodies Iike the Federal Trade Commission, FBI, and IRS suggest that fraudsters are already taking advantage of citizens. For example, in West Virginia, scammers are posing as utility companies threatening to switch off citizen's utilities to steal personal information or money. Just last week, one person lost about $2,500 from these scams.
That is just the tip of the iceberg; most hackers and scammers are using creative phishing schemes and email scams to lure people into clicking harmful links, downloading malicious software, or sharing personal data under pretences.
Others have taken scamming a notch higher by impersonating government bodies and organizations, while others are selling defective medical products online or promise to deliver the products, but they don't. 
The fact is scammers and cybercriminals never care about the wellbeing of the people they scam; they only want to make a profit off from vulnerable people so it is imperative to know how some scams work and how to avoid them. 
Our article will guide you through some of the most common scams used by fraudsters and how to protect yourself from them.
Coronavirus-related Online Scams to Watch Out For:
Phishing Schemes and Email Scams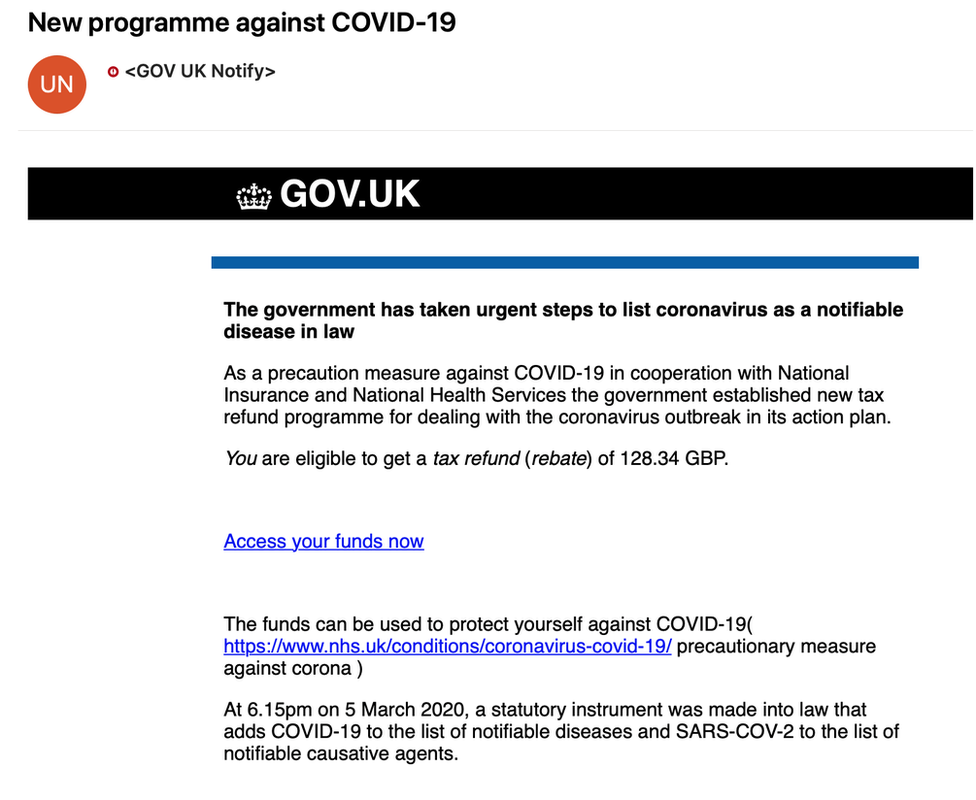 Emails scams are the most common and effective way of distributing malicious links to malware and phishing sites. They are a perfect vehicle for transmitting malicious files that can harm your PC.
Scammers and cyber hackers are taking advantage of the coronavirus pandemic by forwarding fake coronavirus-related emails intended to trick people into clicking on malicious links or downloading malicious software.
Usually, these malicious links direct users to dummy sites or download malware that is designed to capture login details that can be used to steal personal information or money.
According to the FBI, phishing attacks will probably increase in the coming months, as the government plans to issue payment of up to $1,200 in coronavirus relief to US citizens. Fraudsters will use this opportunity to steal personal information or to redirect the address to receive the check.
Some email scams already have impersonated representatives of the Centers for Disease Control and Prevention and the World Health Organization, whereas others have masqueraded as emails from health authorities from other countries.
Coronavirus themed phishing scums like "Updated Corona lists" sound very realistic and convey a sense of urgency that would lure you to click but once when once you clicked it, it directs you to a malicious site asking for your email login details. Always be on the lookout for coronavirus phishing schemes and email scams. No one is safe irrespective of the country you live in.
Computer viruses
In January, Japanese citizens become victims of an email scam that presented itself as an attachment containing a list of "Updated local infections." In reality, the attachments contained a Trojan malware that attacks the computer and harvest personal data.
Once the Trojan virus infects a computer system, it gives malicious users remote control over your computer. The hacker can do anything to the computer from sending, receiving, and deleting files to rebooting the computer. To prevent such cases, avoid opening attachment from unknown sources.
Rip-offs and price-gouging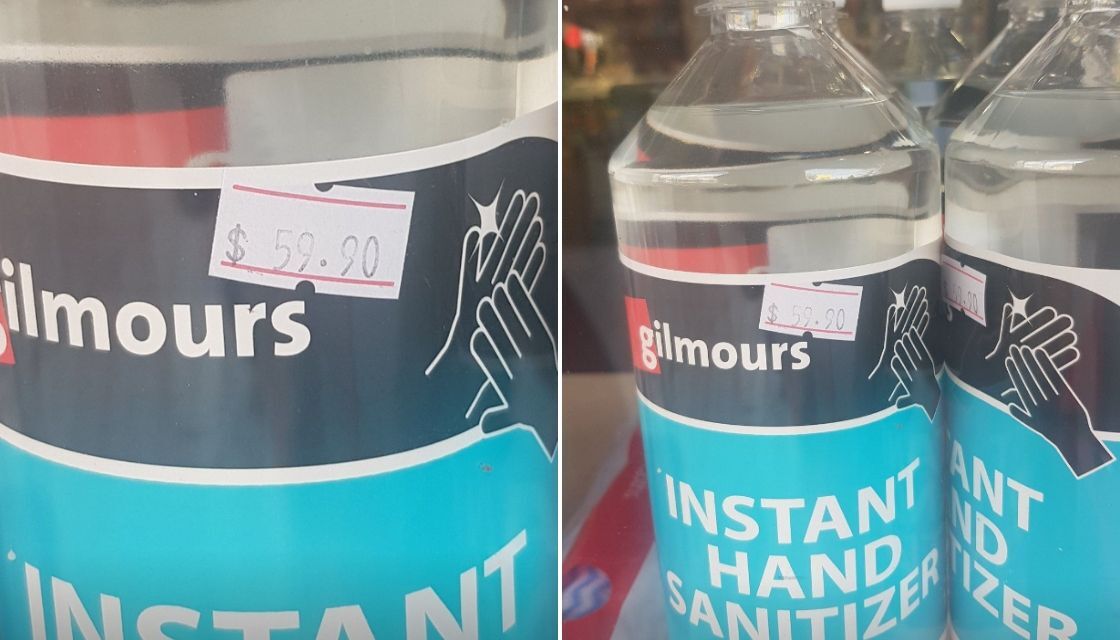 Coronavirus comes as an opportunity for con artists and scammers because it plays on the basic human conditions-fear. As a result, they hoarded toilet paper, hand sanitisers and amassed face masks from retailers, then sold them online for ridiculous prices.
Price-gouging is immoral in every way. The people hoarding the face masks are preventing health workers from doing their work, and the sick from using the mask for their everyday activities. Thankfully, big brands such as Amazon and Walmart are against price-gouging and are selling their products at a normal price.
If you feel the price of hand sanitisers are too expensive, don't buy it. According to scientists, the normal soap can weaken the fatty outer layer of the virus, keeping your hands virus-free. Instead of panicking and buying lots of sanitisers you don't need, please leave it for the health workers who actually need them. Just save your money by reducing the cost you spend on things you don't need.
Charity Checkouts
Charities exist to help the less fortunate or the suffering in hard times of natural disasters or disease outbreaks. Hundreds of people, if not thousands, usually donate money to these organisations yearly but they do not follow up to see if the money ever reaches the intended destinations. 
Although most of the charity organizations are real, others are just scams meant to take advantage of any tragic event that takes place. Cybercriminals are also hijacking some fundraising websites to profit from them.
These hackers are sending persuasive emails to people to ask for funds for a cause that doesn't exist. Do not fall blindly to these scams and always use the Federal Trade Commission's Charity Scams website to check if the charity is legit. Also, search for the charity in sites like giving.org and guidestar.org before opening your wallet to donate money.
Magical oil, vaccine and cure
COVID-19 crisis has revealed several treatment scams. Scammers are now offering several health products for treating COVID-19 ranging from a fake cure, vaccines, and magical oils. The ads for these products are common on social media platforms like Facebook. 
Thankfully, Facebook banned further sales of products alleging to treat the virus. However, platforms like Etsy and Craigslist are still hotbeds for these deceptive treatments. If you are thinking of getting some magical cure, keep in mind that there is not any known cure or vaccine for COVID-19.
Mobile malware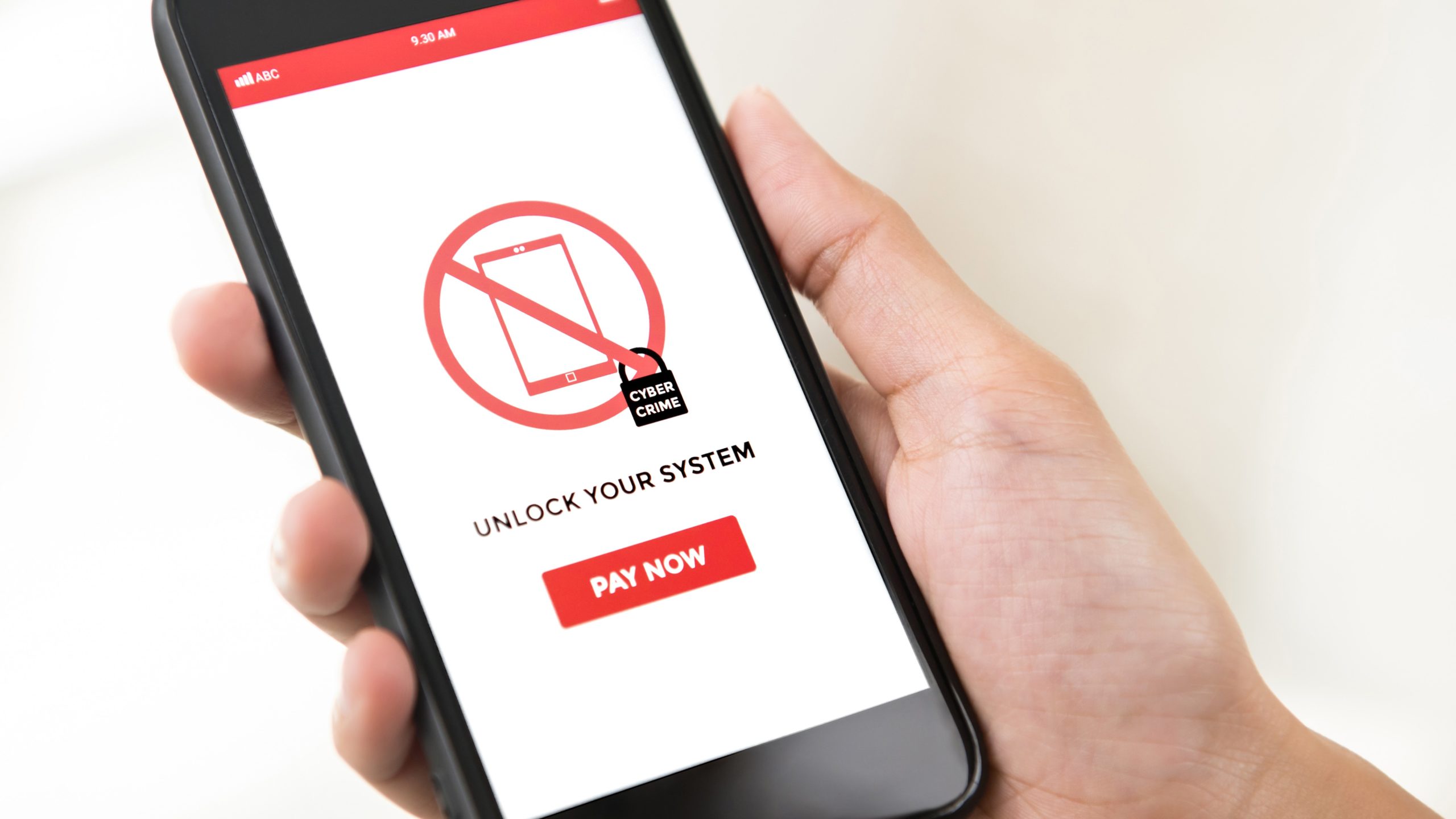 COVID-19 news apps are very helpful, no question about that. But it is a good idea to check out the reviews about the app from different sites. You never know it might be a malware trap. In March, CovidLock—a malicious app claimed to assist users in tracking the spread of the coronavirus. Instead, it locked Android phones and held them for ransom by hackers.
Even with the advancement of security systems, hackers can still navigate through the system and steal a user's sensitive data. Recently, Reason Labs discovered that cyber hackers are exploiting coronavirus tracking map-sites to introduce malware into the user's browsers. Other malicious apps like Cerberus- a banking Trojan generate fake revenues from freemium services.
Since the outbreak of coronavirus there, over 30,000 coronavirus-related domains or sites have been registered. Out of the 30,000, 131 have been considered malicious, and over 2,500 are suspicious and under investigation.
How to Avoid Coronavirus Online Scams? 
Patch your software with the latest updates
The updates should protect you against the most recently discovered threats and fix any security bugs or vulnerabilities in your system. Most devices and apps update themselves, but when they cannot do so, try to figure out the problem and fix it. 
Older systems are prone to the worst security breaches; hence it is important to update them. Always go through the latest tech news to be informed of any scamming techniques being used and how to protect yourself from them.
Reduce your online exposure
Use VPNs when browsing to protect your location and enhance your online presence. Ensure you take serious, effective security measures when you are online, like using the two–factor authentication. This means that even when someone gets your password, they still would not access your accounts without the third piece of protection. 
For SIM swap attacks- use dedicated authenticator apps instead of texts. Go to your phone setting and disconnect third party accounts that you don't use. All these essential processes will deter scammers from accesses your important accounts and document.
Be Suspicious
Even with the latest AI and software system, hackers and scammers can find a back door and lure you into their traps. Always be wary of suspicious messages that arrive in your inbox, WhatsApp message, or SMS app, particularly if it comes from an unknown source. 
Remember, phishing schemes will try to promote a sense of fear, panic, and urgency; do not fall for it. Scammers are brilliant and will try to dress up the messages to appear as if they come from a trusted source; it might be your friend or manager if one of them has fallen a victim of the scam.
Assume nothing is safe, no matter how legit it looks. Double-check with the source or a tech support team to ensure the message is legit. Do not download any files or attachments until you have triple checked if they are safe, and you know what to expect. Use safe tools like Danger Zone to open the attached documents and check them out if they are legit or scams.
Taking a few minutes to research online can go a long way in protecting you from being scammed. If you feel you are being scammed, copy the message and run it on your browser to see if there is a solution to it or see people who have had similar problems.
There is no specific list you can follow to identify every scam, as they evolve every time. So, when something seems too good to be true, do not fall for it. Even if you know how a phishing scheme looks like, do not be so complacent. Cybercriminals and scammers are moving and changing with time, do not expect a scam attack to look all shady, those days are gone.
References
Written by The Original PC Doctor on 23/4/2020.