Apple Mac Mini Review 2019
Apple has finally revamped its Mac Mini after four long years of waiting! Considering its predecessor, the Mac Mini should be powerful, portable, and long-lasting. Investing in a Mac Mini can cost you a substantial amount, even the starting price is pretty steep. So, you should only buy it if you're sure that it's the right product for you.

So is the new Mac Mini worth the wait and the high price tag? Or is it just a refurbished version of the same old mini PC with a few shiny bits added to it? Let's find out what this new gadget is all about in our extensive and thorough review of the Apple Mac Mini!
Overall Design
Apple has always been popular for its sleek and elegant looking products. They have a great no-fuss policy when it comes to design and prefer keeping all of their products looking minimalistic yet modern.
Following the same no-nonsense pattern, Apple's Mac Mini is chic, contemporary, and simple. It has a rounded square, unibody design, and is lightweight, weighing only 2.6 pounds. True to Apple policy, the new Mac mini isn't bulky and weighs only 0.3 pounds more than its predecessor. Its dimensions are 7.7×7.7×1.4 inches, so it's relatively compact and little. The new Mac mini comes in a single color option, a cool space grey, that looks fantastic.
In a welcomed attempt to be environmentally friendly, Apple has constructed the Mac Mini from 60% of post-consumer plastic while its chassis is made from 100% recycled aluminum. The aluminum chassis makes the Mac Mini look and feel amazingly durable and sturdy.
Hardware and Software
Apple has tried to incorporate a ton of new and improved, powerful hardware within the small design of the Mac Mini. To do this, Apple had to be creative and rethink some of the earlier features of the Mac Mini.
The entire thermal architecture of the Mac mini has been redesigned, and it now contains a larger fan, bigger vents, and a power supply that is overhauled.  The switch to the new PCIe solid-state drive (SSD) as storage means that the new Mac mini not only runs faster, but it is also noise-less and produces much less heat. These features are incredibly crucial in small form PCs as they tend to overheat quickly.
The Mac Mini also contains a single HDMI 2.0, four Thunderbolt ports, 3 USB-C ports, and two USB-A ports. It also includes an audio jack, Gigabit Ethernet, and even an option for 10Gb Ethernet. On the back, there is a sleek looking power button and a headphone jack measuring 3.5mm. A mouse and keyboard are not included with the Mac Mini and must be purchased separately, adding to the overall cost.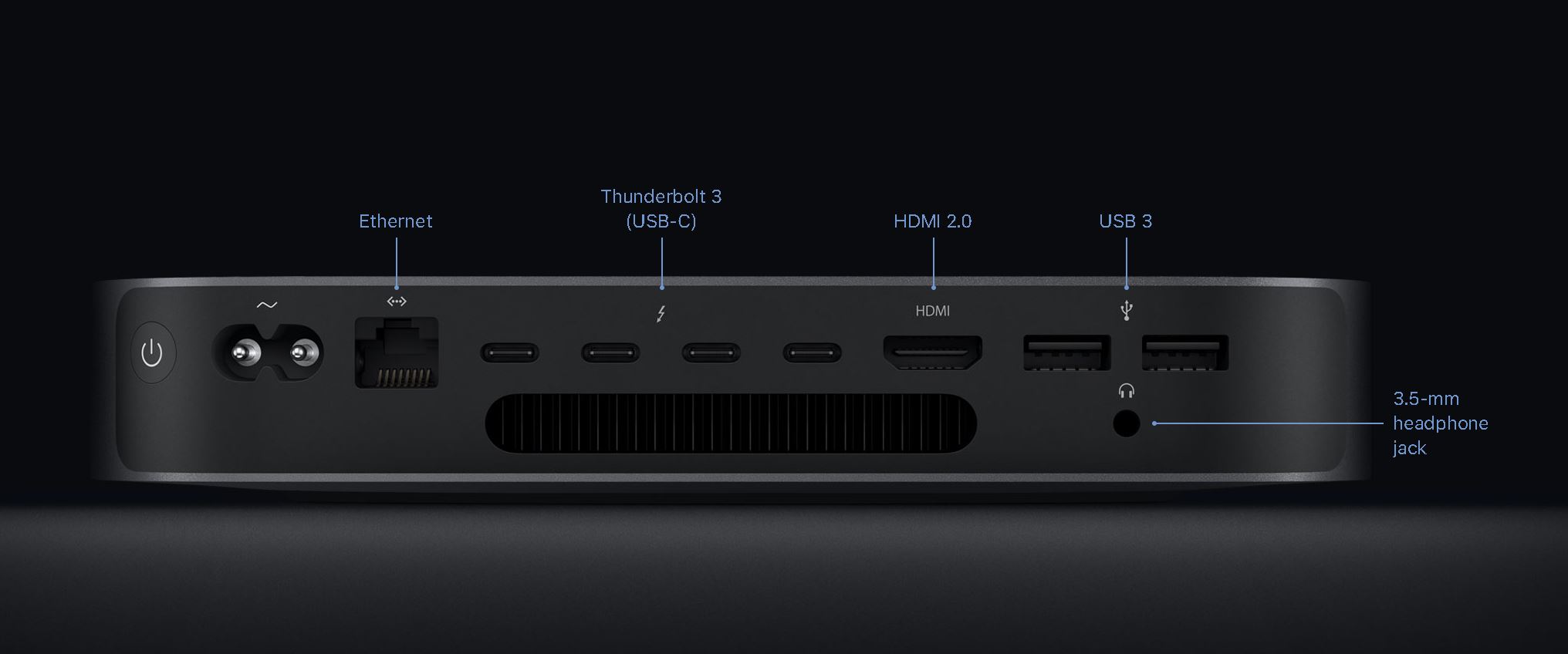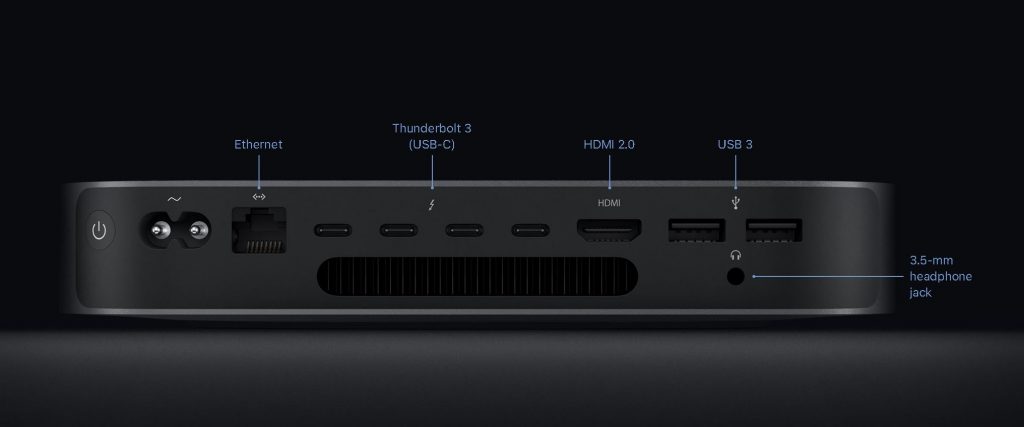 The single HDMI port means that you can't use more than one monitor unless you're using a Thunderbolt 3 monitor or adapter. However, the Thunderbolt 3 monitors offer superb connectivity with speeds up to 40Gbps. This means that you can work with two 4K displays at the same time and still be able to use an external graphics card, external storage, or various other sorts of peripherals.
The multiple Thunderbolt 3 ports also bring other advantages to the Mac Mini. For example, you can now use external storage devices of large capacities to bump up your storage without affecting the computer's performance. The same trick can also be applied to improve graphics as you can connect an external graphics card (eGPU) through one of the Thunderbolt 3 ports.
To keep the Mac Mini looking svelte and austere and minimalistic, Apple has kept all the ports on the back of the device. This also keeps the Mac Mini from looking messy with wires sprawling everywhere.
Unlike most other small form PC's in the market, such as the Zotac ZBox range or the Intel NUC, the Mac Mini is not upgradable. The only thing you can change about it, though, is its memory. Thanks to the switch to traditional SO-DIMM slots, which can be swapped out. That's about it, though. Apple representatives explained this lack of upgradability by saying that the Mac Mini is 'service repairable' and not 'user repairable.'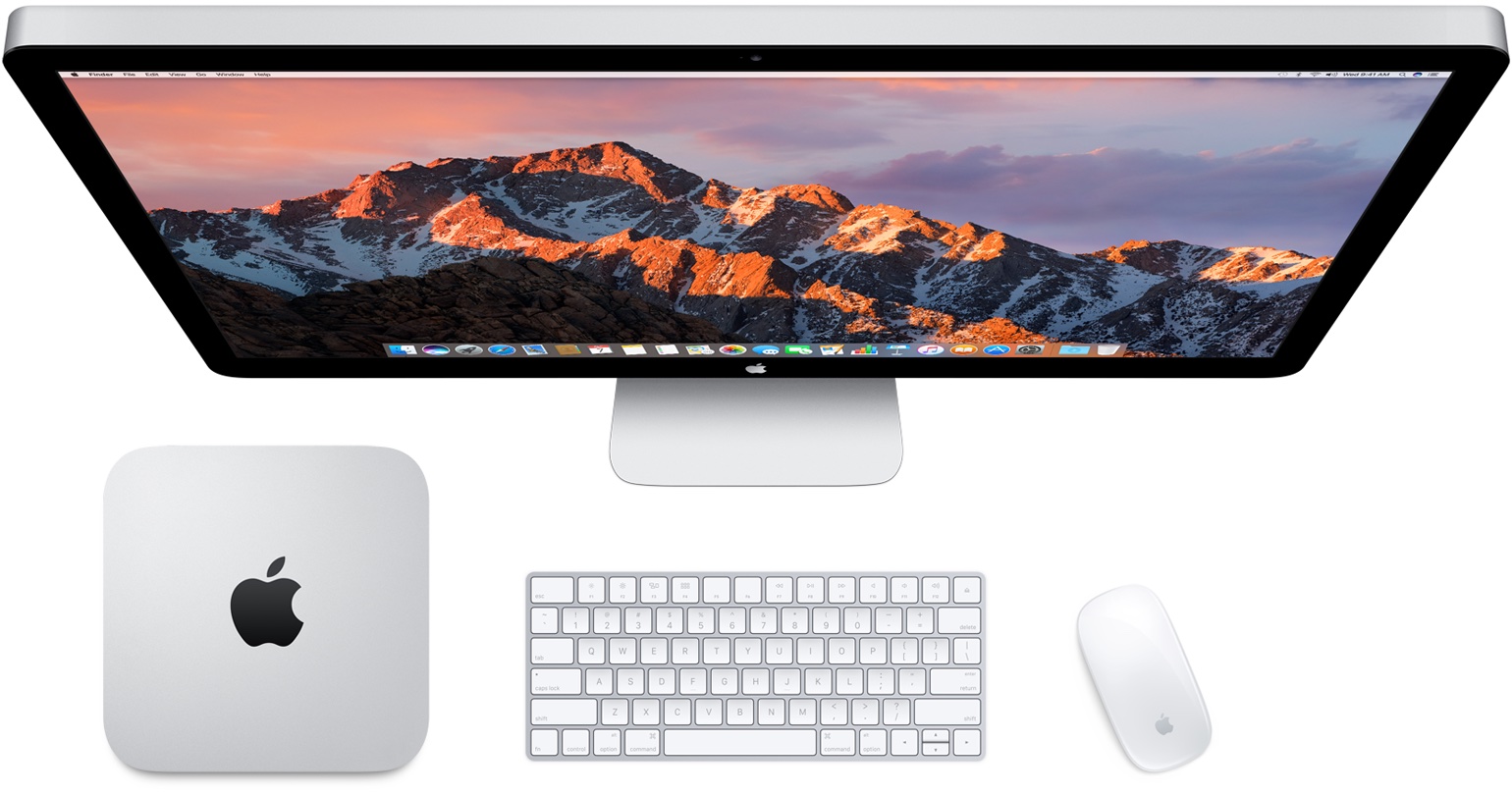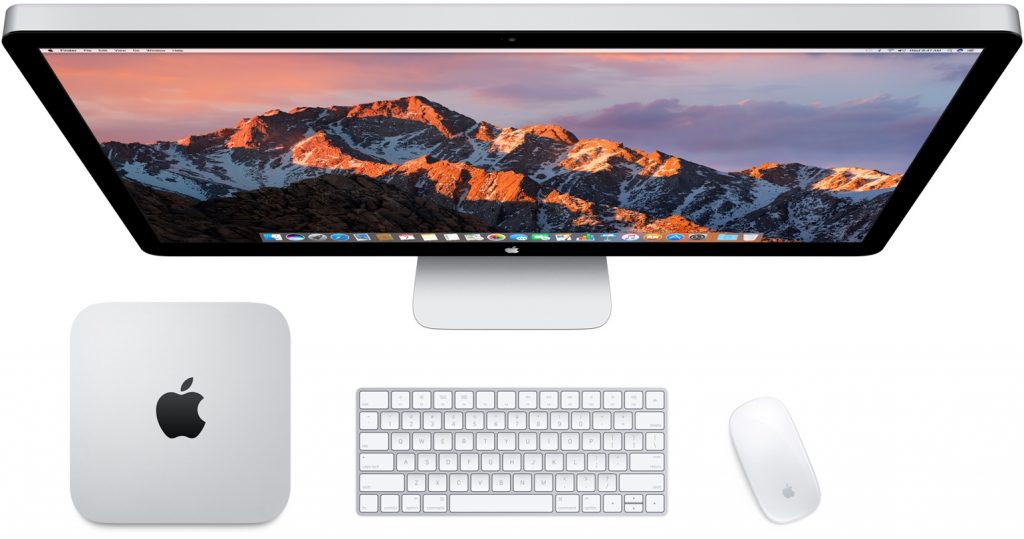 Apple is famous for keeping all its products non-upgradable and instead introducing brand new versions shortly after for consumers to buy. A fact all Apple users are well aware of. If, however, you're not an Apple user and are newly transitioning to it, the non-upgradability may seem frustrating.
However, customers are allowed to extensively configure the Mac Mini to their personal preference before purchasing the product. This means you can add whatever components you like, before making the purchase. However, keep in mind that each component you upgrade will cost more and drive up the final price of the product.
Performance
Apple has been boasting about the hugely improved performance of the Mac Mini for a while now. Mainly since the new Mac Mini contains 8th-generation, desktop-grade, Intel Coffee Lake processors with Turbo Boost speeds up to 4.6GHz and support for up to 2,666MHz (four times the amount its predecessor could hold). These Intel processors come in both quad as well as hexa-core models. Apple claims that the Mac Mini can perform five times better and faster than its earlier version.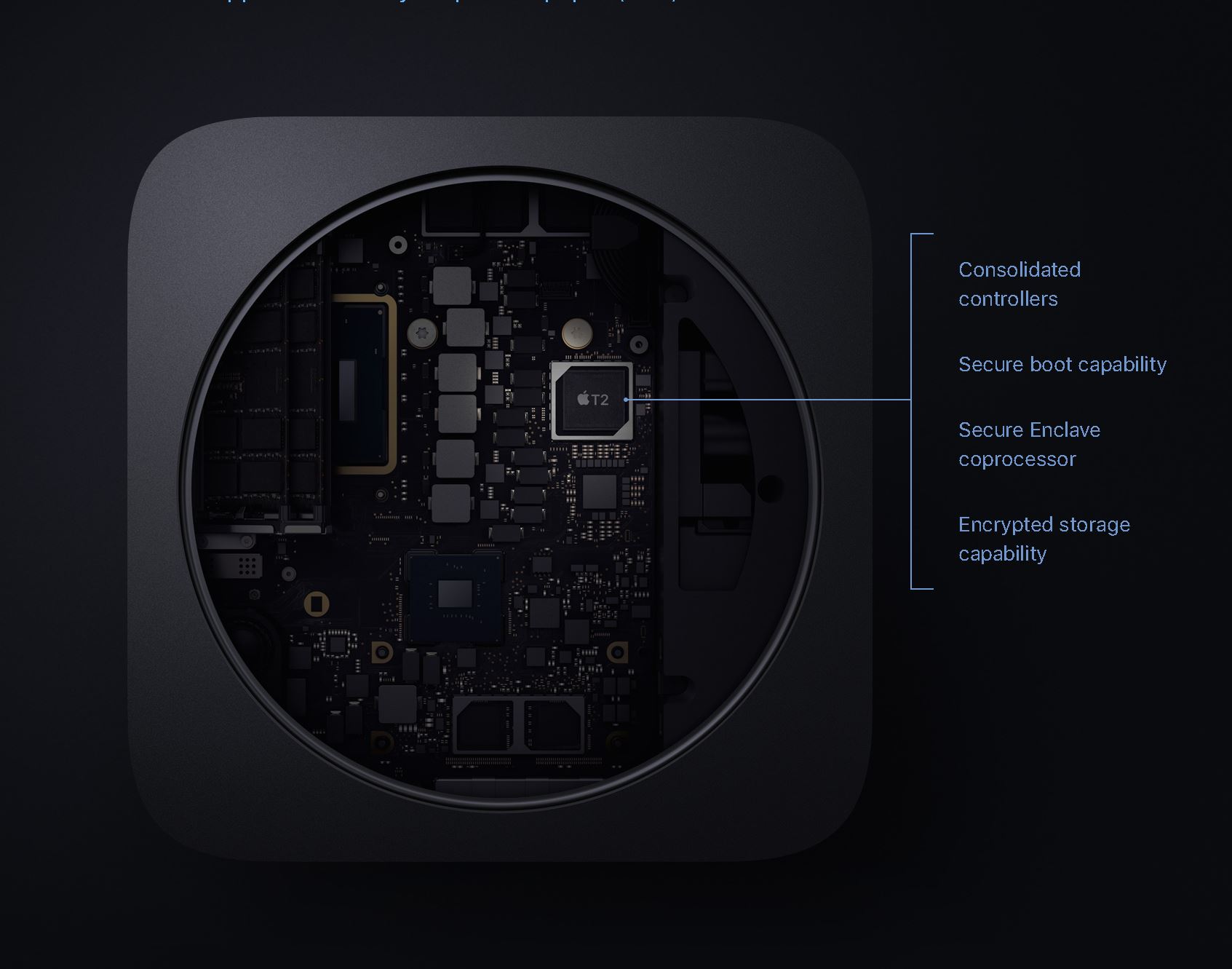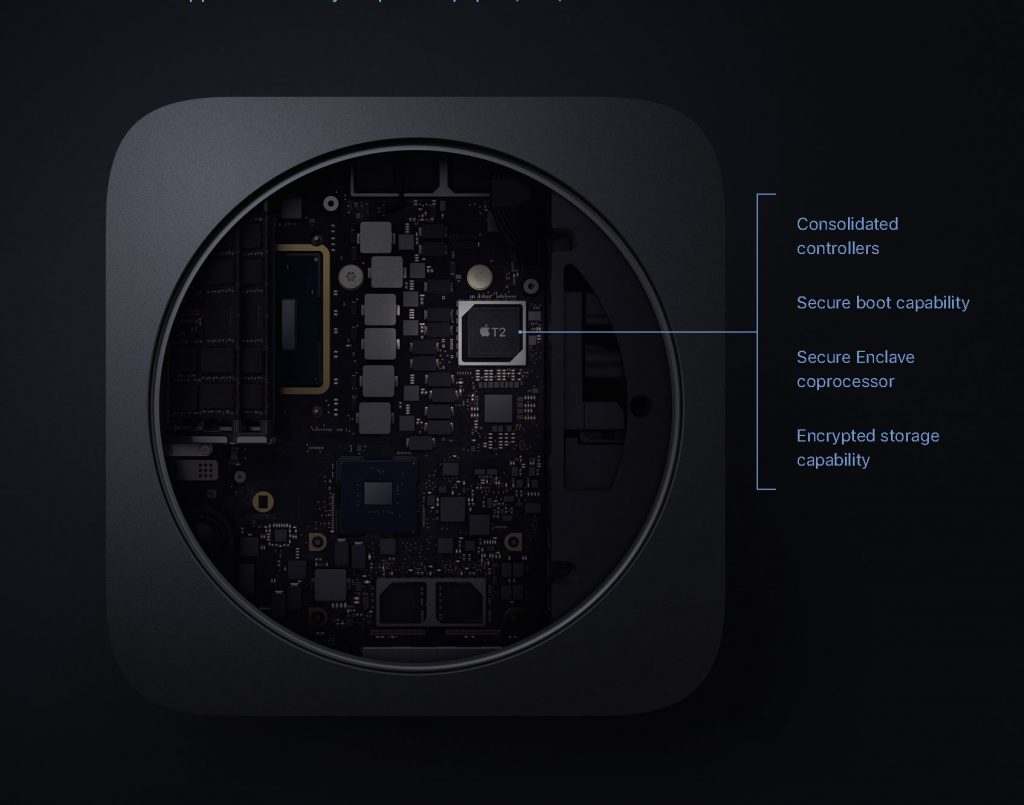 Apple has also added a new T2 security chip that works as a co-processor to its latest mini PC. The security chip comes along with an SSD controller that has on-the-fly data encryption as well, making this one of the securest Apple devices ever. HEVC video transcoding also becomes 30 times faster with the new security chip.
However, video editing and 3D modeling are considerably slower in this model. This is due to the mini PC's underwhelming graphics processor. This sluggish performance may be quite frustrating for people using the Mac Mini for creative purposes. However, you can easily solve this problem by using an eGPU. Again, remember that purchasing one will add to the overall cost.
Using the macOS 10.14 Mojave with the new Mac Mini makes working with the device phenomenal. General browsing, video transcoding, using different apps, and transferring files are noticeably faster in the Mac Mini.
Final Verdict
The new Mac Mini is a compact and sophisticated piece of crafty engineering. It has everything you would need in a mini PC. In case you feel that it lacks in certain areas, external devices can easily compensate. Its portability and sleek design make the Mac Mini a top contender for people who are looking for a computer that looks good and performs well too.
The Mac Mini may not be pocket-friendly, especially considering it's starting price, but it does offer its users a variety of great specs that justify its price point. Although video editors and others working in creative fields may not find this device too impressive, it's a great fit for everyone else. All in all, this is a beautifully designed, lightweight, yet incredibly powerful device that has been well worth the four-year wait.
References
Written by The Original PC Doctor on 04/10/2019.