Apple Introduces Chargers For Magsafe Duo
Apple confirms that the company will launch a new wireless charger for MagSafe Duo. The design helps to charge an iPhone and Apple Watch at the same time. Unfortunately, it is not compatible with a 29W USB-C power adapter.
The MagSafe Duo Charger is not compatible with iPhone 12 models at 15 watts. It is unlike MagSafe Charger that has been introduced before and delivers up to 15W wireless charging.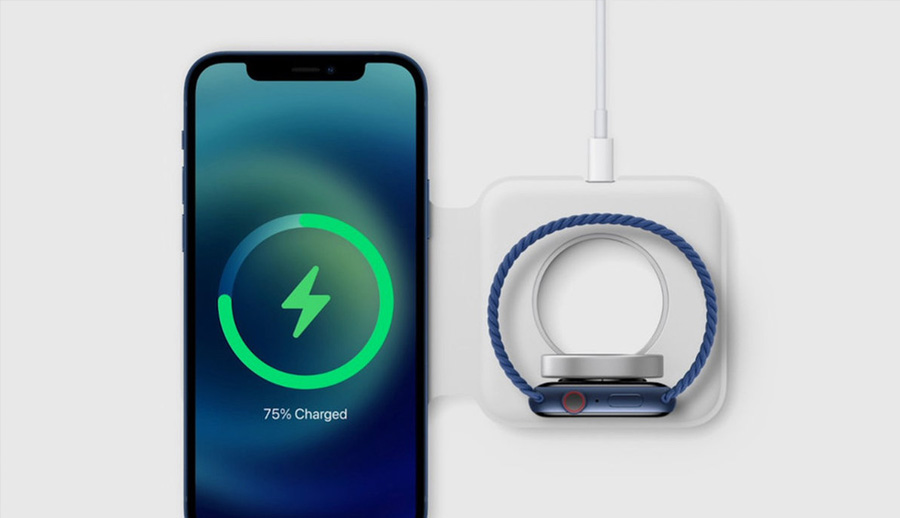 Apple appears to have a granted patent for MagSafe's cooling case that will let the iPhone work faster simply by enabling the processor to run at a greater temperature. The MagSafe technology came for MacBooks in 2006.
However, it only arrived for the iPhones with the iPhone 12 series in October 2020.
Features of Chargers For Magsafe Duo
Taking a look at the website, it appears like Apple has updated the MagSafe Duo Charger's product description to underline the fact that it doesn't support 15W wireless charging and can only offer up to 11W through a 20W USB-C Power Adapter.
According to the Apple site, you can extract a maximum of 14 through this charger, but you must connect to a minimum of 27W USB-C adapter. It is disheartening to see that even though the device costs 13900 INR in India and $129 in the US, Apple doesn't provide any charging adapter.
It is quite expensive for what you are getting, particularly if you think it does not include a charging adapter. To get a faster-charging speed, you use a minimum 20W charger. However, even then, it is not going to fast enough. A 20W adapter is still going to charge at 11W while you receive 14W from 27W adapters.
At first, Apple didn't clarify the charging wattage that users are going to get through this charger. Rather it mentioned that it is going to work with a 20W USB-C adapter.
Hence, it is being assumed that just as the regular MagSafe Charger offering 15W charging through the 20W adapter, the premium offering will also provide the same experience.
The MagSafe Duo can be folded in half and is compact enough to easily fit into your pocket. It can be useful for people who look for a small charger for travel.
The Apple Watch charger appears solid and sturdy. It pivots up and down. The build quality of Apple MagSafe Duo is decent enough. It is light and well-made.
However, there is no word on when this charger is going to be available in the market.
Limitation of the Charger
MagSafe on the iPhone is limited to a few accessories till now. Nevertheless, Apple might have planned to expand their portfolio in the time to come.
The patent that has been granted by the US Patent and the Trademark Office on Tuesday suggests that there might be a development of a new smart case that will allow iPhones to work faster just by accelerating the processor.
The patent's abstract hints that the brand new MagSafe case can generate a magnetic field that once came with the iPhone with the help of a hall sensor. It can enable the hardware to improve the processing power and function at a higher temperature.
After detecting the case, iPhone might move from one temperature threshold to the other. Once the case goes out, the iPhone can switch to the original temperature limit and throttle the processing power.
The case can maintain the iPhone's external temperature and cool it down for the end-users.
Moreover, Apple is likely to use an RFID and NFC tag for detecting the case's presence on a compatible iPhone. It is to make sure that users have a new experience.
Patent On the Charger
The patent registered on 20th February 2019, but they received approval only in November. Nevertheless, this does not guarantee a launch plan like Apple, just as any other tech companies file patents to understand what they can build next.
MagSafe only comes for the iPhone 12 series. But it is not the right choice if you are looking for fast charging. For instance, if you are purchasing a new iPhone 12 Mini, you might want to skip the new MagSafe wireless charger offered by Apple with a charging speed of 15W. It is because the charging speed on the phone is only 12W.
Final Words
Many devices have quite specific hardware requirements that you would like to use to enjoy the fastest charging speed. Hence, it is hard to put all blame on Apple too much in this regard. However, this might have made things quite simpler for the customers if they would have included a power brick in the box with a wireless charger that cost $129.
References
Written by The Original PC Doctor on 27/12/2020.