A Security Comparison Between DuckDuckGo and Google
Privacy has become one of the most concerning issues in this era of technology. Every day, we hear news about hacking and privacy breaches with stolen private information, personal credentials, and email accounts. According to Statista, only in 2020 more than 155.8 million people were affected by all sorts of data exposures. The growth of tech giants such as Google has been the focus of many of these privacy issues. It has allowed new players to emerge in the market with privacy-focused functionality and features. DuckDuckGo is one such example that offers enhanced privacy and operates as an alternative to Google. This article will discuss DuckDuckGo vs. Google in detail and how you can maximize your privacy.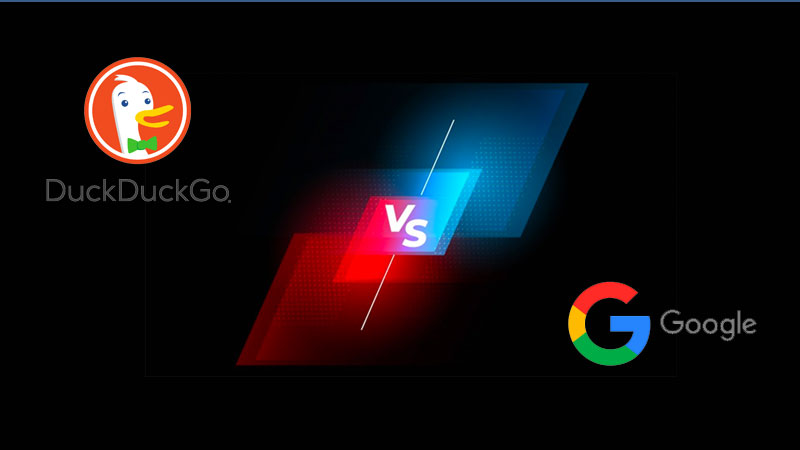 DuckDuckGo Vs. Google
Most people never bother to read the confusing and long terms and conditions and policies that companies list down. The same is the case with Google's privacy policies. Even if you take time and read, you won't clearly understand how much data Google collects, and your personal information is shared with other organisations.
It's also important to note that the Google search results aren't always unbiased. Other than the searching algorithm, Google and DuckDuckGo also have different business models. Google tends to control the search results and what you actually see. On the other hand, DuckDuckGo claims that it protects your search history even from itself.
If you use Google or any other renowned search engine and open a website from the results, Google sends your IP address as well as a search query in HTTP header to that website. However, DuckDuckGo considers this practice "search leakage" and doesn't follow it. It means, regardless of your search terms and website, DuckDuckGo doesn't share any information with the website you're visiting. Therefore, websites will never know if you searched them on the DuckDuckGo search engine.
How to Maximize your Privacy with DuckDuckGo?
Google and other mainstream search engines create echo bubbles to perform searches. It means your search results are influenced by the search queries of your friends. Socialising with your friends is perfectly fine. However, you don't necessarily have the same interests, so influencing what you get to see isn't right. The echo-bubble uses data to alter the search results by your circle's religious, political, and personal beliefs.
The primary goal of DuckDuckGo is to protect and improve your privacy, and it doesn't follow the echo-bubble algorithm. So, the search results you get to see aren't influenced or altered by any other user or filter, respectively. Here are some of the distinct features that DuckDuckGo offers for enhanced privacy.
Clear Privacy Policy
DuckDuckGo offers a loud and clear, straightforward, and easy-to-understand privacy policy. There are no catches and hidden surprises because the terms and conditions explain everything explicitly. After reading their privacy policy, you'll properly understand what information DuckDuckGo collects and how the company uses it. Two of the main features of DuckDuckGo's privacy policy are:
DuckDuckGo doesn't store any user-agent strings or personal data such as IP addresses.
The company only use a cookie to record and maintain site settings
Open Source
The team behind DuckDuckGo developed the search engine by mixing open-source and free software solutions. Most software solutions such as browser extensions, Android and iOS apps, and designs on the website are publicly available on the official DuckDuckGo GitHub repository. However, the company has kept its main searching algorithm and capability secret.
Not Only a Search Engine
DuckDuckGo started developing new tools and features in January 2021 to offer more than just searching services. The main purpose of all the additional tools that DuckDuckGo offers is to maintain and solidify your privacy and security over the internet.
Some of the tools that DuckDuckGo offers are mobile applications, browser extensions, private search, and data encryption features. Another great feature that DuckDuckGo recently launched is Site Privacy Grade. It allows you to find out how much a particular website collects and maintains your private data.
Password Generator
Just like pretty much all the mainstream browsers, DuckDuckGo also offers functionality to generate strong passwords. It minimises your chances of falling victim to credential stuffing attacks. But what makes this feature different from others is that DuckDuckGo doesn't store your passwords in any way. You'll need to use a password manager tool or your own memory to remember them.
Pros and Cons of DuckDuckGo
If you're concerned about your privacy and searching for a secure search engine, then DuckDuckGo can serve you well. But you must understand its advantages as well as downsides before shifting.
Pros
DuckDuckGo offers perfect privacy and doesn't collect or store any of your online searching data. You can also take your privacy to the next level by installing and using the complementary products that this company offers.
You won't see a single ad if you're using DuckDuckGo based on your previous searches. You also have the option to disable ads.
DuckDuckGo doesn't use any social engineering methods to alter your search results.
You can be sure that DuckDuckGo will provide you with unbiased results as it doesn't use profiling and targeting techniques.
Another distinct feature that DuckDuckGo offers is that you'll have single-page search results with infinite scroll. You won't need to click on the pagination number to go to the second or third page.
If you want to search for any combination of words within a particular website, then you can use DuckDuckGo bangs.
Cons
DuckDuckGo undoubtedly offers multiple extra tools and features, but still, they're way less than what Google offers. For example, you can find Google Books, Google Finance, Google Flights, Google Maps, Google Music, and much more.
Less personalisation is one of the downsides of using a search engine that doesn't store your search history. It means that you might not see the search results based on your personal interests.
How Does DuckDuckGo Earn?
As mentioned, DuckDuckGo stores your data which also means the company can't sell data to advertisers. It's by far the biggest source of earning for Google. So, you might be wondering how DuckDuckGo makes money.
In a nutshell, DuckDuckGo also earns profit based on affiliate revenue and advertising. It shows the ads on the right-hand side of the main page of your search results. It means these ads aren't personalised based on your shopping history, demographics, or previous searches.
Just like many other big companies, DuckDuckGo spends a considerable part of its earnings on charities and causes. One of the objectives of the company is to help other organisations involved in authentic and reliable causes. DuckDuckGo uses Reddit to select the charities for donation each year. According to the official stats, DuckDuckGo has donated more than 2,650,000 US dollars to multiple organisations.
Verdict
It's important to note that Google still is incredible and offers so much more than DuckDuckGo. However, if privacy is your biggest concern and you don't want your search engine to collect your data and sell it to third-party organisations, then DuckDuckGo is a better option. It's one of the safest options when it comes to privacy, as it destroys your search history as soon as you close it.
Based on this discussion, it's completely safe to say that DuckDuckGo is going in the right direction. It's gaining more and more popularity which isn't in Google's favour.
References:
Written by The Original PC Doctor on 1/09/2021.