Top 7 Best Apps to Transcribe Audio Files to Text
Accuracy and quality are the two most critical factors that you should consider while choosing an audio transcription app. You'll need to completely rely on the app whether you want to write an article or convert a lecture into audio. Doing it manually requires not only effort but also costs a lot of time. While there are tons of apps available in the market that transcribe audio files to text, we have only selected the best ones.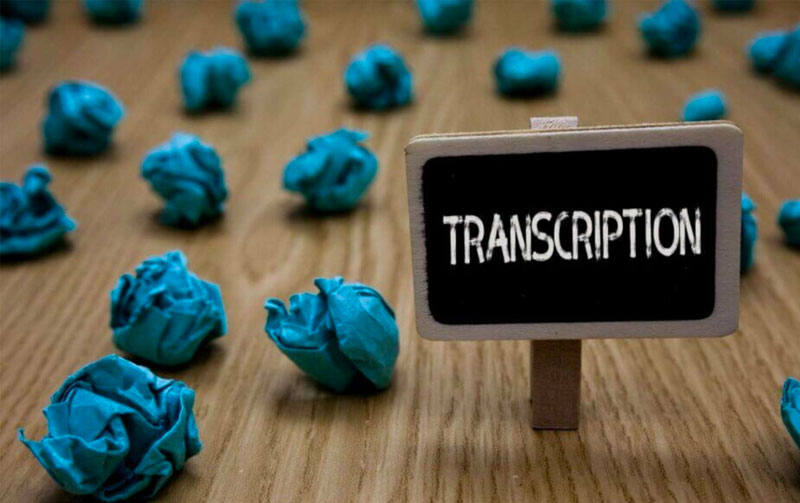 If you are looking for an audio transcription app that generates accurate results with quick turnaround times, then consider choosing from the following list.
Transcribe – Speech to Text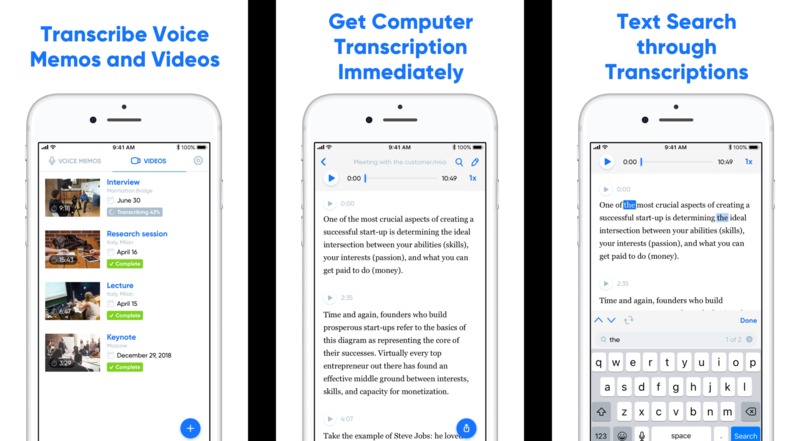 Our first pick is "Transcribe – Speech to Text," which comes with intelligent audio recognition technology and generates high-quality results. This app is designed to transcribe both video and audio files regardless of their sizes. One of the best features of this app is that it supports more than 120 different dialects and languages. It can also sync with other audio applications that you've installed on your smartphone.
Transcribe also allows you to record the audio, and it'll transcribe it at the same time. Moreover, in order to use this feature, you don't even need internet connectivity, and you'll receive a live transcribed text instantly.
Pros
Intelligent audio recognition technology
Supports all sizes of files
Supports more than 120 dialects and languages
Quick delivery
No distracting ads
Cons
Temi – Recorder and Transcriber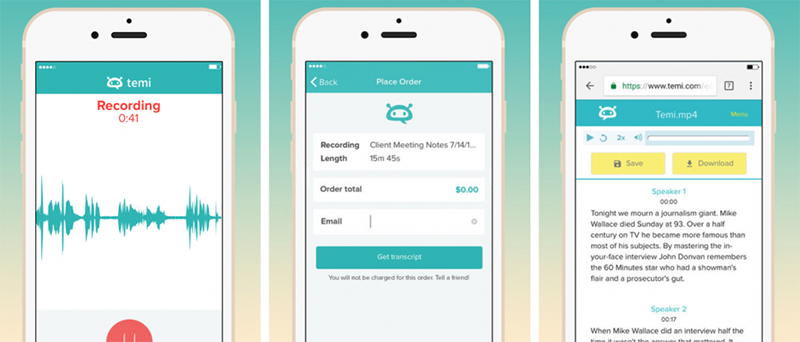 Temi is one of the very few audio transcription apps that can recognize the audio with almost 100 percent accuracy. It also offers the transcribed text file in real-time. If your transcribing process is underway and you receive a call on your smartphone, then Temi will automatically pause. You can also share your files saved by this application without any restrictions.
In order to access the maximum capability of this application, you'll need to buy the premium version. Whether you're a student, reporter, or journalist, this app can serve you greatly.
Pros
Offers recording and transcription of unlimited files
No distracting ads
No size limits
Automatically pauses the transcription process for incoming calls
Generates high-quality results
Cons
Only supports English
The paid version offers all the advanced features
Notta – Dictation & Transcription & Audio to text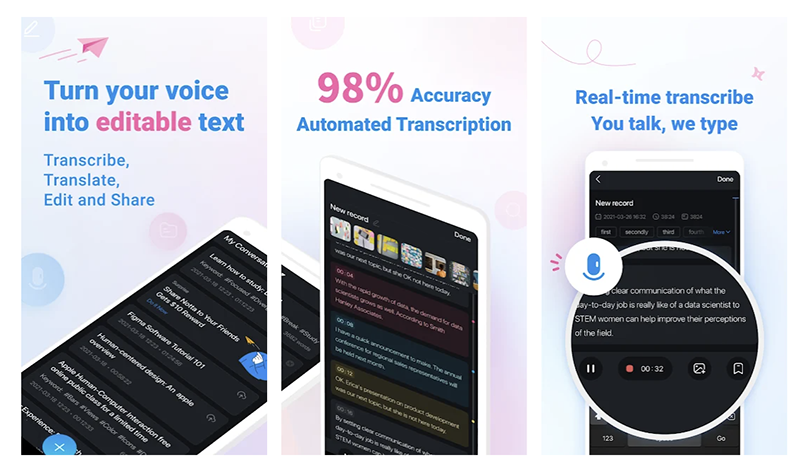 Notta is yet another great audio transcription app that comes with artificially intelligent algorithms to transcribe audio files. It supports 104 different dialects and languages and also offers a live transcription feature. It also supports multiple formats such as "AIFF," "CAF," "M4A", "MP3", and "WAV."
The text editor of Notta is also user-friendly that even allows you to add images and mark important points for later use. You can also export your text file in multiple formats such as "DOCX," "SRT," "TXT," and "PDF." Moreover, it also comes with a translating feature that allows you to translate 41 different languages.
Pros
Supports multiple audio and text formats
Supports 104 different dialects and languages
Translates 41 different languages
Syncs with other audio apps
Offers secure cloud storage
Cons
Only allows you to transcribe 150 minutes per month on a free plan
Only the Pro plan supports additional formats and device syncing options
Live Transcribe & Sound Notifications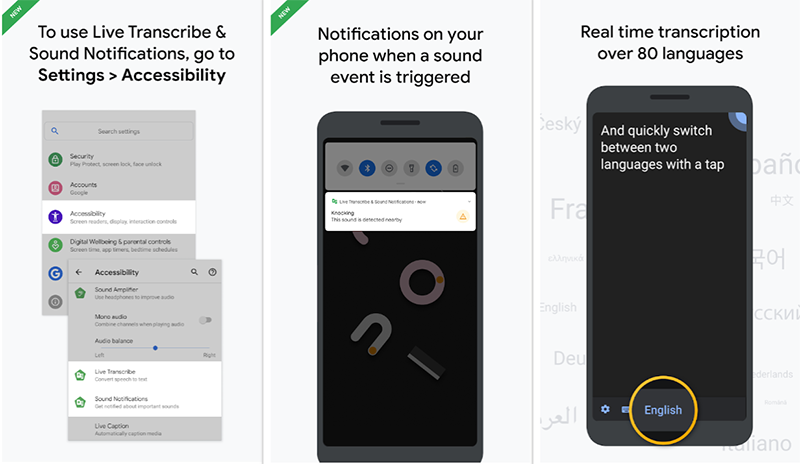 Live Transcribe makes surrounding sounds and everyday conversations more accessible. It also comes with a live transcription feature and an advanced speech distribution system. You can transcribe more than 80 different languages. Moreover, you can also teach it different words that you commonly use which aren't present in any supported language.
It saves your transcribed files for up to 3 days, and after that, it gets deleted. So, you'll need to save your text and audio files in a separate location if you want to use them later.
Pros
Can transcribe in real-time
Supports over 80 languages
Sends a notification when someone says your name
Can learn complex words
Cons
Transcription Tool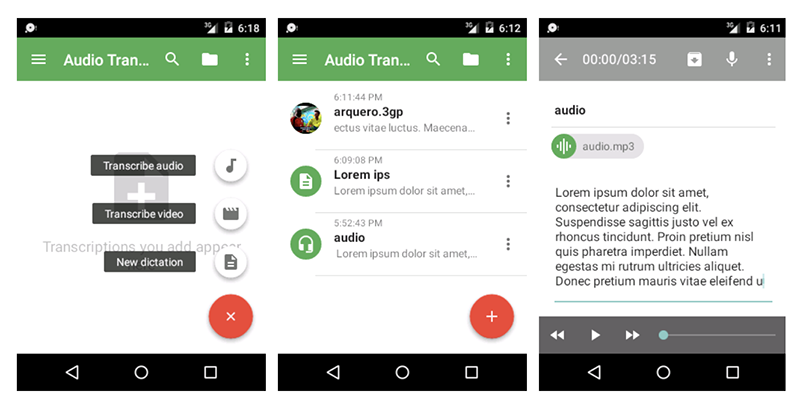 If you want to transcribe your audio files as quickly as possible, then the Transcription Tool could be your best option. It comes with an advanced voice recognition system that not only takes the grammar of the original language into account but also corrects the punctuation. It only supports 4 languages which are Italian, Portuguese, Spanish, and English. The interface of the application is very user-friendly, and you can customize it as well using the main settings.
Transcription Tool also allows you to transcribe both video and audio files, and you can use your smartphone's keyboard to edit the text files. It also supports multiple formats such as "MPEG-4", "OGG," "WAVE," "3GPP", and "MP3".
Pros
Takes punctuation, grammar, and punctuation into account while transcribing
Supports multiple formats
Playback paused functionality
Full integration with your smartphone's keyboard
Specially made for transcribers
Cons
Doesn't offer real-time transcription functionality
Supports only a few languages
Only available for Android
Audio to Text (Speech Recognition)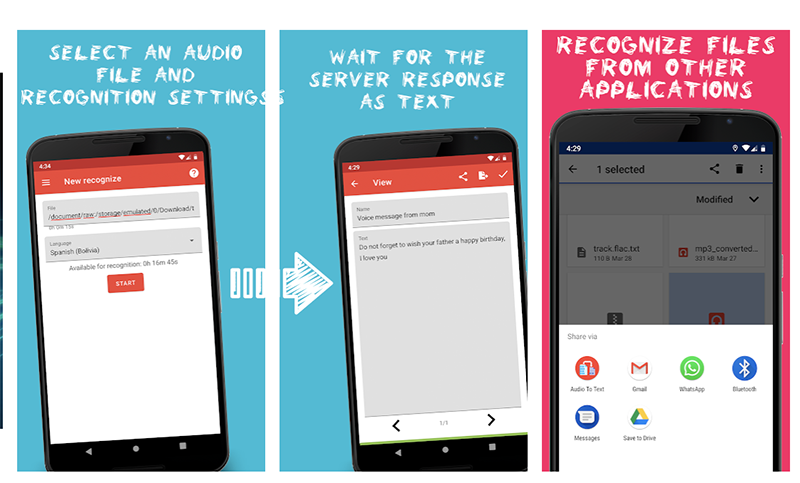 The Audio to text app comes with the support of 120 different languages and can transcribe audio files with multiple formats. It also offers auto-punctuation of many languages, and you can save and share the generated text anytime you want. However, it doesn't offer the real-time transcription feature, and you'll need to use an audio file once it's recorded. Moreover, you'll also need to use a separate app to record audio, and the audio recording feature is also missing.
Audio to text allows you to edit the text if you find any errors and inaccuracies. The process of transcribing is also very simple. All you need to do is to tap on the upload button and select the file. Currently, the total downloads of this app are more than 100,000.
Pros
Supports multiple audio formats such as "FLAC", "M4A", "WAC", "AMR", "MPEG", "AAC", "OGG", and "mp3".
Supports 120 languages
Allows you to edit text manually
Offers auto-punctuation feature
Cons
Doesn't offer a recording and real-time transcription feature
Only available for Android
You'll need to use the "FLAC" format to get the best results
Rev Voice Recorder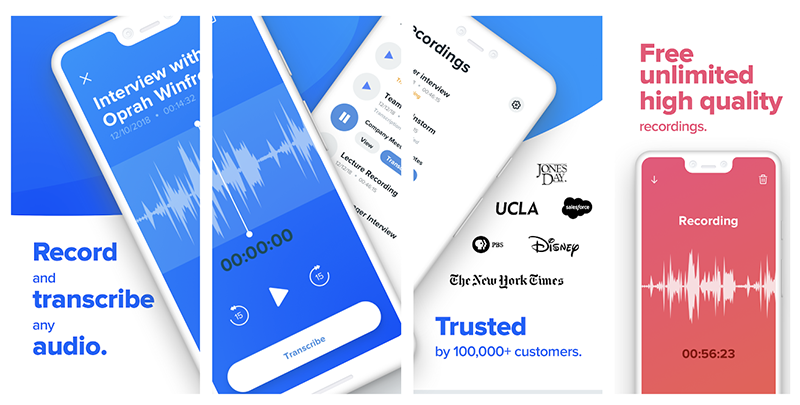 Rev Voice Recorder is a very simple app to transcribe audio to text, yet it comes with a powerful transcription, audio recording, and dictation system. You can record your meetings, lectures, interviews, and more using this application to dictate notes and memos. The audio that it records also sounds great, and it allows you to share your files via Evernote, Dropbox, email, or any other sharing app installed on your smartphone.
The company claims that this application offers 99 percent accuracy. However, you'll need to buy the premium version of this app to access all the advanced features.
Pros
Responsive playback and high-quality recording engine to ensure crystal clear results
Simple and easy-to-use interface
Can record in the background
Offers a simple one-step process to transcribe audio files to text
Cons
Doesn't allow you to rename the files
Expensive as compared to competitors
The transcription process is slow
Only supports English
Final Words
These are some of the best apps that'll allow you to transcribe audio to text easily. It's important to understand what each app offers because, ultimately, the best option for you will be the one that meets all your unique needs.
References:
Written by The Original PC Doctor on 28/08/2021.