Top 10 Tech Trends in 2020
Technology is a fast-growing industry where trends change on a yearly or even monthly basis. With the amazing breakthrough of technology, we get access to better, faster, and more reliable devices yet still, the technology allows us to adjust our business, improve performance, and save money at the same time.
By embracing tech trends, we can move forward faster than ever. In this post, you are going to see the top 10 tech trends to watch out for in 2020.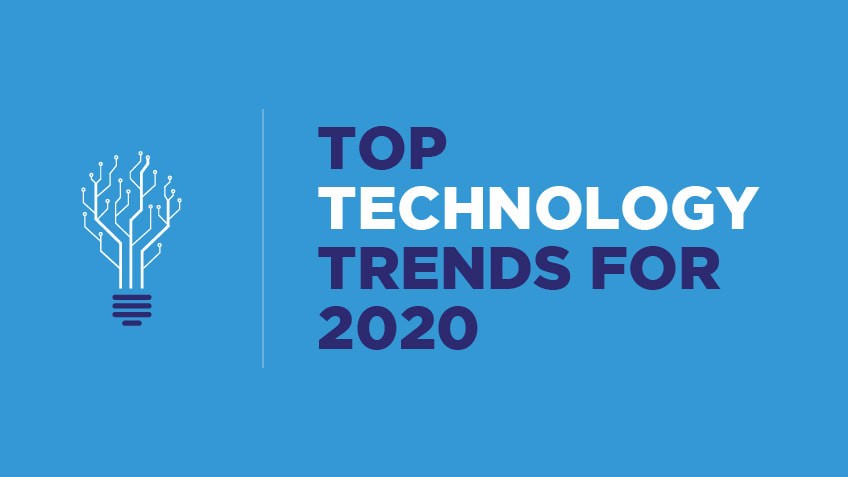 1. Artificial intelligence in manufacturing
The artificial intelligence (AI) has become a major part of everyday life. Most people use Alexa, Google Assistant, or Siri; businesses use AI to improve customer support and make it easy for people to contact them thanks to chatbots. Basically, AI is everywhere, and we can also expect it to play a major role in manufacturing.
Estimates show that by 2035, AI-powered technologies could enhance labour productivity by 40% in 16 industries, including manufacturing. Moreover, AI could add about $3.8 trillion GVA in 2035 to the manufacturing sector. This is an increase of 45% compared to the business as usual.
Uses of AI in manufacturing are numerous, including:
Quality checks
Prediction of failure modes
Predictive maintenance
Generative design
Digital twin (virtual representation of a factory, product, or service that matches the physical attributes of the real-world counterpart)
Reducing or reversing the environmental impact
Valuable insights to improve business
Price forecasts
Emotion recognition and computer vision will contribute to manufacturing and allow companies to get more stuff done at lower costs and faster pace while preserving the environment.
2. 5G network
In the world where internet connectivity has become crucial 5G network is going to make a lot of things significantly easier. The excitement regarding the 5G network is not unfounded, and the numbers show it is definitely going to make an impact on the way we use the internet. For example, the 5G network is expected to be 100 times faster than 4G. In 2019, there were 10 million 5G wireless connections, which is a staggering number. In 2023, there will be 1.01 billion of 5G connections.
Speaking of 5G wireless networks, it is useful to mention they will support 1000-fold gains in capacity, connections for a minimum of 100 billion devices, and 10 Gb/s individual user experience. All this will be achieved with extremely low latency and fast response times.
Although some may think that 5G won't do anything that 4G can't offer, the reality is that the new wireless networks will open new possibilities for both individual users and businesses alike.
A new 5G network could also benefit the Internet of Things (IoT). Also, IoT is hot and trendy, there are no many mainstream applications, even though everyone thought otherwise. With 5G, the number of connected devices and mainstream IoT applications could mark huge progress.
3. The rise of alternative data
The term alternative data refers to data used by investors to evaluate investment or a company that is not within the traditional data sources. The traditional sources of data include SEC filings, financial statements, press releases, management presentations, and others. Thanks to the alternative data, the investors get faster, more accurate, and more granular insights into the performance of the company than from traditional sources.
One of the biggest tech trends in the business and finance world is going to be the rise of alternative data. This practice will particularly benefit investors and hedge funds who are looking beyond financial statements and other traditional pieces of information for greater competitive advantage. The alternative data are harnessed from social media posts, job listings, and other sources. The improvement in alternative data harnessing comes as a result of the evolution of AI and machine learning, both of which become better and more powerful year after year. We can also expect the rise of alternative data startups, i.e., companies that focus on obtaining alternative data for their clients.
4. Autonomous driving
One of the biggest advocates for autonomous driving is Tesla, which has already created a self-driving car. In 2020 we can expect that Tesla and other companies will take autonomous driving to a more advanced level. After all, the idea of the driverless car brings a lot of excitement and seems so futuristic. We want the future to happen now, and so do the brands that want to amaze their fans and show just how far the tech world has come.
When it comes to autonomous driving, we will see functions such as lane-changing, automated braking, and automation of other in-car systems streamlined with analytics and data capturing. The improvements in autonomous driving will also require the use of AI for a detailed understanding of road conditions. Startups from the US, UK, and France already have AI specifically for this aspect and will help reach level 5 (fully autonomous driving) sooner rather than later. The advancement of autonomous driving is one of the biggest tech trends in 2020, especially if we bear in mind the ever-growing need for cars that will take drivers to the destination with minimum work or handling, so that the owners can take some time to relax on the way to and from work, sleep, or just enjoy the views. Safety is paramount here, and all the changes that will take place thanks to the cutting-edge technology will only contribute to the security of everyone in the car.
5. Edge computing
You are going to come across the term edge computing a lot this year and even beyond 2020. What is edge computing? To most people, the whole idea of edge computing seems vague and complex, but it is quite simple actually. You see, edge computing is defined as the practice of processing data near the edge of the network where they are being generated. This is much different than traditional data processing, which is centralised, i.e., it all relies on the cloud at data centres that do all the work.
Bear in mind that edge computing does not mean the cloud is about to disappear; it just means the cloud is coming to the users. The importance of this practice is the best depicted by the fact that the main concern for every industry is the laggy approach that affects the overall management of their operations. Industries are turning toward efficiency, speed, and the response rate of computing through which data analysis is conducted. This is where edge computing steps in and the reason why it is one of the hottest tech trends in 2020.
You see, edge computing brings data computation and storage closer to the businesses. As a result, this practice can ameliorate the response times and save bandwidth. While edge computing has been around for quite some time, we are just witnessing its rapid evolution, and it is all thanks to the advancements of IoT.
The benefits of edge computing are numerous, including speed and latency, security, cost-efficiency, greater reliability, and scalability.
6. Operational technology
Operational technology (OT) is defined as a category of computing and communication systems to monitor, manage, and control industrial operations with an emphasis on the physical devices and functions they perform. In other words, OT monitors and manages industrial process assets and the equipment used by some manufacturing or industrial company.
Although OT hardware and software have been around for years, they are experiencing a boom thanks to the evolution of technology itself. The importance of operation technology also manifests itself through the ever-growing need for cybersecurity. It has never been more important or necessary to step up cybersecurity processes than it is today. Besides cybersecurity, integration of OT can also have other benefits such as supportability and cost synergies, analytics to improve efficiency, managing TCO (Total Cost of Ownership) of technology portfolio.
7. Human augmentation
The simple way to describe human augmentation is that it is a process through which a person's physical and cognitive abilities are strengthened. Implants are one of the most well-known human augmentation methods. For example, many people across the globe get a microchip implanted for different purposes even to stop carrying cash around anymore. Basically, the whole point of human augmentation is to allow people to extend their abilities. They can also help those who have survived an accident or disease to regain the abilities they used to have.
In 2020, technology will evolve even more alongside AI. The processes are set to become faster and more reliable, all of which can make human augmentation a lot easier. Wearable technology can help people extend their grip, see better, make necessary changes to improve their health, and so much more depending on the device itself. Some of the best examples of human augmentation include:
Sensory augmentation (vision, hearing, and perception)
Appendage and biological function augmentation (prosthetics and exoskeletons)
Brain augmentation (e.g., implants to treat seizures)
Genetic augmentation (somatic gene and cell therapy)
8. Commercialisation of quantum computing
Chances are high you have heard the term quantum computer more than once but were not quite sure what it means. Well, a quantum computer is a machine that utilises the properties of quantum physics to store data and perform computations. Quantum computing could propel breakthroughs in science, medications that could save millions of lives, machine learning methods, among other things.
In 2020 we will probably witness the onset of the quantum computing era. Quantum computing will be able to tackle the biggest problems in different industries, help solve them, and improve healthcare, energy, and different fields of industry that benefit our everyday lives. Big corporations such as Google, IBM, Microsoft, and others have all moved into quantum computing, which could mean it is set to become used in mass scale.
9. Democratisation of technology
The democratisation of technology refers to the process wherein access to technology is rapidly becoming reachable to more people. Like in a democratic society, everyone has equal rights and responsibilities. Key aspects of the democratisation of technology in 2020 include application development, design, knowledge, and data and analytics. The democratisation of technology has the power to change people's lives and make it easier to access advancements in a shorter timeframe. As technology keeps improving, it is vital to make sure the whole process still retains its transparency, accessibility, and common values.
10. Blockchain in practical use
Blockchain has become a popular term over the years as more and more people decided to step into the world of cryptography and cryptocurrency. As the popularity of blockchain grows, so does the attraction of payment-type venture companies and venture companies in security. In 2020, we can expect that major institutions will introduce blockchain in order to prevent information leakage on a large scale and thereby put a stop to internet fraud, which has become common lately. As the blockchain gets stricter security measures, we can expect it to be in practical use this year.
Conclusion
Tech trends change every year because the world of technology continuously improves, it is always "busy" as companies are working hard to beat the competition and bring something new, better, or smarter. In 2020 tech trends focus on improvements in data processing, security, but also those that can improve our quality of life. These trends can benefit various industries and also improve the environmental impact, which is incredibly important. This post featured 10 of many tech trends that deserve our attention this year and will make a positive difference across the globe.
Written by The Original PC Doctor on 26/03/2020
References