The 5 Best Digital Journal Apps
"All the answers you seek are hidden inside you. You need to dig deeper into your minds and heart and find them out."
Writing on a paper is indeed therapeutic. Mindset and well-being mentors have repeatedly stressed the importance of maintaining a regular journal.
But let's be honest, how many of us can maintain a journal over the long run?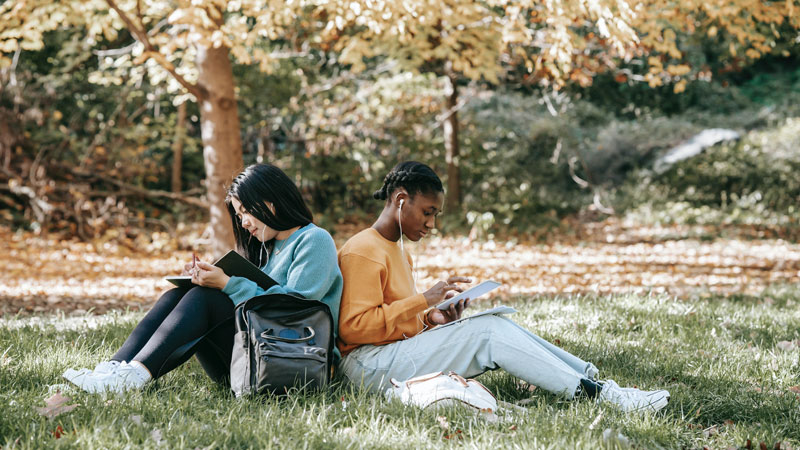 In various periods of our lives, we get the sudden urge to change everything. For most of us, that's the time when we buy cute, aesthetic journals and began religiously filling their pages with different prompts.
But after a few weeks or maybe months, the journal finds shelter in a dusty corner of our bookshelves.
It's NOT easy to maintain a physical journal. Writing daily is not easy. Often this habit which is meant to help you relax and unwind, can turn out to be the most exhausting task of your day.
But imagine if, instead of a hardcover diary, your journal would have been app. A smart and digitally designed interface that not only allowed you to journal your feelings but helped you recognize patterns with guided prompts.
What if you could just type your daily affirmations, thoughts, and learning while you're stuck in the traffic?
What if the app notified you about different journaling prompts daily?
Don't you think that would make the process of journaling a lot more convenient?
Well, if your answer is yes, then we have the solution for you. We have curated a list of the 10 best digital journaling apps that'll make journaling more effective and convenient for you.
Most of these apps are free with paid premium features. However, if you're not sure about going premium, you can easily stick to the free version till you're used to their interface.
Once you are satisfied with these apps' interface and working method, you can invest in the premium versions ANYTIME!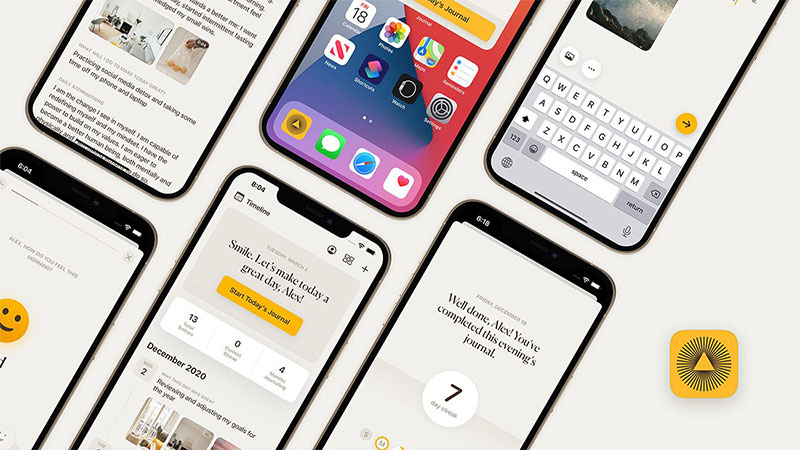 It's really difficult to write down your feelings if you have never done it before. Your enthusiasm may drag you for the first few days, but soon you'll find yourself lacking the motivation to write.
Most people quit journaling because they feel they don't get writing ideas every day.
If you're someone who struggles with "what to write," this app is perfect for you!
With a minimal interface, it provides you with daily prompts to write a journal entry every day.
It has the feature of timed prompts that provide you with different ideas to write at different times of the day.
For example, in the morning, the prompts are all about expressing gratitude and finding casual magic in your daily lives. In the evening, it will send you prompts asking about your day and your reflections on it. The question-based prompts allow you to introspect and write down your thoughts accordingly.
This is a premium app with a subscription fee of $4.99. It is an iOs app that is compatible with other devices like iPad, iPhone, and Apple Watch.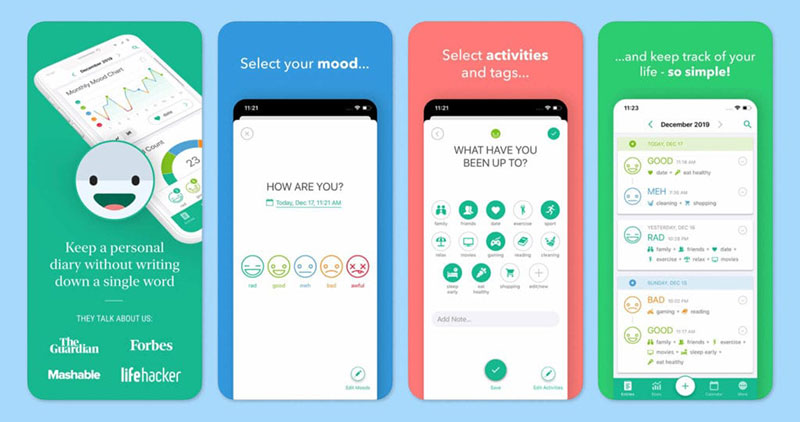 Are you someone who doesn't have a flair for writing? Or are you someone who prefers infographics over written content?
If you struggle to put together your thoughts in words, journaling can be the most difficult task for you.
But with the Daylio app, even visual and non-writer people like you can journal and track their mood.
This app has a simple interface where users can track their moods by choosing between five different emotion emojis. You can also use it as a daily planner by choosing emojis for different tasks, like grocery, sports, work, etc. Once you add up the details of your entire day, it will show you a pie chart displaying how you spend your entire day and what activities consumed the most of your time.
It can be a great alternative to regular habit tracker apps. Because other than these mood trackers, it also has the features of regular journal apps like setting reminders, writing notes, etc.
It is an overall free app that is available for both iOs and Android devices. It does have a  premium subscription with monthly charges of $2.99.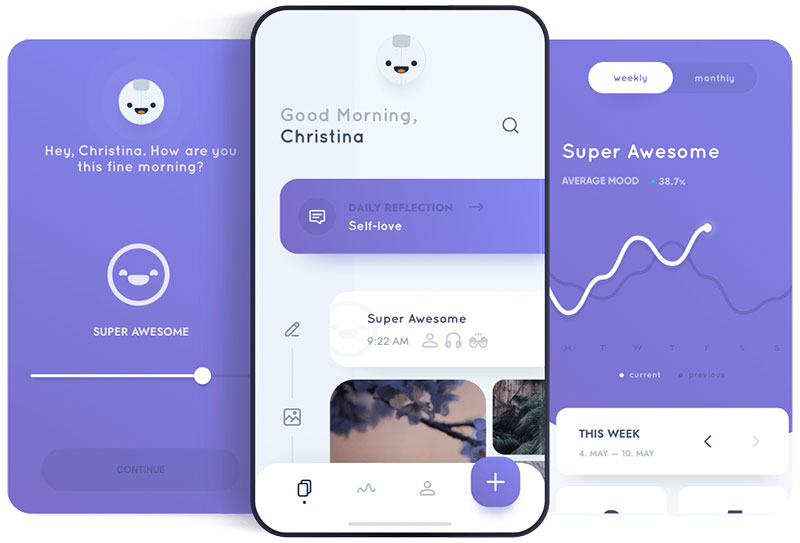 If you ever have been to therapy, then you'll know that therapists often ask you questions to help you cope with trauma and pain.
These questions aren't normal pleasantries. Instead, they have a proper psychological framework that helps people to dwell deeper into their minds and find the root causes behind their troubles.
Journaling is also supposed to serve the same purpose. But writing down your thoughts isn't the same as answering guided questions.
But this app can help people with guided journaling.
Reflecty provides daily reminders with Cognitive Behaviour Therapy (CBT) inspired prompts that guide people to jot down their feelings and recognize their predominant thought patterns.
This app aims to help you reduce stress, develop gratitude and get clarity about your perceptions in life. It even has an AI-generated mood tracker that analyzes your journal entries and provides you with data about your thoughts and moods.
It is a premium app available for both iOs and Android devices.
Most of us have read "The Diary Of Anne Frank" at certain points in our lives.
Unlike traditional journals, Anne's diary was her best friend and confidant. She didn't merely jot down affirmations or gratitude on it. Instead, she detailed her feelings, learnings, and almost everything that happened in her life.
If you're someone like Anne, who loves to write journal entries describing everything that happened with you, then this app can be the best match for you. Because with this app, you'll be able to transform your journaling process from note-taking to a detailed reflecting one.
Day One has the simplest interface with an elegantly designed place for journaling. It offers unlimited space for writing down your rants or random thoughts. At the same time to encourage you to keep up with your journaling habit even on your low days, it provided various prompts on gratitude and other spheres of your life.
The premium version of this app allows you to have journal entries even in the form of audio, video note, and pictures. However, the free version has enough features to get through with your habit of daily journaling.
This app is available for both iOs and Android devices.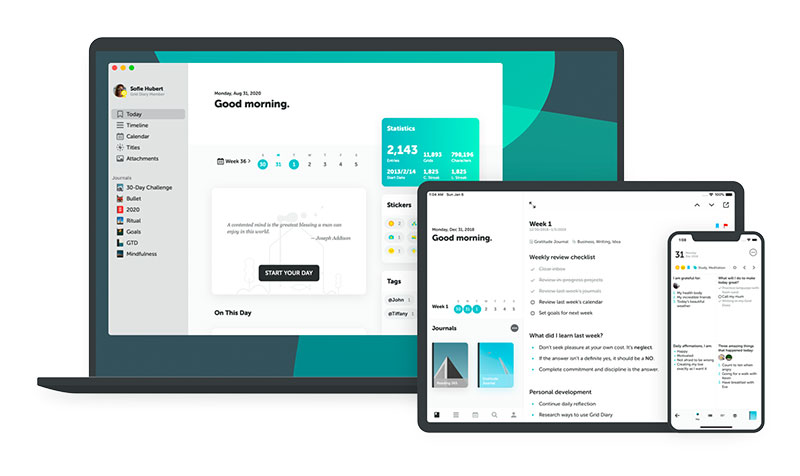 Imagine being able to visualize all your journal entries in a grid template. Won't that be easy to access how you felt at a particular incident at a week and how later that month you grew and learned from it?
Well, if this idea appeals to you, then Grid Diary can be the best journaling app for you.
It has a minimalist grid layout where the user can visualize their entries throughout the week.
You can customize and personalize the entries by using different prompts or adding images. To help you with your process of journaling, it provides you with prompts based on gratitude, self-discovery, and daily reflections. It is a great way to create a life journal where along with visuals, you can keep track of your thought patterns throughout the time.
It is a premium app with a subscription fee of $1.99 per month. However, you can purchase the entire premium package at one time with a payment of $4.99.
It is a solely iOs app and is not compatible with Android devices.
Conclusion
We live in the era of hustle. Almost everyone around us is running a rat race to tick off their goals and achieve their desired success.
While chasing these materialistic things, we humans often end up hurting ourselves or our close ones. We mess up relations and inflict pain on each other.
There's nothing in that. Humans are innately learning beings, so while trying to learn more about your life, it's absolutely okay to mess things up.
But at times, we need to pause and heal these wounds. We need to calm down and recognize the root cause behind all our troubles.
The most effective way to do this is by journaling our thoughts. But in this digital era, we often fall out of the habit of writing and maintaining a journal.
That's why to help us still maintain the habit of journaling; various digital journaling apps are available in the digital market.
This list of digital journal apps has curated the best 5 amongst the hundreds of them.
So if you want to dwell deeper into your mind and heal your inner wounds, then download any one of these and began your journaling.
References
Written by The Original PC Doctor on 16/07/2021.