Technology Can Help To Monitor Elderly Loved Ones
Technology has proven to be reliable and sufficient so far. The advent of technology has made life easier. This is applicable in general healthcare. Many senior citizens require daily and constant checkups. These responsibilities lie on the younger ones, mostly their offspring or family members. However, their hundred-percent presence is not guaranteed. Many monitoring devices are being invented to make care for close managing and monitoring elderly ones from any location and at any time.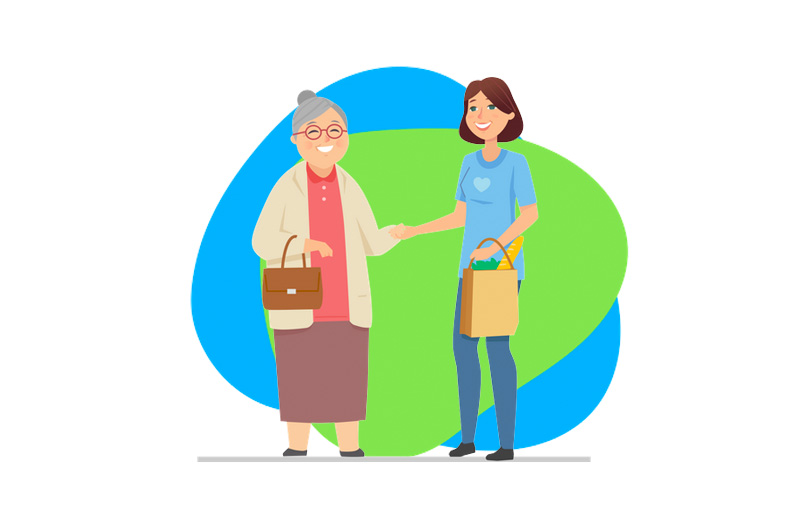 These monitoring devices read important vital signs and help to keep elderly patients safe and limit risk. Possible risks and emergencies are also easily preventable once they are discovered on time.
Various Types Of Monitoring Technology Devices For Elders
There are many newly developed devices for remote healthcare monitoring. A few of them are listed below:
1. Wearable Remote Sensors
The remote sensors can be used to detect human behaviour and activities, temperature, etc. These sensors are attached to the elder's wrist, and the health status can be monitored. Information such as the heart rate, blood pressure, sugar level, etc., can be measured by the sensor and sent directly to the caregiver or family member.
Examples are:
CarePredict
CarePredict is a wearable device used to detect changes and keep track of the health status of its user. CarePredict sensors detect falls, track the location, and have a feature that allows communication. It is AI-powered.
Philips Wearable Biosensor
Philips Wearable Biosensor is a wireless device used to track and monitor heart/respiratory rate. Data collected from the device can be followed on the mobile app. The alarm feature is also available if there's a need for any.
Caregiver Smart Solutions
Caregiver Smart Solutions provides a kit with sensors to show movements and daily activities. Changes can be shared between multiple members of the family.
Lorex Elderly Care Solutions
Equipment provided by Lorex Elderly Care Solutions uses WiFi connections for monitoring elderly ones at home. Other features include security cameras, microphones, HD recording quality, etc. The live recordings can be accessed on smartphones, tablets, or computers.
2. Video monitoring
Another better option is using virtual systems to watch over senior citizens at home. Video monitoring systems allow caregivers and family members to see and hear what is happening live. It keeps the mind of everyone at ease and makes sure the elders are safe.
Examples are:
Security cameras
These security systems are added with medical alert systems so elderly ones can have fast access to healthcare in case of health complications. Safety sensors like alarm buttons, smoke sensors, etc., can also be integrated.
Reolink
Reolink provides indoor cameras for family members to keep in touch with their elderly ones. There are other features such as a microphone, voice recording, two-way audio-video camera, etc.
3. Tracking systems
GPS trackers are used to monitoring the locations of elderly persons. This is notified in case there is a situation where the seniors leave home or are in danger. They are wearable and useful in case of emergencies.
Some of these tracking devices are:
Optimus 2.0 GPS Tracker
Just like other Optimus GPS Tracker, the 2.0 version is used to track people or items. It has a motion sensor used to track the location of older people at home. Loved ones can easily find out if an elder walks out of the house, so they don't get lost.
PocketFinder
PocketFinder is a rechargeable personal GPS locator. The PocketFinder Smart Tracker is used to locate and keep track of the elderly. Their locations can be seen using a computer or the PocketFinder app.
iTraq Tracker
The iTraq Tracker is a cellular device for tracking. It comes together with an app for monitoring the location of whoever it is on. ITraq Tracker comes along with a long-lasting battery, alarm alerts, motion, and temperature sensor. The application is usable by both Android and iOS devices.
4. Mobile Phones
Various mobile applications can be used to monitor elderly ones. Mobile phones can be used to call and communicate with the elders. Reminders to take their drugs, emergency buttons, or daily check-in options are also available on mobile devices.
Examples of mobile apps are:
GreatCall
GreatCall is a network provider that creates plans for elderly ones. GreatCall products provide options and plans for medical emergencies.
PillMonitor
PillMonitor is an application designed to remind its users to take their medications. The app allows the imputation of full details of the medication put in reminder. Family members can set this for their elderly ones so they don't forget to take their medications appropriately.
Senior Safety
The Senior Safety App monitors, set alerts and tracks senior citizens' locations. The application shows alerts on falls, inactivity, wandering, or emergencies.
Benefits Of Using Remote Monitoring Devices
1. Accessibility To Healthcare
Using monitoring devices has made it easier to provide healthcare to elderly patients that stay miles away from available healthcare centres.
The remote monitoring tools assist the elders in getting access to information on their health. Also, family members have knowledge of the health conditions of their elders at home.
2. Proper Communication
The family members of the elders are able to communicate effectively together. They get to check on them from time to time, make inquiries on how they feel and offer advice when needed. Asides from that, the seniors can be reminded about their medication, food, sleep, or other important information.
3. Reduction In Accident Rate
Emergency services are alerted quickly to provide care. Remote monitoring tools can give alerts in case of emergencies. There is a device meant for fall detection alerts if an elder falls while on their own. This reduces the cause of harmful accidents or emergencies.
4. Reduced Costs
The Implementation of health monitoring devices for elders at home limits the high cost of caregiver services. Money being paid to employ live-in caregivers 24 hours a day can be a bit expensive or unaffordable for some. However, this alternative reduces the cost of care because the elders don't have to be monitored round the clock by their caregivers, if any.
5. Collation of Health Status Data
Monitoring devices provide the ability to notice any change in the senior citizen's health. The use of wearable sensors gives the caregiver or the elders' family members full details on the health status of the senior. This gives room for close monitoring detection of positive progress or relapses. When required, it is easier to transfer health history to a medical practitioner.
How To Select A Best Remote Monitoring Device
While picking the most suitable monitoring device for your elders, there are some factors to consider.
These are listed below:
How comfortable and easy is it to wear and use?
Do the installed cameras have a limit to privacy invasion?
The level of simplicity or complexity of the device? Is it easy to understand and use by older people?
Are the benefits greater than the cons? Does it invade privacy or put senior citizens at risk?
How effective is the device at detecting emergencies?
Find out about medication reminders, alert systems, and fall detection features.
How long the device lasts long for.
How much does it cost to set the monitoring devices up?
Conclusion
Recently, technology has contributed to healthcare in many ways. The ability to monitor elderly one remotely is one of them. Family members can look after their aged parents without worrying about them being alone and fragile. This can be achieved due to the affordability and efficiency of these monitoring devices. Not only are they efficient, but they are also very beneficial.
The advancement of technology has made it easier to cater to the needs of our elderly ones, and we no longer have to worry about stress, and inconveniences. There are now devices that facilitate the all-round safety of senior citizens, and we've looked at some of them above.
References
Written by The Original PC Doctor on 13/3/2022.