iPhone 12 Looks Stunning in these Brand New Images
Although there has been a delay in the launch of the iPhone 12, we are still holding our breath for the unveiling event to see the amazing improvements and upgrades Apple has in store as always. Four models are expected to be brought to the market, with Apple hitting back hard with redesigns and upgrades to the innards.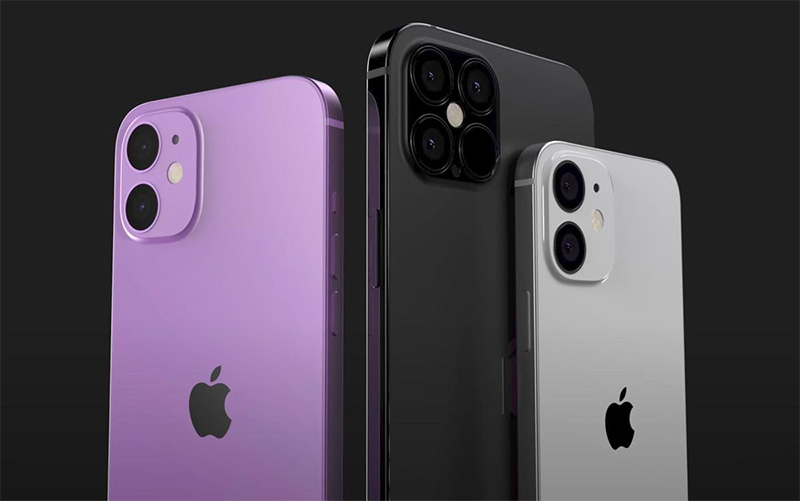 We are positive you're going to enjoy the new vibrant colours the new iPhone 12 model will come in and the 5G connectivity across all ranges. There has also been news that the model will have a smaller notch-a feature everyone has been anticipating. Unfortunately, it will be barely noticeable on the model.
Dummy models doing rounds have flat edges, proving further that Apple has ditched the rounded chassis we witnessed in iPhone 11, iPhone Xs, and iPhone X.
We think that this new release may be Apple's greatest invention of all time. The new design, together with the bolder colours, is an excellent look for its new flagship. Although there hasn't been any official communication, here is what we know from the leaks and rumours about the coming iPhone 12 models.
What to Expect
Launch Date: September
Release Date: October
Models: iPhone 12 (5.4 inches), iPhone 12 Max (6.1 inches), iPhone 12 Pro (6.1 inches) and iPhone 12 Pro Max (6.7 inches)
Processor: A14 Bionic (for all models)
Screens: OLED
Other Features: 5G, LiDAR on the Pro models
iPhone 12 Models
The four phones are expected to feature OLED displays, among other cool features. We had a detailed look at each of them.
iPhone 12
This entry-level phone will have a 5.4-inch OLED panel with a resolution of 240×1080 that is rumoured to feature Y-OCTA technology. This means the touch sensor has been directly integrated into the display.
When it comes to other hardware, the iPhone 12 will feature a 4GB RAM, A14 Processor and storage space ranging from 128GB to 256GB. Just like its iPhone 11 counterpart, the model will have dual rear cameras with an exemption of the telephoto in Pro variants.
iPhone 12 Max
:
The 6.1-inch model will have the same hardware as the standard iPhone 12. The only difference will be in the battery and screen sizes, both of which will increase. It will also feature a larger ad flexible OLED panel with 2532×1170 resolution.
iPhone 12 Pro
This could be the first phone featuring 10-bit colour support. The 6.1-inch iPhone 12 will come with a Y-OCTA technology OLED panel with a resolution of 2532×1170. Rumour has it that the phone's screen could support a refresh rate of 120Hz.
Expect an A14 processor, 6GB RAM, and storage space ranging between 128GB to 512GB. In addition to a LiDAR time-of-flight sensor that will see the improvement in the performance of iPhone AR apps, the Pro series will have three rear lenses accentuated by a 64MP main sensor
iPhone 12 Pro Max
For this phone, the features will be the same as those of iPhone 12 Pro only that the OLED panel will be bigger (6.7 inches) and with a 2778×1824 resolution. With this model, a refresh rate of 120Hz is possible.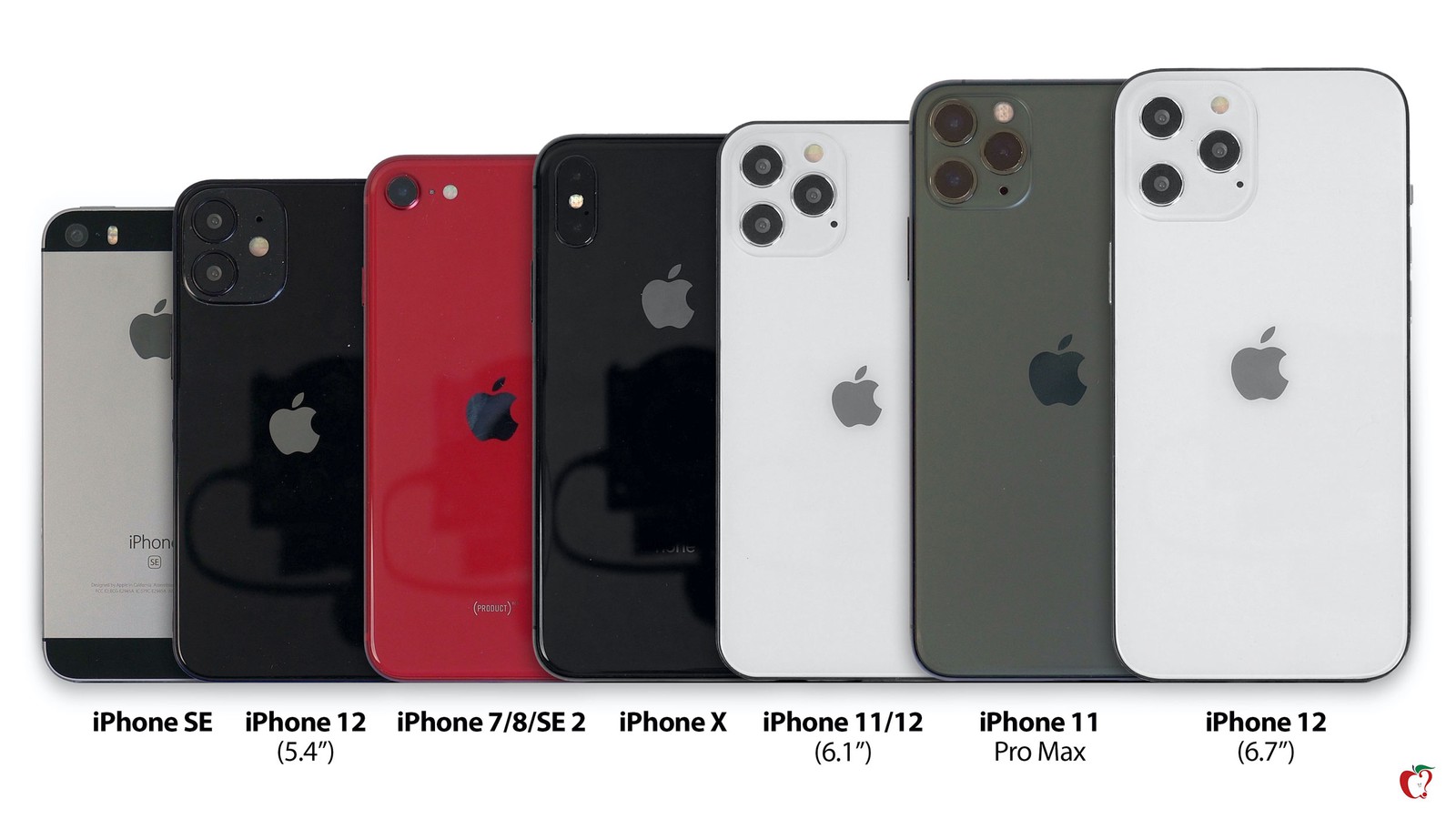 As you have read earlier, the iPhone 12 is expected to bring major changes in Apple by bringing back the iPhone 5 metal-edge design. Despite its larger display, the 5.4-inch model is more compact compared to the 4.7-inch iPhone 7 and a bit larger than the original 4-inch iPhone SE. Other leaks show this model's display panel that confirms the new small size for Apple's lineup.
Dummy models show no changes to the notches and rear cameras. They resemble those of the iPhone 11. This shouldn't confuse you because when it comes to dummy units, the finer design details are usually not accounted for as they aren't vital to accessories construction.
iPhone 12 Colours
While there has been a handful of rumours revolving around the subject of colour, it is safe to assume that Apple will follow the same trend of its last releases. What is this supposed to mean? Apple is likely to reserve a wide range of colours for the cheaper iPhone 12 and iPhone 12 Max. At the same time, the more expensive iPhone 12 Pro models will have darker and traditional colour schemes like silver and space grey with a premium-seeming finish.
One rumour suggests that Apple will at least liven up these models with a blue colour to the Pro series that would be a perfect replacement for the Midnight Green on iPhone 11 Pro.
iPhone 12 and 5G Connectivity
Nikkei reports that all four models will support the 5G network. However, there have been disagreements on the types of 5G models that can support millimetre-wave (mmWave) and sub-6GHz.
While leaker Jon Prosser believes that all the models will support 5G connectivity, the 6.1- inch and 5.4-inch iPhone 12s may not feature mmWave technology. The said technology offers the quickest download speeds. The upside is that the sub-GHZ 5G these models feature can reach even further compared to mmWave.
iPhone 12 Pro and iPhone 12 Max users, on the other hand, will be able to experience both worlds of the 5G technology.
iPhone 12 Cameras
In a recent report, Digitimes confirmed that the iPhone 12 and iPhone 12 Max will both have two rear cameras while the others will have three in addition to a LiDAR sensor. Seeing that the iPhone Pro and iPhone 11 Pro Max had triple-lens cameras, the trend is expected to continue for all 2020 Pro iPhone versions. Digitimes also published claims that the models will employ sensor-shift: a stabilisation technology that functions by detecting the phone's movement and then moving the sensors in the camera in the opposite direction. The technology does this with the use of small actuators to ensure your picture is steady. It is more of an elaborate tool for optical image stabilisation.
If the rumours doing rounds are anything to go by, then you have to buckle up as Apple is about to take you for a ride full of possibilities. The most significant improvements will come in areas of support for augmented reality apps and 5G connectivity, not forgetting the time-of-flight sensor. Even with daily leaks, we can't say we know everything about this much-awaited model. So keep tuned for any updates.
References
Written by The Original PC Doctor on 21/9/2020.