6 Best Email Client of 2020- Free and Paid Apps and Software
Let's face it: Email messages can sometimes overwhelm you, whether they're personal or business-related. We all have countless emails, and it's no easy task to open all of them daily. This explains why we have a high standard app that helps us to manage our emails.
An email client makes it easy for you to manage your emails regardless of the number of accounts via a shared inbox. Today, email clients are no longer designed with just the basics we're used to, but with impressive tools, including calendars, to-do lists, notepads, checklists, contacts, and more.
If you've been searching for the best email client to help you manage your influx of email messages, you're in the right place. We've picked 6 of the best email clients in the market today. They work with both Mac and Windows PCs.
Best paid email clients
Microsoft Outlook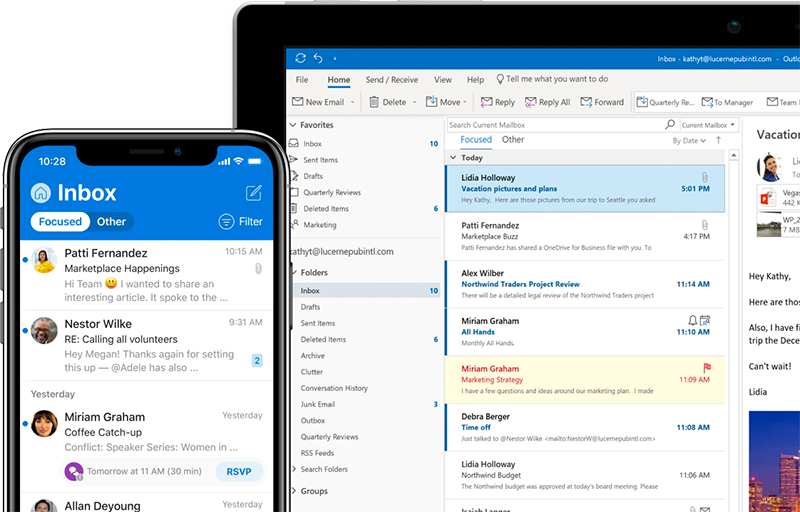 The first email client on our list is Microsoft Outlook. Although Microsoft Outlook email client comes with bundles in most Microsoft 365 plans, clients can purchase it separately.
Outlook works with several email services, allowing clients to track all their addresses from one spot. For instance, you can use it to pull in your Gmail mail for free. Also, you can use it as part of a paid Microsoft 365 subscription where you have your own Outlook email address.
As a free service, this email client is a splendid choice if you want granular control over emails via a mobile app that's as great as the desktop version. Apart from the calendar and easy integration, Microsoft Outlook has a ton of adjustable inbox rules to keep you informed.
You can easily get Microsoft Outlook via Microsoft 365, Microsoft's paid subscription. It cost AU $10 per month or AUS $129 per year. It comes along with PowerPoint, OneNote, Word, and Excel for PC and Mac.
eM Client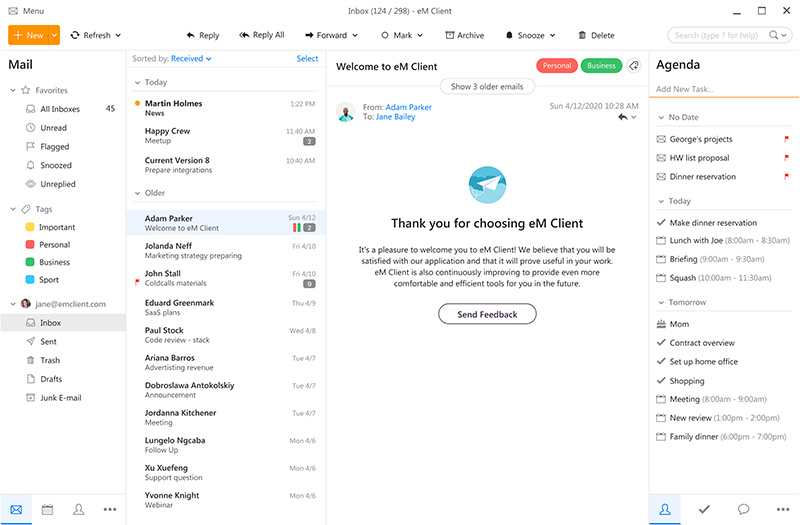 Available for macOS and Windows, eM Client is a capable email client that was launched in 2006. It targets people and businesses who need an email client that lets them work with their contacts, calendar, chat, and tasks.
eM Client supports PGP encryption, which allows clients to create and import their PGP key to share encrypted and signed emails. Besides PGP encryption, eM Client also offers users automatic avatar downloading, basic image editing, live backups, auto-replies for Gmail, improved table editor, and other amazing features.
This client has a free version, though it lacks all the mentioned features and is limited to two addresses. You only purchase eM Client once at a price of AUS $70.96 for one device or AUS $268.57 for 10 devices.
Mailbird Pro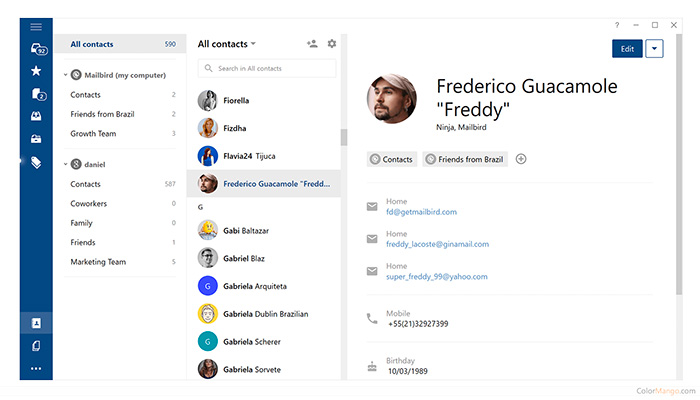 Mailbird Pro email client costs AUS $2.04 per month or AUS $49.50 for a lifetime subscription. With the lifetime subscription, you receive unlimited accounts and a wide array of impressive features, the best-being app integration.
Access to multiple accounts means that you'll have a unified inbox that gives you access to the latest email messages from all your accounts from a single place.
Mailbird Pro connects to every social network and chats service you can think of. It integrates with Google Docs, Slack, and Dropbox, which makes it great for a streamlined workflow. In addition, it connects to your calendar, providing you a list of forthcoming appointments along with your messages.
Best free email clients
Gmail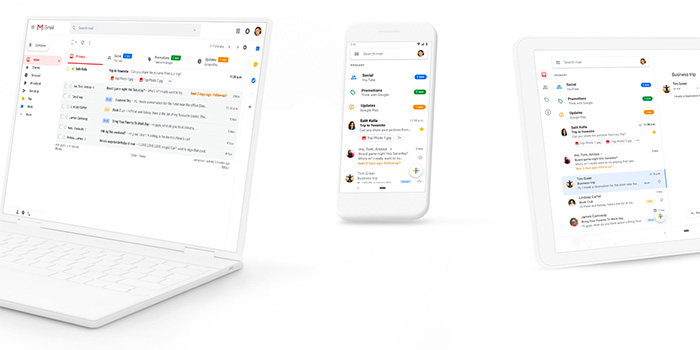 Released in 2004, Google's Gmail is one of the most popular free email service providers all over the world, with over a billion users.
You can access it via your browser. It comes with a simple inbox design that offers your emails clearly and easily. The latest version of Gmail allows easy integration of other Google apps, including Calendar, Tasks, Keep, but if you don't want to use them, you can keep them out.
Gmail automatically sorts your message into Promotions, Social, and Primary. Furthermore, it has a good spam filter, meaning you'll never have to sort through junk since it goes straight in the bin.
You also receive 15 GB free storage, which should be enough for casual use. However, if you're using your Gmail for business, consider getting yourself a paid G Suite account.
It comprises a ton of app and Gmail upgrades that allow you to own a custom email address. The storage also doubles to 30 GB. G Suite has better integration with Google Docs, Sheets, and Slides. Also, it works with Google Meet. G Suite price starts at AUS $7.56 per month.
Mail for Windows 10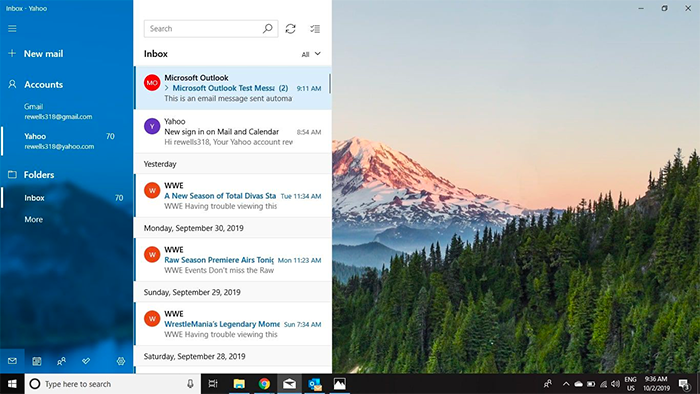 Not everyone desires a comprehensive control over their email that Microsoft Outlook offers. So Microsoft designed a free Mail and Calendar email client for windows 10, which offers a simpler email experience.
It's free and available for any windows 10 PC. Mail for Windows 10 is great for individuals who use email to communicate with family and other basic internet use.
Outlook, Hotmail, and Live addresses are already added to the app, and you can use them to sign in to your computer. Also, the Mail and Calendar app works with iCloud, Yahoo, and Gmail. The app integrates greatly with the Windows Calendar, allowing you to stay on top of your important dates and events.
Thunderbird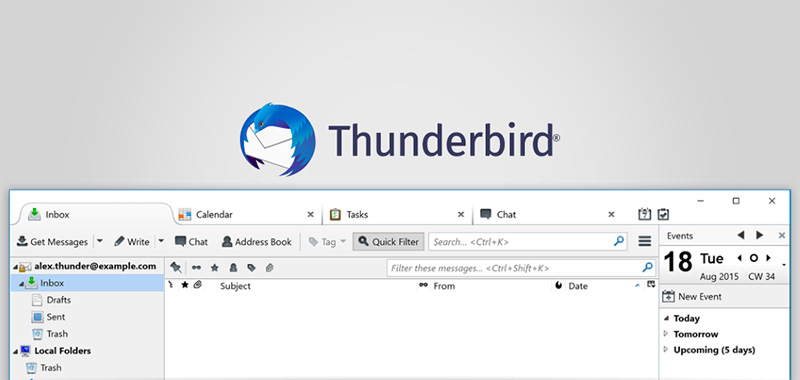 Released in 2003, Thunderbird is arguably among the best free email client for Windows 10. It's an open-source, cross-platform email client designed by the Mozilla Foundation. It supports 59 languages, and it's built on a stable foundation offered by the Firefox web browser.
This email client works with themes and extension, so you can personalize your email experience. Thunderbird comprises news feed, chat (Twitter, XMPP, IRC), and newsgroup, allowing you to manage all your communications from a single place.
If you prefer a free but powerful email client that you can tweak to meet your needs, look no further than Thunderbird.
Final Thoughts
If you're having a hard time managing the flow of your email in your current email app, any of these 6 options will surely meet your needs.
As far as paid options go, the Microsoft Outlook is the best. It's an app that's loved by many people all over the world, all thanks to its wide email supports, task integration, calendar, and other amazing features that work with you to improve your email experience.
If you're after a free email client, opt for Gmail and Thunderbird. They offer the best email experience and integrated with a variety of apps. With Gmail, you also receive 15GB free cloud storage you can use to store anything.
References
Written by The Original PC Doctor on 9/10/2020.