Computer Repairs Adelaide
Looking for Computer Repairs & Support in Adelaide?
The Original PC Doctor provides same day, onsite computer repairs and support services for home and business computer users throughout Adelaide and surrounding areas.
The Original PC Doctor is delighted to provide computer repairs Adelaide!
From the majestic Adelaide city to rolling Adelaide hills our handpicked team of Adelaide pc doctor technicians are highly skilled in all things to do with PC, MAC and Small Business Systems. They are eager, ready and waiting to fix our customers' problems in the greater Adelaide metropolitan area and provide an unmatched level of service. If we can't fix your problem then there is no charge, no a cent!
Call (08)6269 0050 to speak to and meet your local Adelaide computer technician today.

What computer repair services does The Original PC Doctor provide in Adelaide?
Your expert local area PC Doctor technician can help you with anything technical, from removing viruses to setting up wireless networks and printers. In fact, we guarantee that we can find a solution to your problem or you don't pay a cent!
Here's a summary of the kind of quality computer repair services we provide to your home or business computers in Adelaide:
Make your computer and NBN network faster.
Remove viruses and spyware.
Configure a network to share files and printers.
Configure a cloud backup for your important photos, documents and files.
Recover lost, damaged or deleted data.
Set up new computers, software and peripheral equipment – either supplied by us with or you can organise your own.
Secure your computers and network.
Repair laptops and desktops including all the Apple products.
Troubleshoot computer software and/or computer hardware issues and provide you with a solution to repair or replace it.
If you can't see the problem you are facing listed here, don't worry; we probably can still help you. Give us a call and our friendly phone staff in our Australian call center we be more than happy to answer any questions about your problem: 1300 723 628 or (08) 6269 0050 – Computer Repairs Adelaide
Just in case your computer turns out to be a terminal case, we are also supporters of recycling computers. This helps in the reduction of harmful landfill and toxic chemicals leaking into the ecosystem. Please contact our partner for recycling your ex-loved computer equipment.
Adelaide Computer Repair – Recycling Service – They come to you! ( like us )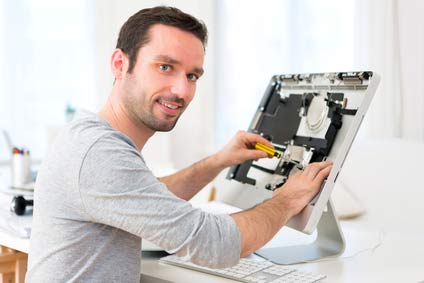 Need refreshing and professional computer repair services? Here at The Original PC Doctor, we make sure that our computer technicians have the appropriate technical grading, experience and, above all, a great personality to provide the best experience for you, time and time again! Call and speak to our South Australia team today (08)6269 0050.
Here are some of our customer reviews:
Common Questions about computer repairs
What is a computer repair technician?
A computer repair technician is a qualified professional who repairs and maintains computers and servers.
What is computer software installation?
Computer software installation is the set-up process where a specific program is copied onto the computer for use.
What computer repairs and maintenance are avaliable in Adelaide?
Computer repairs and maintenance is about identifying, troubleshooting and resolving either software or hardware issues with a computer.