The Best Smart Light Bulbs for 2020
If you're searching for the best smart light bulbs for 2020, you're in the right place. We've researched and picked out the very best of smart lights from a wide crowd to save you the stress of going through all of them.
We have reviewed each smart light bulb based on features such as voice control, ease of setup, connection to a home network, support for smart home devices, and 3rd party integrations.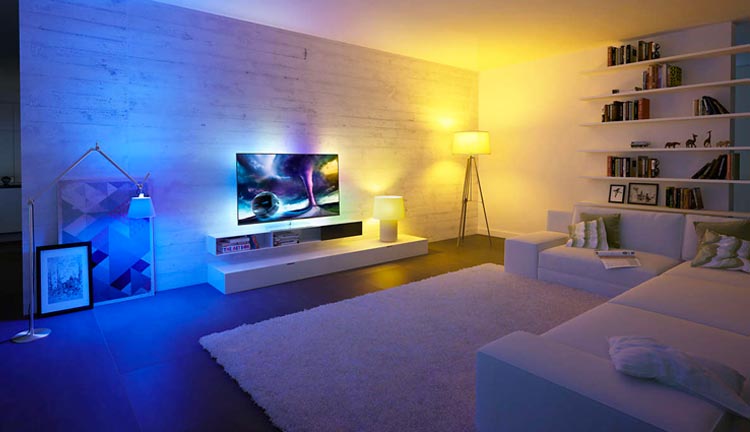 Without further delay, here's our list of the most impressive smart light bulbs you can find in the market today.
Philips Hue White and Colour Ambience Starter Kit
Philips Hue bulbs are arguably the best smart light bulbs in the market. They're famous for their impressive variety of different types of lighting to pick from, convenient for every home and garden.
The Phillips Hue's White and Colour Ambience starter kit comprises a hub and two or four dimmable coloured bulbs.
What's even better, it comes with an app packed with a ton of features including sunrise/sunset automation, geofencing, scenes, routines, and a vacation mode.
Additionally, Philips Hue supports every smart home system and devices such as Google Home, SmartThings, IFTTT, Alexa, and others.
Pros
Easy setup with a built-in app

Comprehensive third-party integrations

Impressive colour effects
Cons
It's on the high-end

Needs a bridge.
Lifx Mini
The Lifx Mini is a compact smart light bulb perfect for a smaller fixture. It can connect via Wi-Fi and its app work with Goggle Assistant, HomeKit, and Amazon Alexa.
Other impressive features include candle flicker, a strobe, and the ability to sync to music and other nearby sounds. Although the Lifx Mini Bulbs offers you a variety of selection, they're a bit on the high-end side.
Pros
Easy setup

No hub required

Highly responsive app
Cons
Philips Hue White and Colour Ambiance Lightstrip
If you're tired of the traditional light bulb shapes, this light strip lights are a perfect replacement.
The Philips Hue Lightstrip is 80 inches long and can display millions of colours, adding a classy look to TVs, around furniture, and even cabinet.
Trim or add extensions to fit your needs. The adhesive backing allows you to stick it to any surface easily.
It supports Apple HomeKit, Alexa Nest, Samsung SmartThings, and Google Assistance. The only downside with this smart light is that you need a Hue bridge to make it work.
Pros
Supports 40 inches' extensions

Flexible

Trimmable
Cons
Wyze Bulb
Wyze Smart light bulbs from Wyze labs are impressive, affordable, and great for turning your home into a smart home.
Even though they're only available in a tunable white, they support Wyze motion sensor and voice control via Alexa and Google Assistant.
You can also connect them to other smart home devices, and you can change both the bulb's temperature and brightness for the Wyze app.
Pros
Affordable

Tunable white

Support Google Assistant and Alexa
Cons
Only one colour option

Doesn't support HomeKit
Sengled Smart Wi-Fi LED Multicolour
The only downside with smart light bulbs is that they're inexpensive. But if you're on a budget and you want to turn your house into a smart house, check out the Sengled Smart Led bulbs.
Apart from being inexpensive, they're easy to install and can connect directly to your home network. You also don't need a bridge to light your home.
Just like many smart light bulbs, they work with Alexa and Goggle Assistant and support basic smart-bulb features like schedules, timers, and scenes.
Singled smart LED bulbs come in three options: for $12 for the soft white bulb, $15 for daylight bulb, and $25 for the multicolour bulb.
Pros
Easy to set up

Doesn't need a hub

The manufacturer app monitors and tracks energy consumption
Cons
Limited support for automation features
Sengled Smart LED with Motion Sensor
The Sengled Smart LED with Motion Sensor is the perfect Floodlight for outdoors. It features a built-in motion builder that turns the light on when it detects motion within 30 feet.
It cranks over 1,000 lumens and works with Alexa, Google Assistant, and SmartThings. Other features worth noting is its ability to use routines to trigger other smart home actions when motion is detected.
However, you must purchase Sengled Smart hub or any other compatible, so you can control this bulb.
Pros
Weatherproof

Innate motion sensor

Integrated daylight sensor
Cons
Require a hub to work

Doesn't Apple HomeKit
Yeelight Smart LED Bulb
Yeelight Smart LED Bulb comes with over 16 million colours and connects wirelessly to your home network with no need for hub or bridge. It works with Apple HomeKit, Siri Voice commands, Google Assistant and Alexa.
It easy to set up and allows you to install lighting effects and design lighting schedules. So, if you're searching for a colourful smart light bulb for your house without having to connect to a hub or router, Yeelight is your best option.
Pros
Reasonably priced

Nice Lighting effects

Scheduling and timer options
Cons
Lack of support for smart home platforms like Philips Hue
Eufy Lumos Smart Bulb and Colour
The Eufy Lumos Smart Bulb and Colour is simple to install and a relatively affordable smart light bulb that adds colour-changing lighting to your home.
It allows you to select from a collection of over 16 million colours, and you don't need a hub to use it. This smart light bulb also supports Alexa and Google Assistant.
EufyHome app is user friendly, and you can use it to sync Music to the bulb and create schedules for vacations. Nevertheless, voice controls are as far as this bulb can go with 3rd party features.
Pros
Wide range of colour and ambience options

Voice control via Google Assistant

Required no hub
Cons
Limited Lifespan

Limited support for 3rd party integration
Ring Smart Lighting System
This smart light allows you to design a network of motion-based outdoor security lights for your home. The Ring Smart Lighting System will keep you home safe and wells.
You can expand its lighting system, adding other lighting devices like spotlights, step lights, floodlights, and pathway lights. They also work with other Ring security cameras. Once linked, the light detects motion while the camera records videos.
They're easy to install and are battery-powered. It would have been much cooler if Ring Smart light supported IFFT applets so it could have done things like turn the light on when a lock is open.
Nevertheless, it supports Amazon Alexa's voice commands, which can let you turn on and off the light, and adjust the light brightness.
Pros
Integrates with other ring devices

Easy to install

Well–priced
Cons
Lack of rechargeable battery packs

Doesn't support HomeKit or IFTT
Final Verdict
Smart lights might be basic accessories, but they make a significant difference to the look and feel of a home. With just a click of a button on your smartphone or voice command, smart lights will make you feel like you're living in the future.
In terms of features and functionality, the winner is Philips Hue White and Colour Ambience Starter Kit. But if you're on a tight budget, we recommend you get the Wyze Bulb; It's affordable and comes with most of the basic features needed in all smart light bulbs.
That said, all the smart light bulbs in this list perform exception and can meet all your smart home needs. So it's upon you to make the right decision.